Shoppers never know what bargains they might find when they step into a Grocery Outlet store. And shoppers at the chain's South First Street location might be surprised to learn it was the first Grocery Outlet store in the Evergreen State.
The 2109 S. First St. store, owned and operated by Dennis and Vicki Baker, will mark its 40th anniversary later this week with a 1980s throwback party from noon to 4 p.m. Friday, Feb. 11.
Vicki's parents, Dale and Molly Hannon, were recruited by Grocery Outlet to own and operate one of the company's stores. In 1981, the family — including Vicki's brother, Bill Hannon — moved from Corvallis, Ore., to Orland, Calif., to take over the Grocery Outlet store there.
Vicki said her family successfully owned and operated the Orland store until learning of an available location back in the Pacific Northwest, where they longed to return. They moved to Yakima and renovated an old fruit warehouse at #4 Ranch Rite Road (right off South First Street and Nob Hill Boulevard).
During Dale and Molly Hannon's years as owners, they added deli and frozen foods, health and beauty products, and a wide variety of housewares to the existing core of grocery items.
In 1999, the Hannons retired and sold the store to Dennis and Vicki.
"After assuming ownership, we added more new departments including produce and dairy, and we expanded the beer and wine selections," Vicki Baker said. "In 2003, we relocated the store to its current location.
"We added fresh meat, expanded produce and added our fastest-growing category, 'NOSH' — natural, organic, specialty and healthy products. Our new store was built from the ground up, and it was considered the flagship Grocery Outlet store at the time," she added.
The Bakers discussed the joys and challenges of owning and operating a grocery store, mentoring employees who may be working at their first job, and their favorite food and drink items while answering Five Questions from the Yakima Herald-Republic: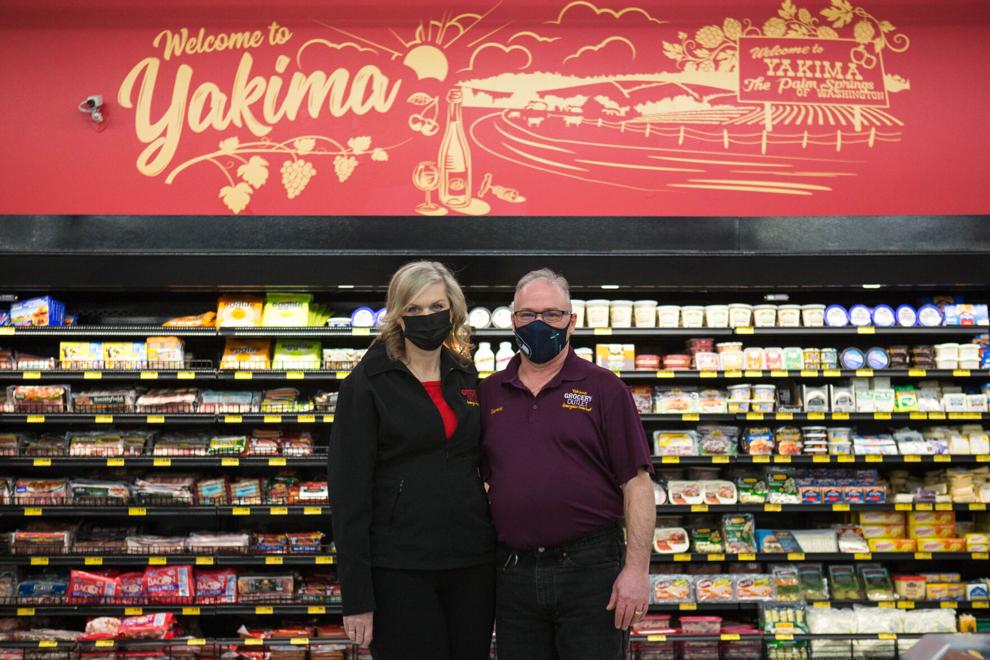 ■ How far back do you go with Grocery Outlet and with this store in particular?
Vicki: My parents started with Grocery Outlet in 1981, training on how to run a store. Early in our company's history, they took in "Ma and Pa" entrepreneurs who had a dream of owning their own business. They didn't really have a process back in those days for that, so they took us to a training store, when I was in ninth grade. They gave us some basic, rudimentary directions and we ran that store, a tiny little store.
From there, they found a location in Washington state — "you'll be our first store in Washington state" — and they said go get 'em in Yakima. So we moved here in 1982, and on Feb. 10, 1982, we opened the store.
When we came here, it was a brand new concept for the state and for the city. At that time, there was nobody that could save anybody any money. So we really fulfilled a role in the community that they had never seen before. My mom, if she were here — they're in Arizona — would tell you how, when they first opened, one of her favorite stories is when she was cashiering, and a mom came in with a whole bunch of kids and said, "Before this store opened, I could only feed them once or twice a day. Now I can feed them three meals."
It immediately started kind of a mission-feeling for us, feeling like our family was serving the community in that way. It wasn't just a business.
That's one of the ways that we look at our role in this Valley, saving people money. A lot of other businesses have been invented since then, and come into the market, but that was one of our missions.
The second one is, something that's been ingrained deeply within my family, is giving back to the community. In our situation, we've become involved with lots of things, with dog rescue, cat rescue, schools and kids and just about everything you can think of.
The last thing that we do is, we're often a first job for kids, for single moms who need a flexible schedule, for people who maybe made mistakes in their past and are looking for a second chance. Those are the types of things that other businesses don't do, and we feel like we serve a special role.
Dennis: We have 22 employees.
■ Grocery Outlet came to Yakima before Walmart, before Costco. What made you different, what makes you different from other grocery stores?
Vicki: What our company does — we have buyers down in the Bay Area that shop the whole world. They're out looking for opportunistic merchandise, which is overproduction of items. Overstocks, packaging changes, test markets, special flavors, new items. My favorite example is something like when a new movie would come out, and they would put that new movie on a cereal box. Then the movie goes to DVD, and they're left with 100,000 cases of Cheerios that have Shrek on it. And you sell them at 99 cents instead of 5 bucks.
We move stuff through quickly and it's cheaper. That's typically what we do. We do have a regular base of items, too, so we have milk, bread, eggs and vitamins — all that stuff. But a lot of what you find in here is that opportunistic merchandise, and that changes every day.
■ The COVID pandemic has been going on for close to two years. How does it impact you running the grocery store?
Vicki: It was weird. From the beginning, we were hammered at first. You remember the toilet paper panic of 2020. We experienced that, too. We had our shelves just get decimated in about a three- or four-day period. Everybody's market was disrupted during that time. We took time to restock our shelves.
Dennis: We tried to pull it back together. And then of course, trying to keep everything clean and sanitized. We always try to keep our store pretty clean, but this has been a whole other level of cleaning. All the sanitization guards at the check stands, all surfaces.
And just having all the supplies around the store for the customers — the masks, the sanitary wipes, hand sanitizer, all that stuff.
Vicki: When the government came in with the extra $600 (in COVID relief money), it created a couple of things. One was a lot of people went online with their purchasing, and that affected the number of people that would come in. We still would have people filling up their carts, but it wasn't like the frequent shopping that we had before. They became accustomed to buying more things online.
Dennis: The customer count per day was down. It changed people's routines, their shopping habits.
We were pretty lucky. We didn't have too many (staffing) problems until just recently, with omicron. Since that's come along we've had more issues with people having to be out with that. We're pretty lucky, really, that for the first year and half, or year and three quarters, we didn't have a lot of people who couldn't work here because of (COVID).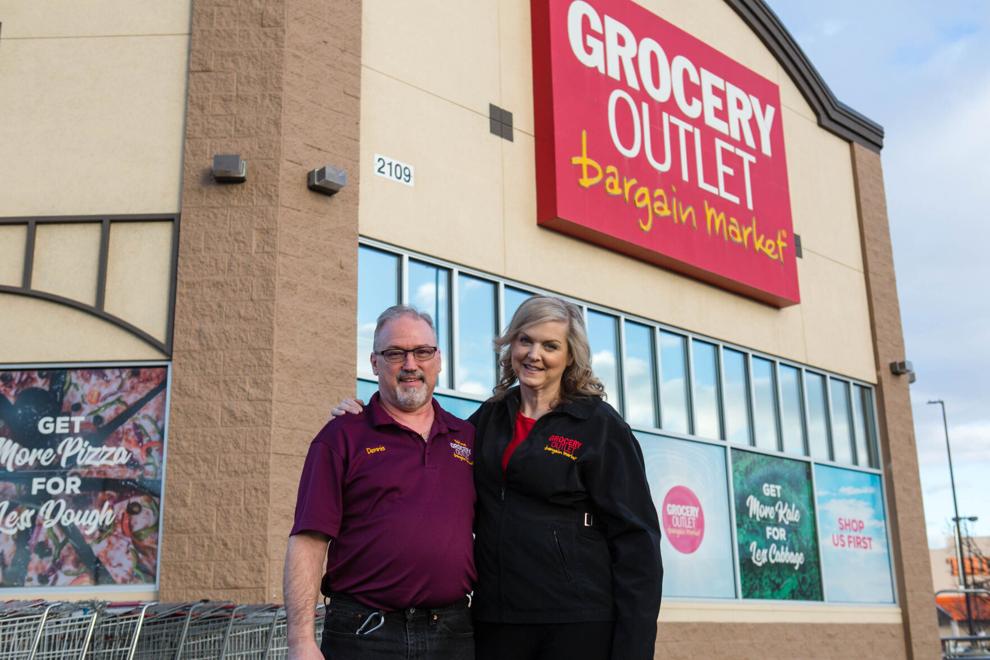 ■ What's your favorite part of being a grocery store owner?
Vicki: When you're in the grocery store business, food is something … obviously everybody needs to eat. It brings in all walks of life, and you're with the whole range of people. I like to get out and visit with customers. We have a wide variety of people in this store. You'll see the Lexus in the parking lot and folks who are walking here. All different kinds of people — I like that. I think it helps us keep our finger on the pulse of the community.
Dennis: I would second that. I think my No. 1 thing is interacting with customers, that's my favorite part of it. Secondary would be mentoring the employees. Trying to help them — like my wife said, we get a lot of first-timers in this job, kids. Just trying to teach them what working is. Honestly, it's become our job. Not as many parents, unfortunately, they don't teach their kids that kind of stuff. It's our responsibility to teach some of them what a work ethic is.
Vicki: What's nice about that is over all of these years, we've seen lots of nurses, pastors, future business owners who go on to do amazing things have this as their first job. I love that.
■ What's your favorite item in the store? If you're going to come in and buy one item, what would it be?
Vicki: Mine is definitely cheese. We have by far the best gourmet cheeses, available for just pennies on the dollar. A close second is what we call NOSH — the natural, organic, specialty and healthy stuff. That's where, stuff that's normally $10, you're going to find it for 2 or 3 bucks. That's the crazy "oh my gosh, call your friends" department.
Dennis: Beer and wine for me. Local beer and local wine is available here.