Ana Cruz of Prosser has harvested apples, cherries, blueberries and hops in her 15 years as a farmworker. Over that time, she's seen her older children grow up — one child is in college and two more will soon start college — and given birth to three more children.
Raising her children and working in the fields never distracted her from the fear she felt daily due to being undocumented. Or her inability to plan for her future.
That is what drove her, with just a few days' notice, to head to Washington, D.C., with the United Farm Workers to show her support for Farm Workforce Modernization Act, which would, among other things, provide agricultural workers like her legal immigration status.
"If I can go to work legally and not have to fear that I might run into an ICE raid, get deported and separated from my children, that would mean the world to me," Cruz said in a phone interview with the Yakima Herald-Republic Tuesday evening. Cruz spoke in Spanish, and Jeannette Mosqueda, operations manager for the United Farm Workers, translated.
On Wednesday, Cruz joined a group of House representatives in a briefing celebrating the House passing the Farm Workforce Modernization Act, 260-165.
All but three Democrats voted for the bill. Thirty-four Republicans voted for the bill. Every representative from Washington, Oregon and Idaho voted yes.
What will change
The bill establishes a program that provides existing agricultural workers the opportunity to earn legal status by showing prior employment as well as continued employment in the industry, makes several reforms to streamline the process in the H-2A guest worker program and establishes an E-Verify system for the agricultural sector once the other changes are in place.
The bill's passage is one step toward certainty, both for agricultural employers and workers, U.S. Rep. Dan Newhouse, a Republican from Sunnyside, wrote in a statement following Wednesday's vote.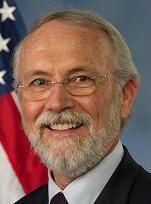 "Our farmers and ranchers facing a labor crisis need relief, and the men and women who contribute to our nation's agriculture industry need certainty," he said. "The Farm Workforce Modernization Act is the first step."
The passage of the bill was also declared by many as a victory for bi-partisanship — one especially sweet considering gridlock in Congress and the ongoing divide over impeachment proceedings for President Donald Trump.
The bill was crafted after a nine-month effort by Republican and Democratic representatives as well as farmworker advocates and agricultural industry organizations.
"I'm beyond excited, this is a once in a lifetime, a historic event," said Mosqueda of the United Farm Workers. "To get both sides to the table, getting the negotiations … just getting them this far. I've been with the union 11 years; I'm the most excited I've ever been."
Newhouse spearheaded the effort with Rep. Zoe Lofgren, a Democrat from California. Other representatives involved in the bipartisan coalition include Collin Peterson, a Democrat from Minnesota; Mike Simpson, Republican from Idaho; Jimmy Panetta, a Democrat from California; Doug LaMalfa, a Republican from California and Mario Diaz-Balart, a Republican from Florida.
Next steps
Amid the celebration, however, Newhouse said there was still plenty of work ahead as the legislation goes to the Senate.
"I want to make sure that we all understand we have a challenge ahead of us," Newhouse said in a briefing after Wednesday's vote. "As Zoe said about the bill, we think it needs some perfecting and we hope the Senate will do that for us. We want to work with them. I'm challenging everyone here as well as behind me to continue to working as hard as we can."
Indeed, there was strong Republican opposition to the bill, as indicated by the debate on the floor. Several Republicans argued that the legislation provided amnesty, rewarded workers and employers who broke immigration laws and didn't provide sufficient assurance that farmers would gain the stable workforce they desired.
"This legislation is a slap in the face to those who follow our immigration laws," said Rep. Andy Biggs, a Republican from Arizona.
Biggs noted that while plenty of agricultural groups supported the bill, one key group — the American Farm Bureau — was against it.
Just before voting on the bill, Biggs moved to amend the bill to strike a section that provided H-2A workers additional protections. The motion ultimately failed.
Supporters of the bill maintain that amnesty is an inaccurate term for what is being offered. Agricultural workers must show past employment to qualify for legal status and continue to work in agriculture to maintain that status.
"By passing this bill, finally, farmers will have access to a dependable workforce," said Panetta, a Democrat from California, during the floor debate. "Farmworkers will not just get the legality but the dignity they deserve."
When asked about some House Republicans' assertion about amnesty, Cruz, the Prosser farmworker, had a quick response.
"It's not amnesty; it's a right to work," she said. "It gives farmworkers permission to be in the country legally and do their job."