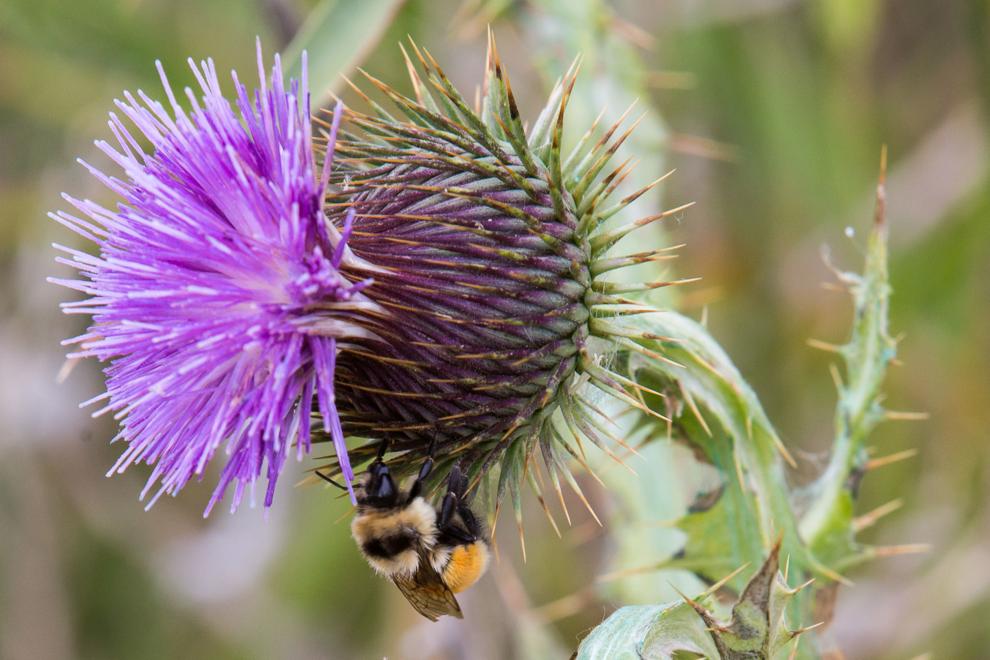 If life were a comic book, they'd be considered the super villains.
Once introduced to an area, they become bent on world domination.
They are oblivious to boundaries of land ownership, political jurisdiction or socioeconomic status, and they affect everybody.
They're practically indestructible in their various forms — some with deep root systems that can upend sidewalks or building foundations, some whose thousands of seeds can lay dormant for decades and then explode into swaths of mass destruction, others that choke out streambeds in their search for nutrients while giving the appearance of beautiful wildflowers. Some are even poisonous.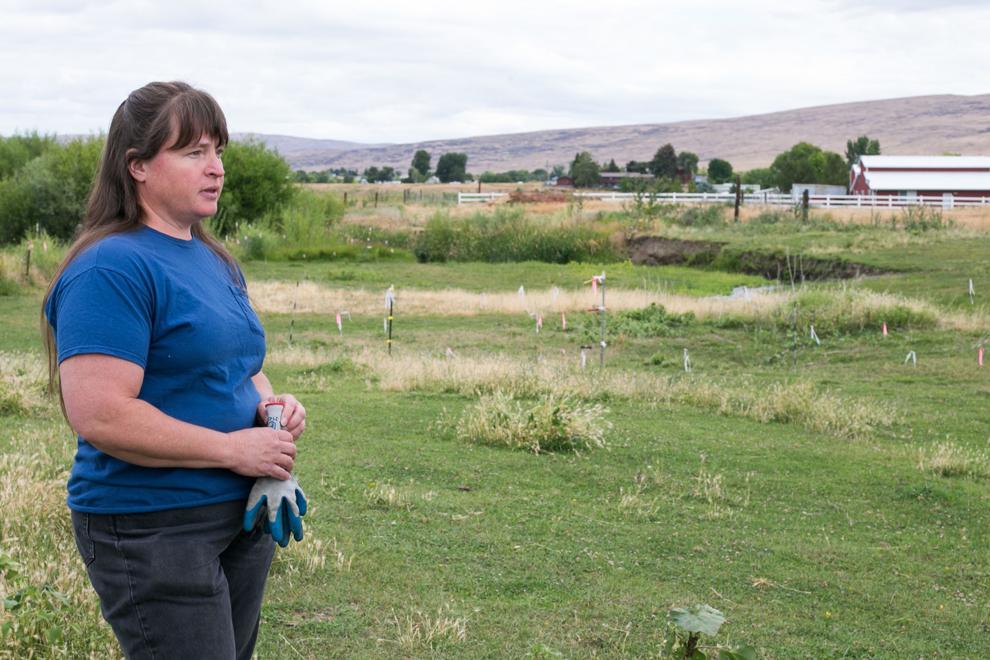 Because of their super powers, Washington state calls them noxious weeds. A noxious weed is a species not native to the area that is aggressively invasive and harmful to the economics of land ownership and agricultural production, according to the Yakima County Noxious Weed Board.
One of the most serious invaders in Yakima is Scotch thistle, a plant armored with hairy spikes and bright purple, bristle-like blossoms that can grow to more than 13 feet high. The weed forms barriers across pasture and grazing land, similar to the briar blockade that the wicked witch erected in front of Sleeping Beauty's castle.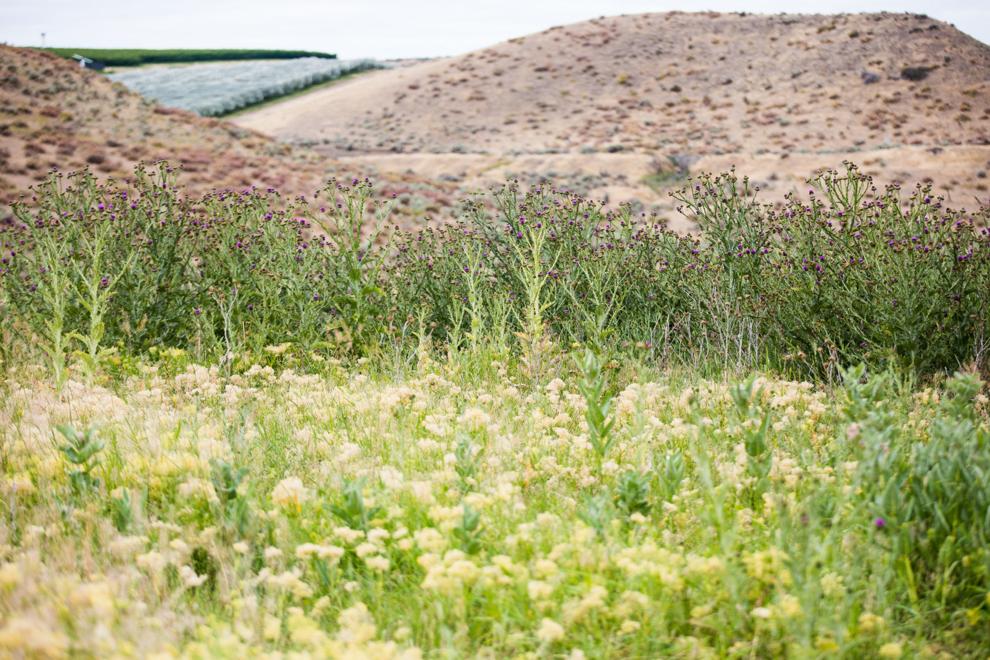 The plant can produce more than 40,000 seeds per mature plant, which remain viable in soil for up to 20 years, said Sue Bird, the maintenance and outreach specialist for the county weed board.
Bird described the plant as difficult to kill. She has a reminder of its ornery nature embedded in her hand — a barb from more than five years ago that pierced her gloves when she was on an outing to eradicate a cluster from a landowner's property.
Washington's noxious weeds can do serious damage, crowding out desirable native plant species and forage for cattle and other livestock, overrunning aquatic habitats and reducing oxygen levels, suffocating fish.
But, like most compelling villains, the plants themselves are not inherently evil. Scotch thistles are revered in Scotland, where they are the national plant because, according to legend, sleeping Scot warriors were saved after invading Norse soldiers stepped on the bristly plants and screamed in pain. Dyer's woad was once used to create indigo dye. Johnsongrass can be eaten by deer and rodents and once was used for forage and hay. Wild Four O'Clock, though a weed in Washington, is considered a wildflower in Illinois, where it is native.
The problem, explains the Washington State Noxious Weed Board, is that the plants on the state's noxious weed list are not native to the area — and neither are their predators and competitors.
"Plants in their native habitat have local bio(logical) controls, such as predators that feed on them as well as molds and fungus that keep them from overpopulating," according to the board. "Due to being nonnative, they do not have the native constraints to control them or keep them in check."
Rudy Frausto, who owns a 10-acre ranch with his wife, Irma, on Wenas Road, is battling an infestation of Scotch thistle. But the small patches, starting to droop or "curl" from repeated applications of herbicide, are nothing compared to the voracious army that has sprouted out, hedge-like, on the property bordering Frausto's ranch after being left untreated.
"It is pretty when it's blossoming," Frausto said. "But it sure becomes a pain."
To the rescue
Frausto became a quadriplegic after a severe car accident. He still oversees management of his property, but much of the heavy work falls to his wife, who recently developed carpal tunnel syndrome. Using hand-held sprayers to pump herbicide onto the Scotch thistles left Irma in pain and feeling defeated by the still-resilient squatters.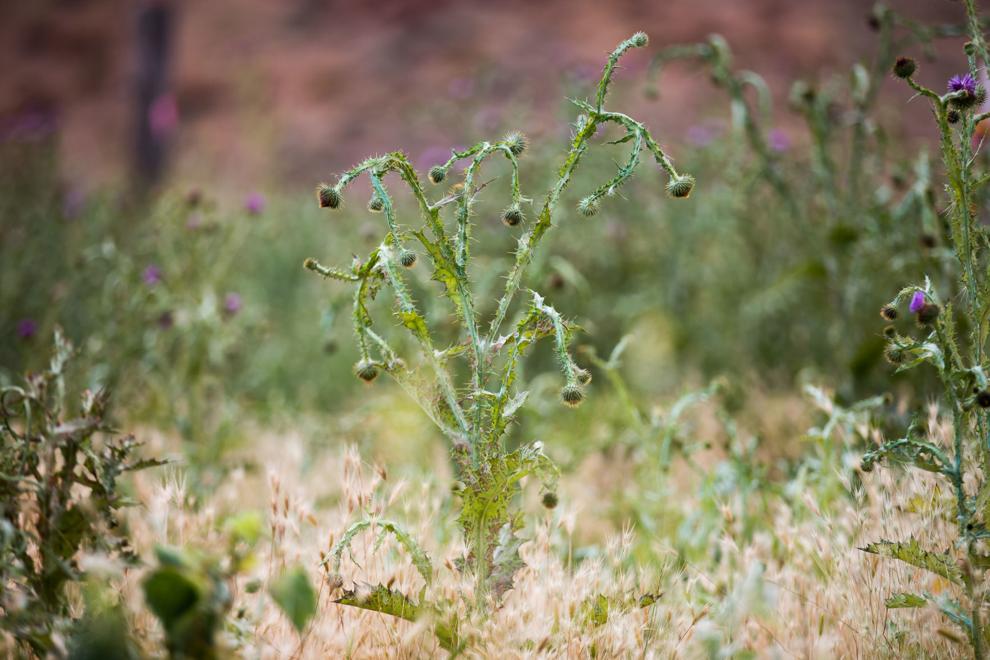 "It's very invasive and comes to dominate everything. You get big patches everywhere," Frausto said. "The spikes, when they're dry, are like nails."
That was when the county weed board's assistance became greatly appreciated, Frausto said. The couple asked Bird if there was a program in which the county would both help provide the herbicide and spray it. Bird helped the couple spray the plants herself, adding a bluish dye to the liquid so she would know which plants she had hit.
"That was a good relief for us," Frausto said. "It took a big load off our minds."
John Ashbaugh, a retired rancher who still keeps about 65 yearlings on his more than 130 acres in the Wenas Valley, also received assistance with herbicide from the county board after he discovered Scotch thistle on his property decades ago.
"It's something you have to keep working at," Ashbaugh said. "I still don't have it 100 percent, and I've been working on it for 20 years."
Ashbaugh also has another invader on his property, this one deadly: houndstongue, with its bell-shaped, magenta-
colored flowers, contains pyrrolizidine alkaloids that damage the liver and can kill livestock when ingested.
Bird remembered an encounter with hounds-tongue several years ago. The father of a family with small children who lived out in the country came into her office one day and placed the flower on her desk.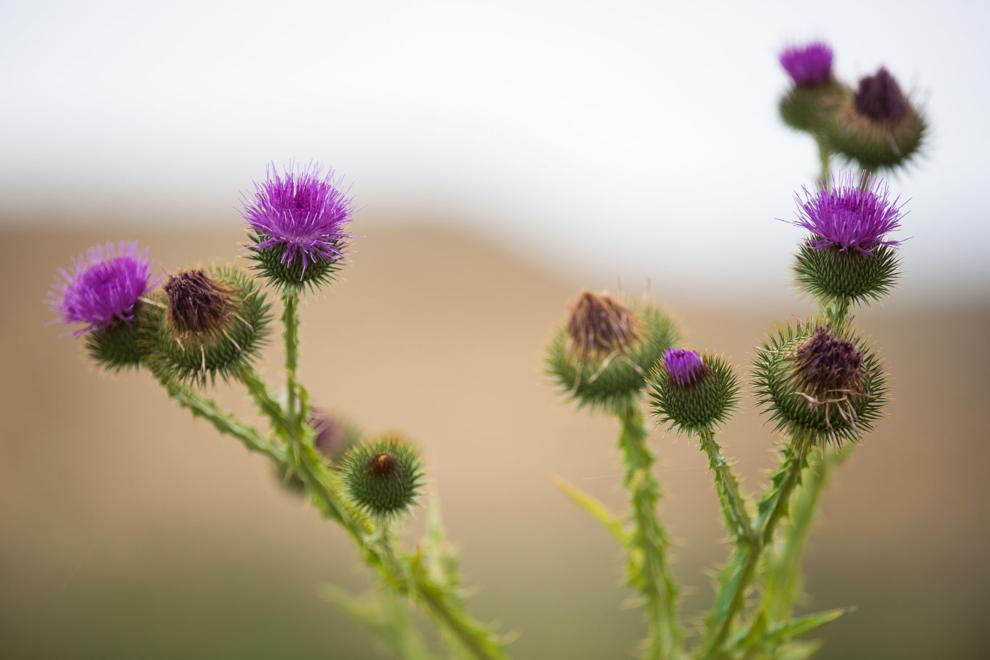 "He said, 'What is this, because my son is in the hospital, and the doctors can't figure out what it is,'" she recalled. "The son had eaten houndstongue."
Thankfully, the child survived. But the story shows the importance of being able to properly identify, and eradicate, noxious weeds, Bird said.
State noxious weeds
Washington state has 153 species of noxious weeds on its list for 2019. About half are escaped ornamentals — plants once sold for decorative use in home gardens and landscapes. The rest are plants accidentally introduced to the area through human travel and trade, according to the state weed board.
Under state law, anyone can submit a recommendation for a plant to be labeled as a noxious weed, with the state board considering requests from Jan. 1 to April 30 each year. A Noxious Weed Committee then evaluates and researches the proposals and makes a recommendation in September. The board votes on which proposals go to public hearings in November, considers public feedback, then finalizes decisions for the adopted weed list for the coming year, said Mary Fee and Wendy DesCamp, the executive secretary and education specialist for the Washington state weed board, respectively.
Weeds are classified in three categories, depending on distribution, size and intensity. Bird said the county weed board focuses on species believed to be containable or eradicable and those considered the greatest threat to landowners and agricultural producers.
The top three concerns for Yakima County are Scotch thistle, hounds-tongue and yellow starthistle, the last of which is found mostly in West Valley, west of Wapato in the Lower Valley, and in spots on State Route 24 east of Moxee.
Although the yellow starthistle is believed to make great honey, according to a Noxious Weed Board brochure, it also outcompetes grasses, kills horses if ingested, and can injure livestock with its sharp barbs.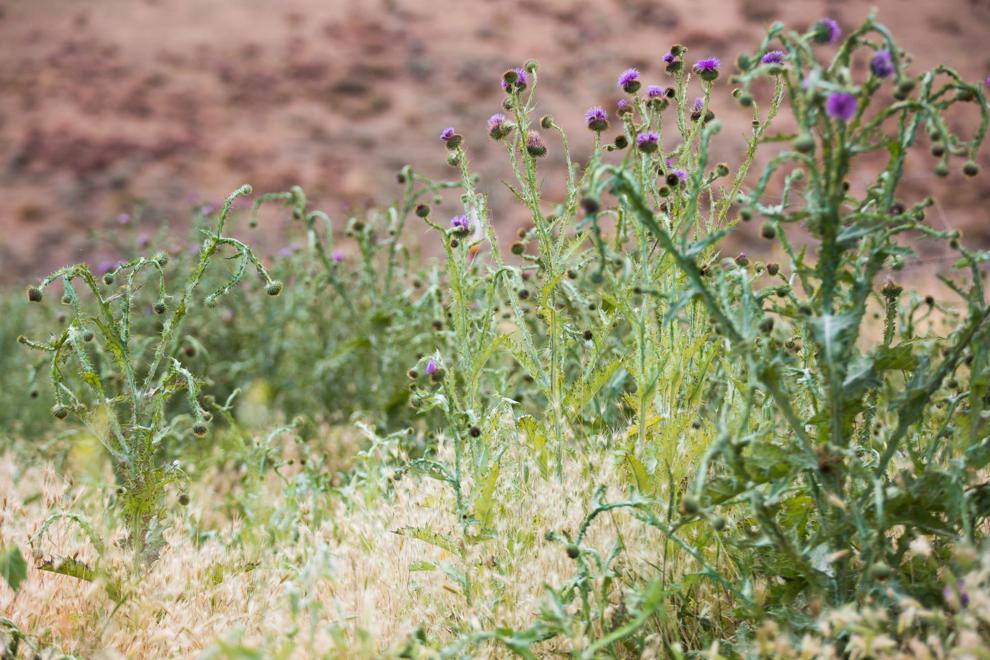 Other species of concern include musk thistle, spotted and meadow knapweed, purple loosestrife and tansy ragwort — the last of which can be spotted easily when hiking the Yakima Skyline trail.
Poison hemlock, an extremely lethal plant sometimes mistaken for edible members of the carrot family, has killed foragers in the county, Bird said.
County rules
The county's noxious weed ordinance requires that people control infestations on their own properties. Bird said that landowners first receive a phone call, but if they are not available, she follows up with a letter. State law allows for noxious weed boards to levy a fee or a lien against landowners who ignore second or third notices. But Yakima County has never had to do so, with most landowners willing to comply when they know about the problem.
"To control a problem weed, people must first know it's a problem," Bird said. "Once landowners become aware of the programs and assistance offered, compliance is high."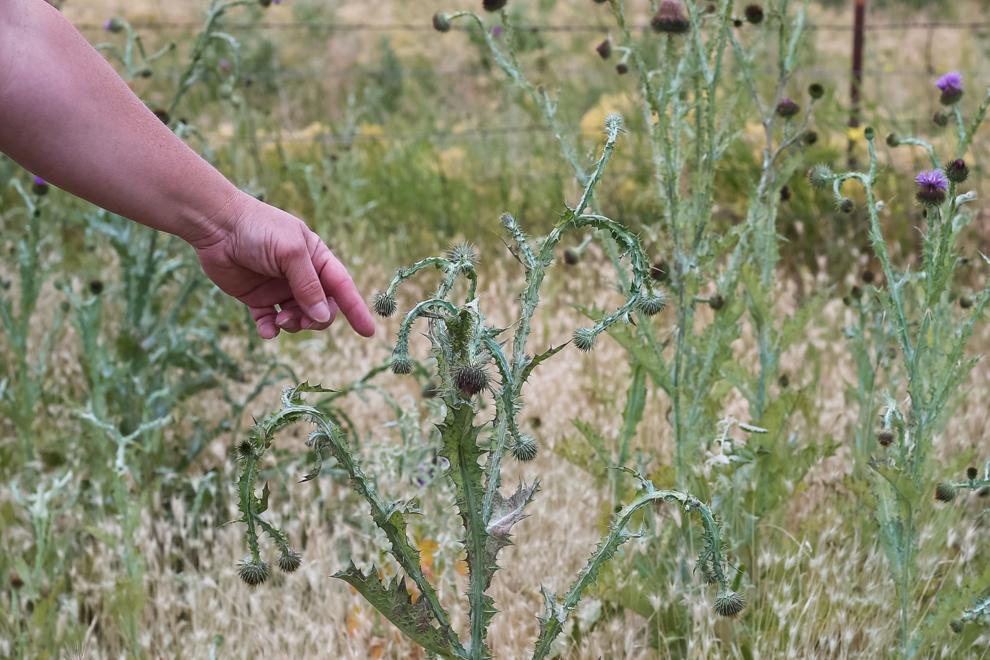 The county board provides free field inspections and plant identifications, which are important because several noxious weeds can look similar to other beneficial plants. Purple loosestrife, for example, resembles beneficial native wetland plants including fireweed, Douglas spirea, blue vervain and blazing star.
The weed board also makes recommendations for the weeds' safe removal. Herbicides are not always the best answer, Bird said. Landowners often can tackle small infestations by digging up the weeds or using biological controls such as specific insect releases.
Cy Philbrick, the outreach and education coordinator for the Cowiche Canyon Conservancy, said that noxious weeds, particularly Scotch thistle, also are a problem for the canyon and Snow Mountain Ranch. Philbrick said the county weed board has helped CCC by providing herbicide.
Bird also collaborated with the Conservancy in spring for a community walk called "Weeds and Wildflowers," which educated the public about the distinction between the local plants.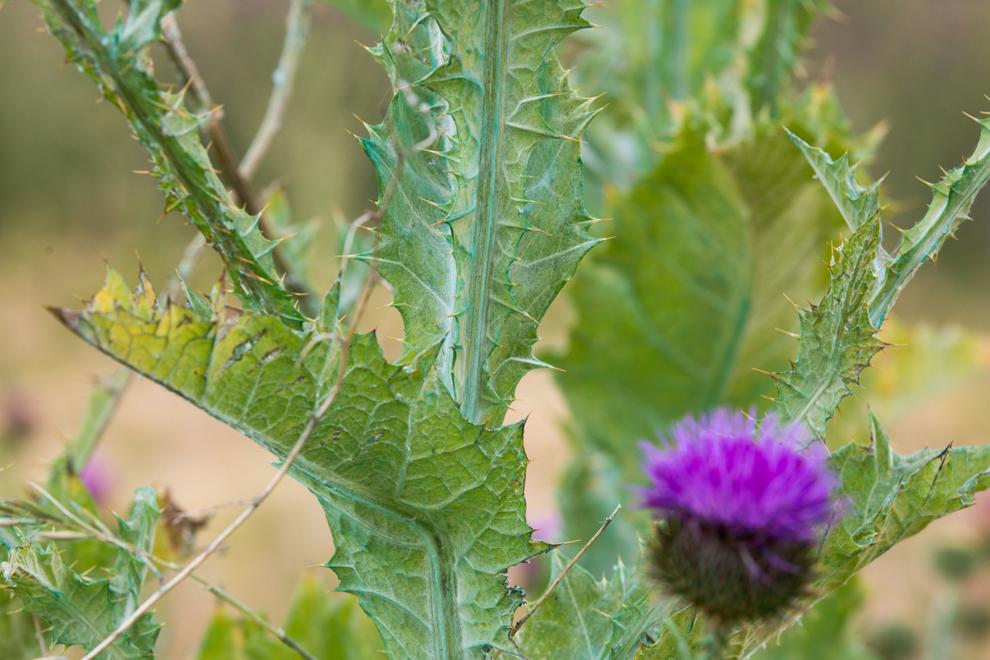 "They provide a valuable service in helping us manage our land for the benefit of biodiversity and soil health," Philbrick said. "They also provide useful literature and public education about the risks of invasive plants in our area and how to best manage them."