The rules are simple: Respect staff, no fighting, no drugs and no weapons.
The goals are inspiring: Establish a sense of safety, a feeling of being connected and have a voice.
Meet the Good Girls Club, a group of homeless women at Camp Hope who have unified not only in support one another, but to establish a sense of community during some of the most challenging times of their lives.
They often meet as a group where they can talk about problems, share ideas and plan activities for the entire homeless encampment, where more than 60 men and woman live in military style tents behind the former Kmart near East Nob Hill Boulevard and Interstate 82.
"The Good Girls Club — it's a lot of fun because we can sit around and talk to each other and stuff," said Mary Fromm, a 58-year-old homeless woman who heads the club. "It's positive reinforcement, how to make you feel better about yourself and your situation."
Many women become homeless after leaving an abusive relationship or struggling to cope with traumatic experiences in their past, said Julie Grove, a care manager at the encampment.
Homeless women are vulnerable to exploitation and need support, which prompted Grove to encourage women at the camp to form a group.
"The whole reason that I wanted to do this was to have a place where the women could connect there," she said. "It's really about them having a choice and a voice. They named the club, they decide when they want to meet, how long they want to meet."
Grove asked Fromm to head the group.
"I felt like she was a wise mother figure at the camp and I asked her to help me with this and she's been doing great," Grove said. "She's got a lot of wisdom."
Since forming the group, there's been more awareness of the vulnerability homeless women face and a strong display of respect from men, those in the group say.
Men participate in events, including a Halloween party the group organized, and women are always first in the supper line, said group member Tina Perkovich.
Barbara Snow used money from her monthly Social Security payment to buy Halloween decorations. A scavenger hunt devised as part of the party also went over well with the men, Perkovich said.
"We had a lot of fun — everybody joined in on the scavenger hunt," she said. "We pulled it off pretty well. It was good, clean fun."
On Christmas Eve, Fromm will help the camp organize a dinner for the homeless, including those still on the streets.
The group provided additional stability for its members when the camp was temporarily relocated to the parking lot of the Union Gospel Mission on North First Street in early December. Camp Hope is a temporary shelter, and is required by the city to either relocate or shut down for two weeks each year to remain in compliance with rules governing temporary operations.
One recent morning, Fromm gathered with a handful of women at a picnic table at the mission. Clad in coats, mittens and warm caps, they all sipped coffee and discussed how much they appreciated the camp behind Kmart.
"Instead of wondering around, we'd look at each other and say: 'Let's go home.' And it's the camp," she said.
Fromm's dog, Willie, a bulldog-mix blind in one eye, snuggled against her.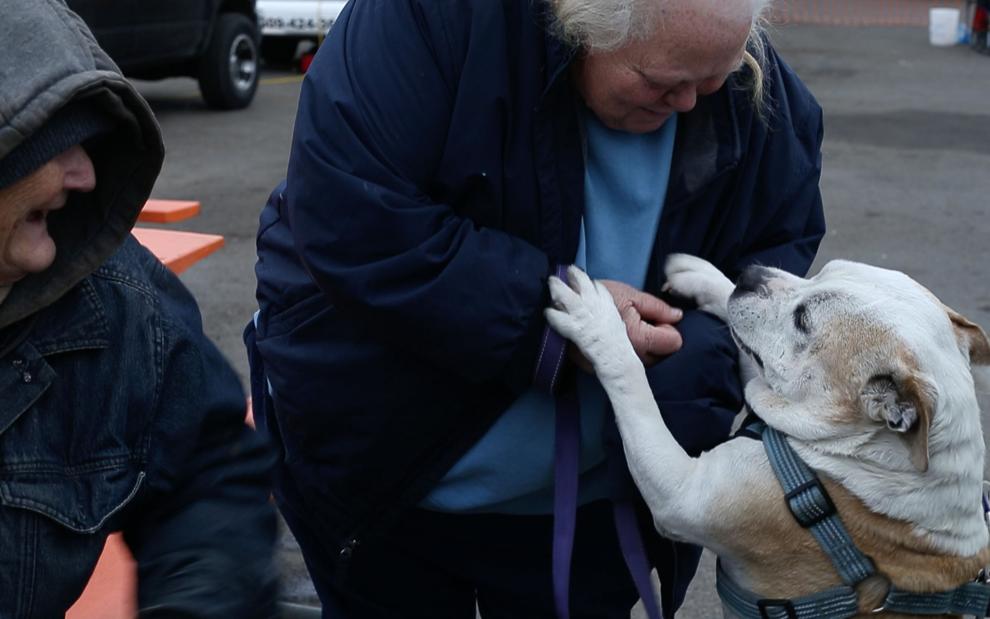 "I can't take Willie with me everywhere I go and the girls will take care of him," Fromm said.
Taking in all the camaraderie, Perkovich said "I don't feel homeless anymore."
Grove said the women are amazing.
"It saddens me that the community doesn't get to know them," Grove said. "They see homeless people as just a group, but they don't see them as individuals. I think it's great when their stories are told."
Here are a few of their stories: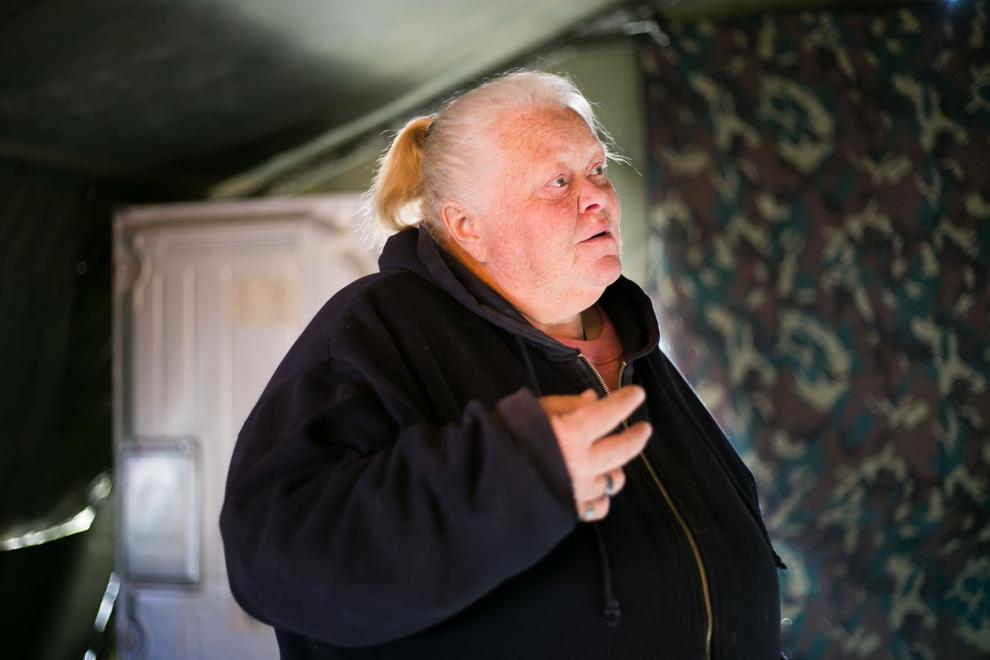 Mary Fromm, 58
Fromm said she spent 20 years working as an in-home caregiver, but began experiencing hard times when she fell into drug use with her husband after his father unexpectedly died in 1999. Her husband struggled dealing with it and their lives began to unravel, she said.
She got clean eight years ago. He didn't, so she left.
She said she was living in an apartment, but was kicked out in February 2017 after her dog, Willie, was accused of attacking another dog.
"I could not find an affordable place," she said. "I still have not been able to find an affordable place."
She said she has back problems, suffers from sleep apnea and is a diabetic. She receives disability payments.
"It's been real hard," she said. "My family turned their backs on me, which is fine. I've got a new family now. Camp Hope has taught me that I can stand on my two feet."
She's had Willie since he was a puppy — he's 9 now.
"He's been my best friend," she said.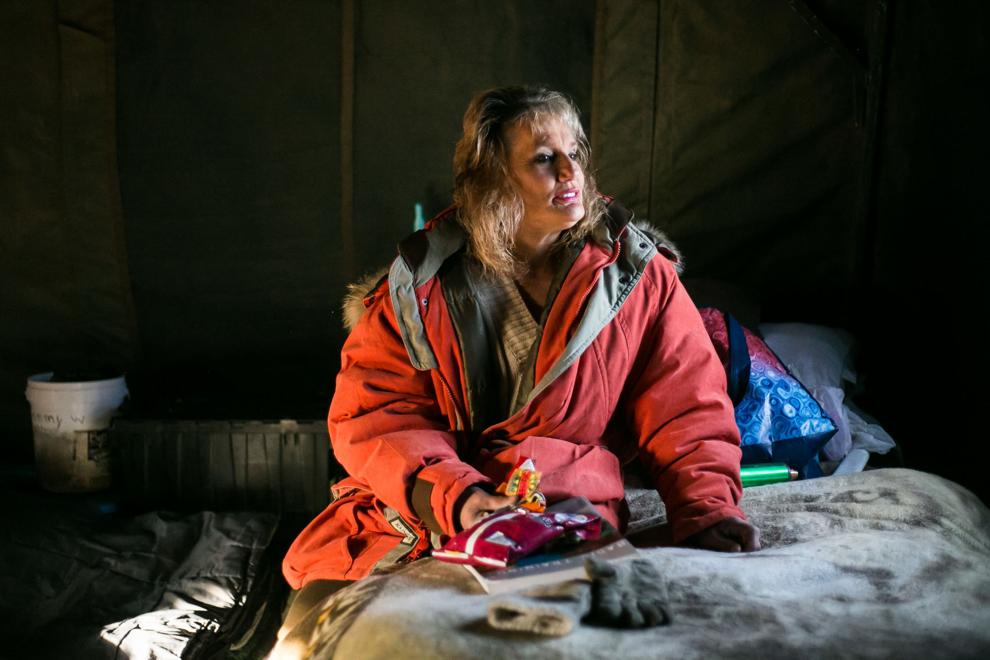 Tina Perkovich, 55
Perkovich is terminally ill, but doesn't want to disclose her illness. She's been homeless for five years.
She sold sports memorabilia for a Portland company before getting sick, she said.
She came to Yakima, where her daughter lives, and was placed into affordable housing. She said the program that helped pay her rent expired after three years, and she couldn't afford a place to live.
"I was like 'Oh, my God, what am I going to do? I'm stuck in Yakima.'"
She couch surfed for a while and eventually moved in with a friend. But that didn't work out, and nearly two years ago she got sick again. That's when she moved to Camp Hope.
She said she doesn't want to be taken care of by her daughter.
"You don't go to your kids, they come to you," she said. "She's got a good job. She's doing good. I couldn't."
She said she's applied for housing through a respite care program, but was told the program is full.
She's waiting to hear back from Next Step Housing , where she signed up for housing assistance.
"This is my home for now," she said of the camp.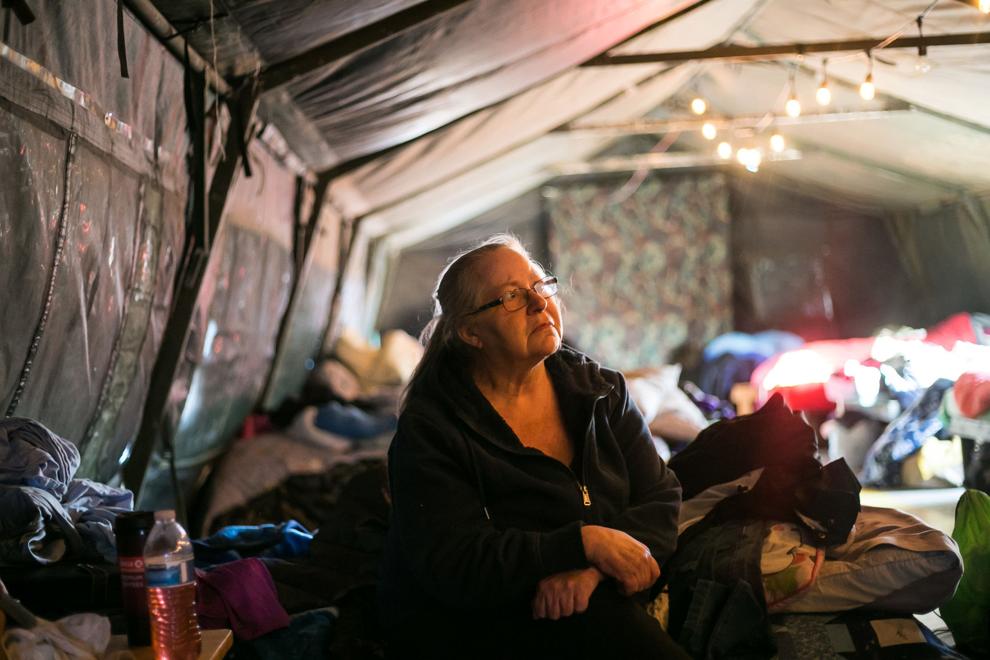 Robin Holm, 61
Holm spent 14 years driving for a company that provides public transportation for paraplegics in Kent. She left her job after becoming ill in November 2017.
She came to Yakima to stay with her daughter, but that didn't work out, she said.
"She didn't understand why I wasn't jumping up and looking for work," Holm said. "I was sick, though I didn't look sick."
She said she found Camp Hope after searching the internet for homeless services in the area.
"That was last summer," she said.
While at the camp, her illness flared up again, and her daughter brought her home. A month later, she told Holm she didn't want her to return to the camp and she needed to find a job. Holm said she was unable to work and returned to the camp in September.
"I just packed my car and moved back to Camp Hope," she said.
Holm said she plans to apply for early retirement when she turns 62, and possibly get a part-time job.
She said she never anticipated being homeless. She drives a 2011 Chevy Aveo she paid off while still working, doesn't use drugs and has no criminal history.
"Illness happens very quickly," she said. "Illness, accidents, a wrong turn somewhere and you can end up homeless. It can happen to anyone."