While new state Rep. Alex Ybarra is a freshman legislator, he is no stranger to many in Olympia.
The Quincy Republican has served on several state legislative and task forces and state commissions, including the state Commission on Hispanic Affairs, and has been active in statewide education policy discussions.
County commissioners from Grant, Yakima, Lincoln and Kittitas counties appointed Ybarra during a meeting last week to replace Rep. Matt Manweller in the 13th District. Ybarra will have to run to retain his seat during the fall general election.
He is a reliability and compliance internal auditor for the Grant County Public Utility District and is familiar with energy and water issues. Ybarra also has worked to tackle education issues through his role as a Quincy school board member and, more recently, as vice president of the Washington State School Directors Association. He has a bachelor's degree in mathematics from Central Washington University and a master's degree in business administration from the University of Phoenix.
Ybarra talked to the Yakima Herald-Republic about what issues he wants to tackle in Olympia, how he's making the quick transition from citizen to state legislator and how he sees his role as one of the few Latino state legislators.
You've shown an evident passion for education in your previous roles. What education issues would you like to pursue in Olympia?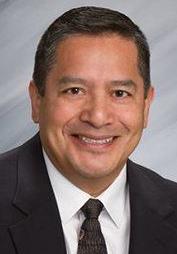 Ybarra: If you look at the state average score on assessments, usually children of color, children of poverty and children with disabilities score much less than the average student in the state of Washington. That's what is called the educational opportunity gap.
I'm going to keep working to close that gap. You shouldn't be able to tell what score an individual gets because of his or her look or his disabilities.
As a member of the Commission on Hispanic Affairs, I've been able to work in education committees. One of them is called the Educational Opportunity Gap and Oversight Accountability Committee. It comes up with procedures, policies and ideas to close the educational opportunity gap.
That committee already included state senators and representatives from both parties. Now that I'm a legislator I will have a little more say in what bills should pass.
I've also been part of a social-emotional learning benchmarks workgroup for the state Office of Superintendent of Public Instruction. The group works to address issues, such as bullying and suicide, that may impact the social and emotional development of children while in school. We need to try to mitigate harm to children socially and emotionally.
What are your thoughts on efforts to meet education funding requirements outlined in the McCleary decision?
Ybarra: I think it was the first try and they did well. They revamped how the state funds education. I think everybody knew some things weren't going to come out perfectly. I think we're going to try to fix those holes missed in the first go-around. We want to make sure that every student has the same amount of money, no matter the school district they're from.
Outside of education, are there other issues you will focus on during this session?
Ybarra: I want to tackle water issues in our district. I want to make sure residents have enough water to grow their crops. We need to address the issue of the Odessa aquifer. (Note: There have been efforts to figure out a way to maintain water for farmers using the aquifer located in portions of Adams, Grant, Franklin, and Lincoln counties, which has been found to be an unsustainable supply).
I want to help the farmers and make sure they're not regulated to death and make sure they can grow their crops for as long as they would want and make a living. Agriculture is the bread and butter of our district.
I'm an energy guy; I work for Grant County PUD. I have worked on conservation and renewable energy efforts for the PUD. I've done some hydrology work. I've done work on how dams can help salmon migration and how we can use water to optimize fish survival.
I don't have specific bills I want to pursue yet. I'm still getting my feet wet and seeing what's out there. I hope there are some bills that I can get behind to support the people of the 13th District.
You had only a few days to settle in. How have you adjusted?
Ybarra: Lots of late nights. I get in about 6 in the morning and get back to where I'm staying around 10 p.m. It's much work, and I'm trying to keep on top of it the best I can. I've been doing a lot of reading.
It's been a whirlwind. It's like getting into a race car and going up to 100 miles per hour when you're not used to going that fast. But I'm starting to get used to it.
You're one of a handful of Latino legislators in Olympia. How will that influence your approach as a legislator?
Ybarra: I didn't come to the Legislature to be a Latino legislator. I came to Olympia to be a legislator. At the same time, I cannot hide that I see things from a different perspective because of my cultural background. I can look at a policy and look at them from an equity lens. I can make things equitable for people with my cultural background.
I'm a conservative, and I'm a Republican. The representatives and senators in my district have all been Republican. They've been encouraging and supportive with specific legislation that I wanted to be passed during my service as a Quincy school board member. I think, in my opinion, they want to help everybody no matter who they are. They want to pass laws that support all the residents in the state of Washington, not just one group of people.