She bought the unbleached cotton sack at a flea market in a small Tennessee town in February 2007, another find among many. But the words stitched by hand on one side of the carefully patched fabric haunted her.
She saw a mother quickly gathering what little she could for the daughter she would lose forever, and the anguish of a daughter facing a life without her mother. She dreamed about Ashley and cried as their separation played over and over in her mind.
The white woman who bought the sack for $20 in the town of Springfield decided she could not keep it. It didn't feel right, owning something imbued with so much emotion.
After Googling "slaves" and "Middleton," she found Middleton Place, an 18th century plantation on the Ashley River in South Carolina. She donated it to the historic site, and the provenance of this artifact, known as "Ashley's Sack," had mystified historians ever since.
In September, Ashley's Sack was loaned to the Smithsonian Institution's National Museum of African American History and Culture, which opened that month in Washington, D.C. And with its latest home come the stories of women named Rose, Ashley and Ruth Middleton after a year of research by Mark Auslander, a professor at Central Washington University.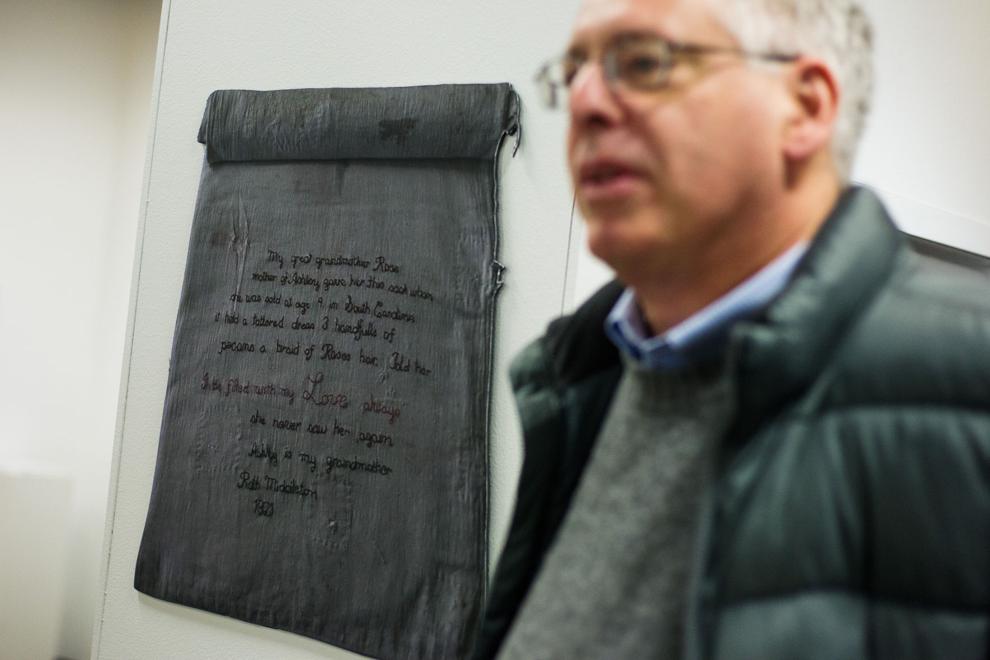 Auslander researched the lineage of the three women whose names were embroidered into the sack.
"The Smithsonian curators had been consulting me on other things," said Auslander. "They were sure this would be hard to crack."
His research led him to South Carolina and Philadelphia, where he searched slave records along with court and estate records and early bank and Census data.
Hundreds of thousands of children were taken from their mothers in slavery. Yet, each mother and child had their own unique story. Auslander said he felt a moral sense to honor this specific story.
"The object has become a kind of obsession for me during this past year," Auslander said.
A mother's gift
Auslander said his interest in "this little mystery" came from his role as a cultural anthropologist, his expertise in African history and culture and his fascination with the stories behind ordinary objects.
"One of the things we all share are objects that connect us to other places and times," said Auslander, who has been at the university since 2011.
He first learned of Ashley's Sack from a colleague a year and a half ago and discussed it with some of his students, who encouraged his curiosity about the long cotton seed sack.
"All we knew when this object was discovered was that it was sold by a white guy and wrapped up in other rags and cloths," he said.
The sack measures about 33 by 16 inches. Patched repeatedly, it's stitched in three colors of cotton embroidery floss sewn on the lower third.
His students suggested that the sack was probably embroidered outside South Carolina by someone who was part of the Great Migration — when more than 6 million African-Americans moved from the rural South to the cities of the North, Midwest and West from 1916 to 1970.
"In 1921, it would have been very dangerous for her to write this" if she were living in the South, Auslander said of Ruth Middleton.
He found 16 African-American women named Ruth Middleton in the 1920 Census, along with two he documented through other records. He eliminated those likely too young to embroider or who were illiterate. That left six, only one of whom had clear family ties to South Carolina, lived outside the state and was literate and educated.
She was born in Columbia, S.C., around 1903 as Ruth Jones, and in 1918 she married Arthur Middleton in Philadelphia.
"I got lucky in Philadelphia. That was a very important place; many, many African-Americans came to Philly from South Carolina," Auslander said. "Six months (after the marriage) she had a little girl."
She named her Dorothy Helen Middleton. By 1921, Ruth was a single mother. Drafted into the Army soon after their wedding, Arthur Middleton apparently never lived with his wife and daughter. The 1920 Census shows him living alone. He later moved to Brooklyn.
"There she was, raising a little girl" by herself, Auslander said. "She must have embroidered it as a gift."
Ruth was a domestic worker for chemical engineer and factory owner Edward Linch and his wife, Mabel, an organist who performed in the most prominent circles of Philadelphia white society. Working for such a socially important family, Ruth would have known embroidery and needlepoint, Auslander said.
Ruth Jones Middleton died of tuberculosis in Philadelphia in January 1942. Dorothy Helen Middleton, later Dorothy Page, died in a nursing home in Wyncote, a north Philadelphia suburb, in 1988.
"We are speculating that she kept this precious heirloom" and when she died in a nursing home without family, it was donated to Goodwill or a similar organization along with other possessions, Auslander said.
"There are lots of holes that have been beautifully stitched from the back side. That suggests that the women looking after this object were caring for it a great deal."
'A blessed object'
Finding Rose and Ashley, the two other names on the sack, proved more challenging.
"Rose is probably the most common name of enslaved women. Ashley is the rarest," he said. At the time, Ashley was a predominately male name.
Thinking that Rose and Ashley may not have lived at the same property, but may have been owned by the same person, he searched inventory records and found that both names appeared among the enslaved people owned by wealthy Charleston merchant and planter Robert Martin, who died in December 1852.
Rose was a house servant in Charleston, while Ashley was among those living on his plantation, Milberry Place, about 100 miles away. His will allowed his widow, Milberry Martin, to keep the Charleston house and house servants, but she had to provide a $20,000 inheritance for each of their two children, and raise that money as quickly as she could.
Records indicate that she sold some property and several slaves to do that.
"We do not have direct evidence, however, that Ashley was sold and separated from her mother in the manner described in the 1921 embroidery," Auslander notes in the Southern Spaces article. "All we can say is that the 1921 embroidered account — of a 9-year-old Ashley being sold away from her mother Rose — is consistent with the extant documentary record of Robert Martin's estate."
The dress mentioned in the handstitched words probably belonged to Rose, and she packed it as a reminder for her daughter, Auslander said. And hair has "great spiritual power" in African tradition, he noted.
Of the embroidered words themselves, one line is larger than the others — "It be filled with my Love always" — and stitched in red thread, with the word "Love" largest of all, and nearly at the center of all the other words.
"It was a blessed object in the African tradition," he said of Ashley's Sack.
Auslander notes there is no direct documentary proof that Ruth Jones Middleton's family came from Milberry Place Plantation, where the "Ashley" owned by Robert Martin resided in the early 1850s.
There is "strong circumstantial evidence" linking Ruth's mother and maternal grandparents to this specific region of South Carolina, though, Auslander wrote.
"The two stories meet in Orangeburg County," Auslander said. "At that point, we have enough evidence that convinces historians we have put the puzzle together."
Simon Lewis has taught African and Third World Literature at the College of Charleston since 1996 and has been director of the African Studies program since spring 2012. He hosted a presentation by Auslander about Ashley's Sack in September.
Items like Ashley's Sack don't look like they have value, but they're important because of the stories they embody, Lewis said.
"This is a story you can tell around this particular object or this particular dwelling.
"You can tell the story ... through one object, if you know how to do it. If you're prepared to be as dedicated as Auslander was," he said.
"History is so biased toward documents. We know there's a whole population out there denied literacy. And yet we have to recreate an inclusive history (for people) not allowed to write or write their own history.
"Somebody like Mark Auslander ... is able to tell that history in a compelling way. It's a whole lot of hard work," Lewis added.
Few objects were passed along through the generations from slaves to free slaves. Families often maintained their histories through oral storytelling, but in the case of Ashley's Sack, Middleton transferred her family's story into something tangible.
Ashley's Sack is considered a lasting legacy of slavery and the resilience of families, despite its myriad horrors, to keep connected.
"Family endures," Auslander said.