YAKIMA, Wash. — On Cinco de Mayo in 1968, Danny Trejo was locked down in solitary confinement in California's roughest prison — San Quentin. He was accused of helping instigate a prison riot that left guards and players injured, some seriously, during a baseball game involving a team of noninmates visiting for the day.
They were serious offenses, and Trejo, now 74, believed he was headed for the gas chamber. But a prayer and promise to God, he says, is what opened a path from prison to Hollywood, where he's become one of the most prolific actors of this era. He's landed major roles in popular movies such as "Heat," "Desperado," "Con-Air," "Machete," "Once Upon a Time in Mexico," and even "Spy Kids."
He's quick to credit God for his fame.
"I think he puts me in that position as long as I know he's doing it," Trejo said during an interview with the Yakima Herald-Republic on Thursday in a hotel lobby in downtown Yakima. "If it weren't for him, I wouldn't be here."
Trejo came to Yakima to share his experience, strength and hope as the featured speaker of the annual Merrill Scott Symposium, a conference which focuses on treatment of alcoholism and drug dependency. Trejo spoke to a sold-out crowd of more than 700 at the event at the Yakima Convention Center.
Clad in a black sports coat, matching slacks and black brim-style hat with a silver cross hanging from a chain around his neck, Trejo often flashed a disarming boyish grin that crept up the right side of his face.
But a hardness would fix in his eyes at times as he recalled events of his past.
Thursday marked Trejo's 50th year of being clean and sober. He turned down celebrations at his home in the San Fernando Valley to come to Yakima to share his story, which he describes as "doing God's work."
"It makes me feel better to be here doing his work — and that's all this is," Trejo said.
Trejo grew up in Echo Park, Los Angeles, where his father worked construction jobs while his mother kept the house clean and dinner on the table at 5:30.
But he overlooked the value of his parents' hard work and chose to follow his Uncle Gilbert, a drug addict.
Trejo was only 8 when Gilbert turned him on to smoking marijuana, and at 12, heroin.
"That's who I patterned my life after; that's all I did," Trejo said.
He recalled the first time he used heroin — he caught Gilbert using the drug and demanded some.
"And he said, 'No,' and I said, 'Give me some or I'll tell,' " Trejo recalled. "I didn't even know what it was — I just knew I liked what I saw it do to him."
He thought it made Gilbert brave. He remembered a previous incident when his grandfather, a broad strong man, was upset and yelling at both of them.
"I was scared to death, I mean literally scared to death, and I knew he was going to hit us any time," Trejo said.
But out the corner of his eye he saw Gilbert — high on heroin — nodding off as if nothing was happening. Frustrated at seeing Gilbert loaded, his grandfather stormed out of the house yelling and screaming without hitting either one of them.
"And Gilbert woke up and was like: 'Did he hit us?' and I thought, 'Oh God, let me be like him,' " Trejo said. "Let me be able to stare death in the face and go to sleep."
Trejo vividly recalled drinking a quart of beer while riding in a 1949 convertible with Gilbert and his cousin and friends. He was 13 and thought he'd reached life's pinnacle.
"I thought I'd made it," he said, adding that he told his cousin to drive by his junior high school.
"Let's cruise by my school so I can show everybody I made it," he said.
His path led to several stints in juvenile hall, which didn't seem to faze him.
"Growing up in my neighborhood, going to juvenile hall was a badge of honor, and the youth authority (juvenile prison) was an even bigger badge, and state prison was like, wow, you were the guy," Trejo said.
Trejo was serving a 10-year sentence for armed robbery and drug charges when the riot exploded on Cinco de Mayo in San Quentin in 1968.
A baseball team from outside had entered prison walls to play, and someone started throwing rocks, Trejo said.
"A riot in prison, it's like an explosion," he said. "It's not like things build up — it's like boom and everybody is involved. Those are the bad ones and that's what happened."
As rocks were flying and punches thrown, Trejo said a prison guard captain pointed in his direction, showing guards where to shoot; he dove onto the ground with another inmate to avoid being shot. They were taken to the hole for solitary confinement.
Injuring prison guards and non-inmates were serious offenses, and Trejo said he believed he was headed for capital punishment.
"Those are gas-chamber offenses," he said. "I was 24 years old and my life was over."
Hunkered down in the hole, he prayed for God to give him the strength to meet his end with courage. In return, he said he promised to say God's name every day and do whatever he could to help his fellow man in the time he had left.
He said he'd seen movies where death-row inmates walked to their executions screaming and crying; he didn't want to go out like that.
"I just remember saying, 'Let me die with dignity,' " Trejo said.
Trejo and the two other inmates accused were never charged in the riot. The state had trouble confirming witness testimony, and a baseball player who was injured decided not to pursue charges, Trejo said.
Still in prison, Trejo embraced a 12-step recovery program and stayed clean and sober.
A year later he was released on parole after serving five years of the 10-year sentence.
"They said 'We're going to give you a chance to try your wings' — I haven't looked back," he said. "Say his name every day, do what I can for my fellow man — that's every day."
Trejo believes his prayer, and promise to God, resulted in an immediate change of his character.
"I think I got killed right there. I think I died right there," he said. "I think that guy died."
Trejo began helping others get clean and sober after leaving prison. A few years later, he became a substance abuse counselor, routinely working with teens and young adults.
One day, a youngster called and asked if Trejo could come to his work, where cocaine use was rampant. He needed support to keep from using. Trejo said OK and headed over to the warehouse the kid was at; it was the movie set of the 1985 film "Runaway Train," staring Eric Roberts.
Trejo was offered a chance to be an extra in the film. But then screenwriter Eddie Bunker, who had been in prison with Trejo, recognized him on the set.
Trejo won prison boxing titles as a lightweight and welterweight. Remembering that, Bunker suggested he teach Roberts to box for the movie. Impressed with Trejo, filmmakers gave him a part — he boxed Roberts in a prison in the beginning of the movie.
When asked if he could act like a convict, Trejo said: "I'll try."
From there, Trejo began landing similar parts in movies seemingly everywhere, including "Blood In Blood Out," a prison movie popular in Mexican-American culture — he played the role of an inmate.
"First five years of my career, I played inmate No. 1," he said with a laugh.
Later he began landing larger parts, such as in the crime film "Heat," where he worked alongside Robert De Niro, Al Pacino and Val Kilmer.
"I held my own with them," he said.
Right out of prison, Trejo was asked to talk to a group of youths. He said he wasn't sure what he had to offer just out of prison, but did it anyway.
They were quickly engaged, Trejo said. He thought the kids liked him.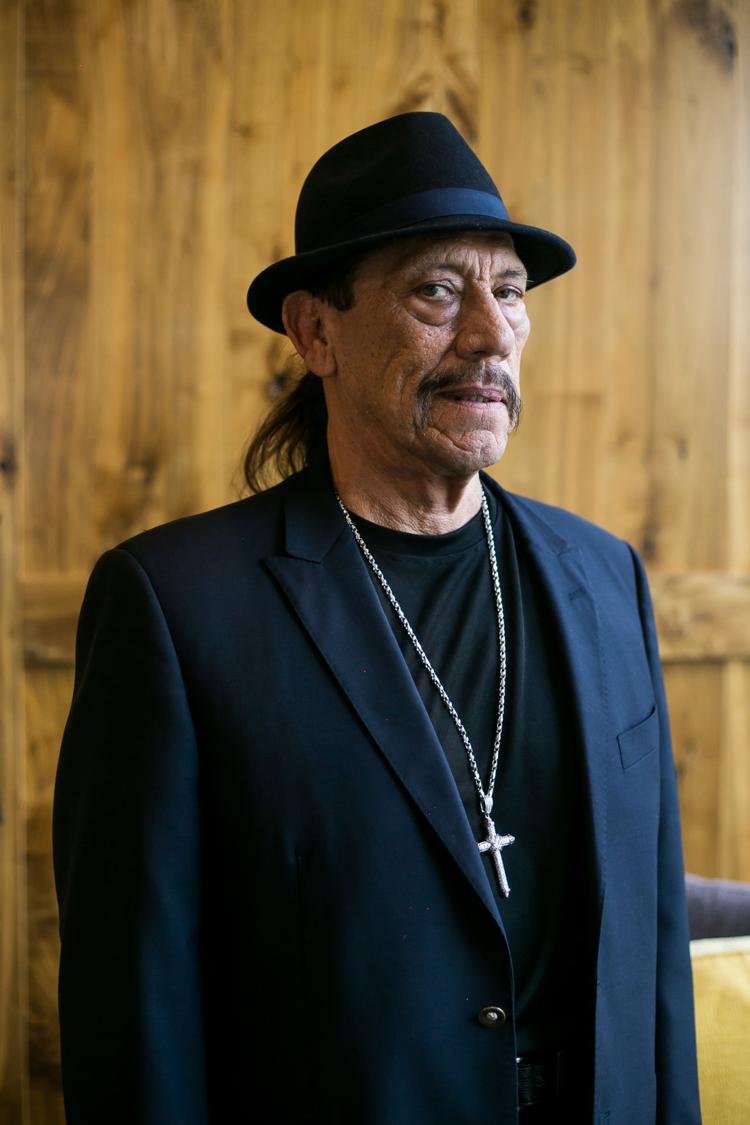 But a man who was helping Trejo stay clean told him: "They like your tattoos; you're interesting, but it's not you, it's God."
Trejo said that's when he realized that ego was his enemy.
"That's right," he recalled saying, "I'm here because I made that promise, and it stuck with me — this is all about God."
He began working as a substance abuse counselor in 1973 at the Narcotics Prevention Project in East Los Angeles, and later went to work for Western Pacific Med Corps, where he still works today.
"So when people say 'You're an actor,' I say, 'No, I'm drug counselor,' " he said.
His boss is Mark Hickman, CEO of Pacific Med Corp: "Make sure you get his name in there because I know he won't like it," Trejo said with laugh. He's known Hickman since he was 14.
Trejo says his acting career isn't about him, but that it's an opportunity for him to be God's instrument to reach others, primarily youths.
Trejo says ego is an acronym for "edging God out," something he remembers not to do.
"I think one of the gifts that God has given me is that I attract them," he said. "Not because of Danny Trejo — get that out of the way — but because of the guy in 'Spy Kids,' the guy from 'Heat,' the guy from 'Desperado,' the guy from 'Con Air,' the guy from 'Blood In Blood Out.'
"So I think (God) is putting me in that position. I start taking credit for it and that ego comes in, I edge God out."