The most sweeping child care law in Washington's history is being lauded by many as an opportunity to revive a broken system. But while some cheer it on, most Central Washington lawmakers worry the new policy will further complicate things.
The Fair Start for Kids Act, Senate Bill 5237, was signed into law at the start of the month in between children's songs and the celebration of parents, child care providers, lawmakers and advocates on a video call.
The bill promises to better compensate child care providers, encourage new child care programs and make care more affordable for more families.
It builds upon the state's existing Working Connections program, which offers subsidized care to low-income families in programs throughout the state that follow standards of high-quality early learning. But with parents struggling to find or afford licensed care even with the subsidized support and providers struggling to make ends meet, advocates say the new Fair Start for Kids Act and the more than $400 million in funding over the next two years that come with it could not have come too soon.
In Central Washington, some don't share the enthusiasm. Among all state representatives and senators representing Benton, Columbia, Franklin, Grant, Kittitas, Walla Walla and Yakima counties, just two voted in favor of the Fair Start for Kids Act.
Why a subsidy?
In 2015, the Legislature passed the Early Start Act, offering to subsidize child care payments for any providers who participated in the Early Achievers program, a set of high-quality early learning standards.
Local lawmakers Sen. Jim Honeyford, R-Sunnyside, and Reps. Bruce Chandler, R-Granger, and Tom Dent, R-Moses Lake, were among those who voted in favor of the Early Start Act.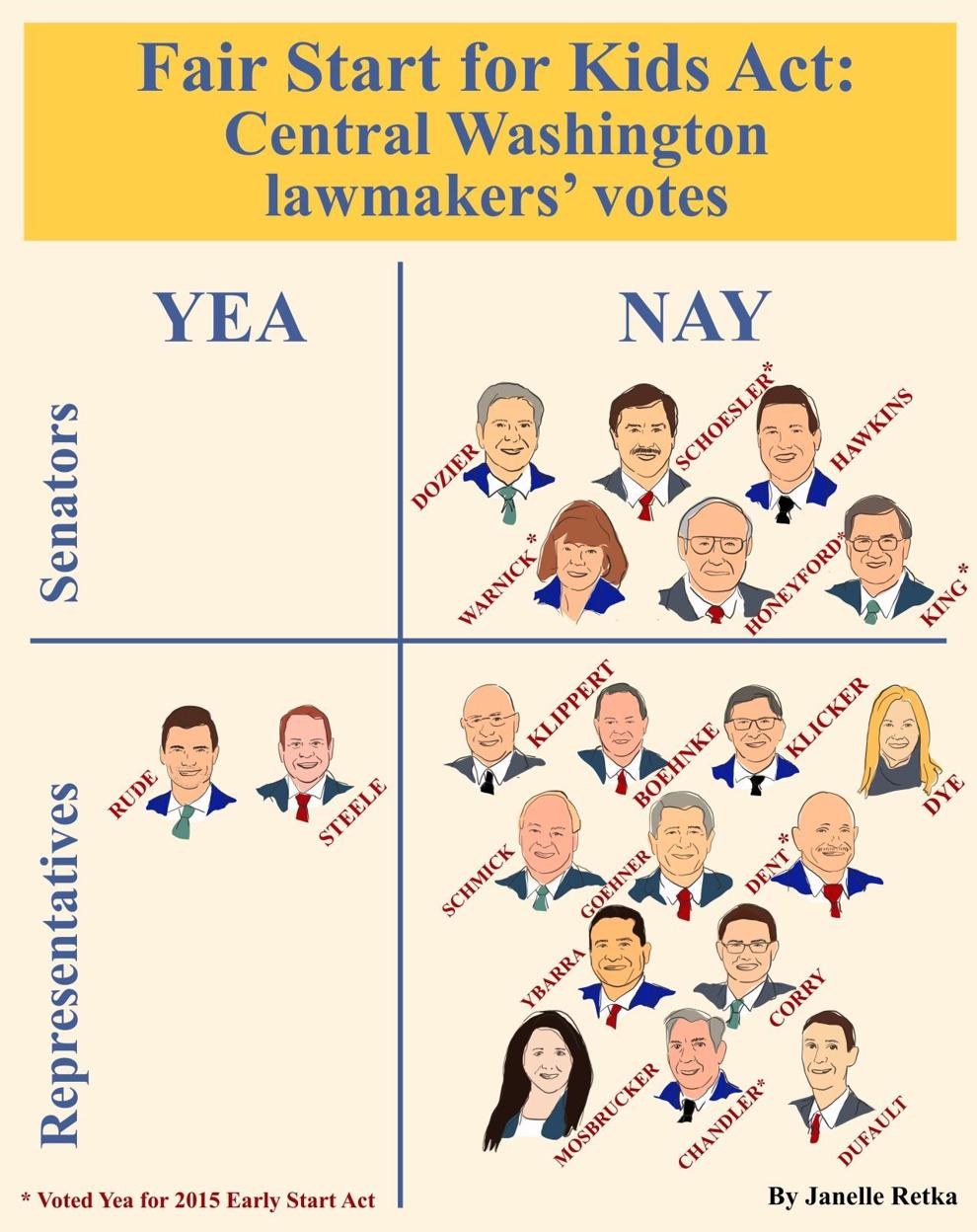 That effort was in response to low rates of preparation among Washington children for kindergarten. State data showed that in the 2013-14 school year, only 41% of kids in the state were fully prepared with social emotional, physical, language, cognitive, literacy and math skills deemed important for a strong start to kindergarten. Low-income children and kids of color were less likely to have these skills, which are indicators of whether kids will meet grade standards in math and English in third grade — in turn indicative of students graduating on time.
"We'd like to not have a big difference between the haves and have-nots of the children in the world, and one way to approach that is to even out the education experience that children have," Ross Hunter, secretary for the state Department of Children, Youth and Families, said in an August 2019 interview with the Yakima Herald-Republic.
One goal was to offer rich learning opportunities ahead of K-12, since 90% of brain development occurs in the first five years of life, before kids get to school.
In the years since, more child care providers statewide have joined the early learning program. Most Yakima County providers primarily care for families on subsidies, for example.
But that bill primarily addressed the quality of care, rather than access. Many parents still could not afford to pay their copayments. And the subsidies providers were receiving didn't cover the full cost of care, leaving many struggling to make ends meet. Plus, the state had already been suffering from an undersupply of licensed capacity.
Beginning in the early 2000s, capacity was on the decline, according to data from Child Care Aware of Washington. By 2019, providers statewide had the capacity to serve just 17% of child care-aged children. Many experts attribute this to low wages among child care workers, an issue nationwide.
As a result, state researchers found that employers and the state economy were losing billions of dollars annually from work disruptions and lost productivity caused by unstable child care. Parents were losing jobs and missing promotions, while their kids were missing key learning opportunities.
While the statewide decline plateaued in recent years, Central Washington has continued to see a dropoff. Between 2015 and 2021, Yakima County alone saw a loss of 700 licensed child care slots.
With the arrival of the Fair Start for Kids Act and its funding source, advocates see opportunities to grow supply and to help more families afford existing slots.
The act creates a dedicated account in the state treasury for child care and early learning in the state. It also calls for the early learning advisory council to assess regulations within the Early Achievers program to find areas that aren't working or should be adjusted.
Impact on parents
Some of the sweeping changes within the 56-page Fair Start for Kids Act are coming quickly.
Beginning in July, the new act will cap the amount paid by parents participating in the state's Working Connections program, which supports low-income parents who are working or in school by paying for part of their child care bill. The most a qualifying parent will pay for each child will be $115 per month, according to the act.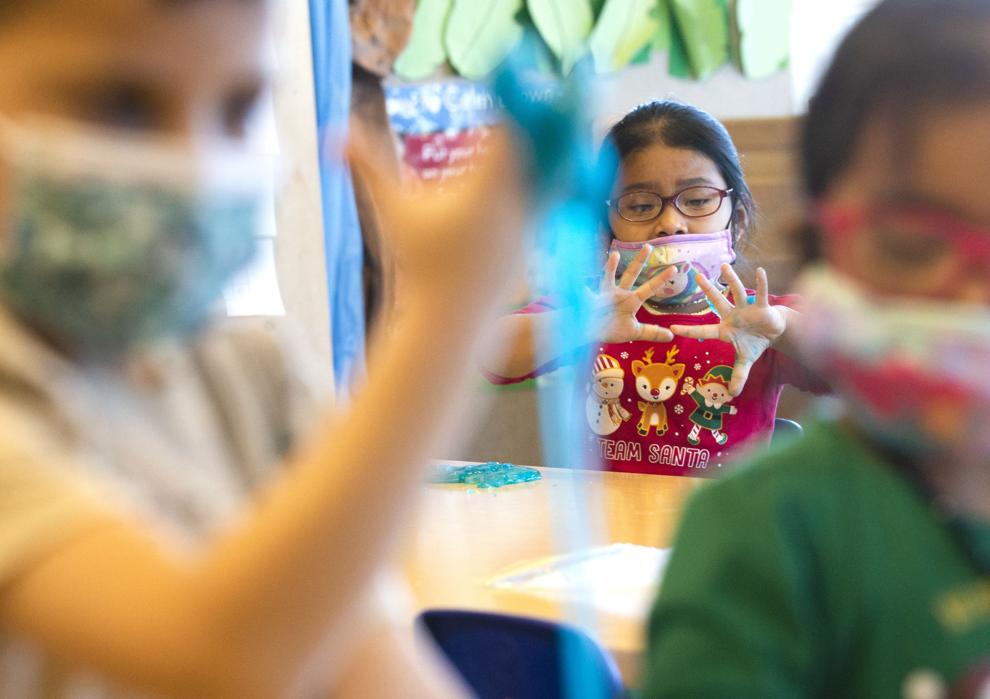 That's compared to a current copayment of about $700 a month for children from families at the upper cutoff of eligibility, or 200% of the federal poverty level, according to policy staff for the Washington Senate Democrats. They said the high copayment results in just 2-3% of families who are eligible for the subsidy but earn 137.5% or more of the federal poverty line accepting the support, rather than 12-16% participation in lower cost brackets of the subsidy.
The act will also increase the proportion of Washington families eligible for the Working Connections program.
Beginning in October, families will be eligible based on the proportion of the state median income they make, rather than being at or below 200% of the federal poverty line, the act says. Those making at or below 60% of the state median income as adjusted for family size will qualify.
That means a family of four would be eligible if household income is $61,675 or less in 2021, compared to $53,000 or less as is.
In future years, the eligibility threshold will be adjusted to include more middle class families, and the copay cap will adjust with the new inclusions, according to the act.
The subsidy program also extends to more caregivers or parents pursuing an education under the new act, among other things.
Impact for providers
Research indicates that the state's subsidy payments to child care providers are far below the true cost of providing child care. The state's goal, according to the act, is to increase subsidy rates over time to reach the full cost of care.
Beginning in July, subsidy payments from the state to providers must meet the 85th percentile of the market cost of licensed or certified care. A cost model will be created, accounting for things like the cost of living and non-standard hours of care.
State preschool rates will also increase by 10% in the upcoming school year. Dual language providers, as well as those who care for infants, will receive enhanced subsidy rates beginning in July 2022 in an effort to grow supply of these specific types of care.
The act also directly relaxes some rules for providers, allowing in-home child care providers to care for more than 12 children when space and staffing allow, for example. Providers are also expected to receive additional support and coaching from licensors at the state Department of Children, Youth and Families, as are informal providers, called Family, Friends and Neighbor providers.
It also allows providers to access health insurance through the Washington Health Benefit Exchange. This was a significant issue of concern in the past year and became a key point in statewide strike threats from unionized providers.
Where funds are available, they'll be invested in services like special needs and trauma-informed care, supporting business that help staff access care, or grants to start new child care programs in child care deserts. Deserts are defined as areas where the number of child care-aged children far outweighs the number of licensed child care slots.
Funding the bill
The changes will be funded by state and federal dollars. About $300 million in federal emergency relief will go to child care programs, which have struggled to stay open amid a decline in attendance and increased costs like sanitation.
As of mid-May, child care capacity statewide was down 9% from pre-pandemic levels due to closures, according to data from Child Care Aware of Washington. While that's an improvement from earlier in the pandemic, any permanent loss of providers is a hard hit to the sector and those it serves.
Among those providers who have remained open, many nationwide report dipping into savings or going into debt because of increased costs from things like sanitation as enrollment has declined.
State funds also will come from a new capital gains tax that was passed alongside the Fair Start for Kids Act.
The 7% tax is on profits above $250,000 in sales of investments like bonds and stocks. Real estate and retirement accounts are among those exempt, and deductions are available for many smaller businesses. The tax, passed on a narrow vote, is estimated to bring in about $445 million each year beginning in 2023 and will pay for early learning and child care investments, such as those in the Fair Start for Kids Act.
Pitched by Democrats as an excise tax, many Republican lawmakers say it's an unconstitutional income tax. At least one lawsuit has already been filed to challenge it.
Local lawmakers' take
While the funding of the bill was particularly controversial, Central Washington lawmakers had other objections, too. Reps. Skyler Rude, R-Walla Walla, and Mike Steele, R-Chelan, were the only two lawmakers in Benton, Columbia, Franklin, Grant, Kittitas, Walla Walla and Yakima counties who voted for the Fair Start for Kids Act. Neither could be reached for comment.
Area lawmakers said they didn't like how it was funded, and they think part of the problem is overregulation.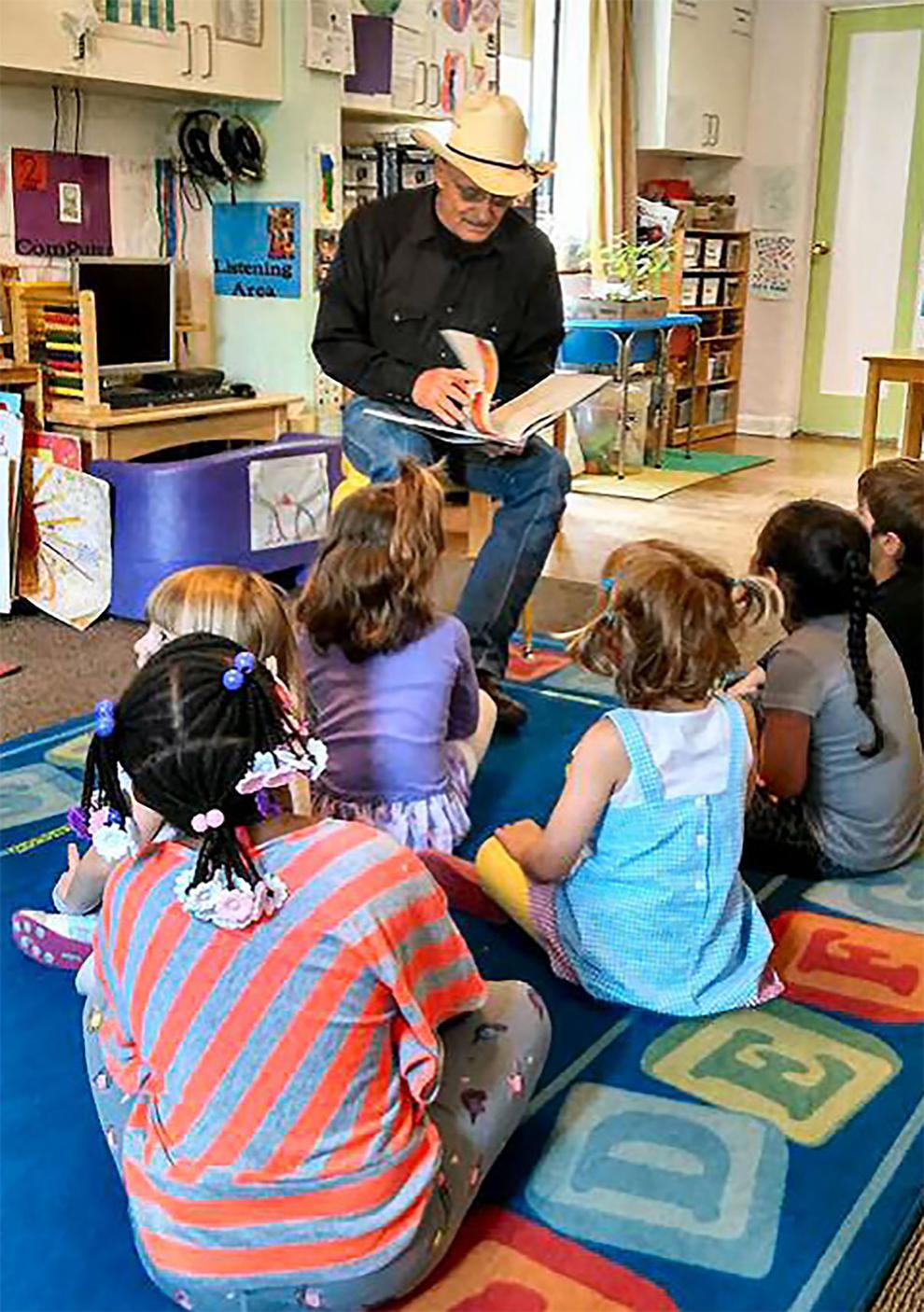 "It's not that I voted because we don't need child care, because we absolutely do," said Rep. Gina Mosbrucker, R-Goldendale. "I just think we need to find that balance between regulating to keep kids safe and allowing child cares to function."
She also said that she worried about what would happen after the federal funds were used.
"I worry about them being sustained. I worry about having them (deplete) and then being right where we are," she said, adding that the source of funding should have gone on a ballot for a statewide vote.
Sen. Jim Honeyford, R-Sunnyside, and Reps. Alex Ybarra, R-Quincy, and Joe Schmick, R-Colfax, had similar concerns about sustaining the funds. Rep. Jeremie Dufault, R-Selah, and Ybarra also said the capital gains tax is unconstitutional. Ybarra worried that even if it wasn't found unconstitutional, the tax might be placed in the hands of middle class families if not enough of the upper class sold bonds or stock in a given year. Schmick said finances were just a facet of the problem.
"In my mind, there's four underlying issues," said Schmick of child care. "We've overregulated the day cares out of business. We've then required a master's degree to run a day care. We then allowed unionization of the workers. And the last one is now we have a much higher minimum wage. The bill that was passed, we didn't delve into what I would call those core issues. We just threw a whole bunch more money at it thinking that money is going to fix this. I don't see this helping much at all."
Increased regulations for child care providers have been a challenge. Many providers in Central Washington have reported struggling to understand exactly what is expected of them in recent years, and to keep up with the pace of increased expectations, like professional development.
In 2019, about 40 Yakima providers closed their doors for a day in protest of increased regulations they said they didn't have enough information or time to prepare for.
The regulations have been a key focus of Rep. Dent of Moses Lake in recent years. Since voting in favor of the Early Start Act, he has visited programs where providers say they can't keep up with increased education requirements, among other things.
In response, Dent sponsored a bill that would have delayed these requirements and extended providers' licenses through September 2025. He said he sees value in child care as an early learning setting, but the pressure should be taken off providers to fall in line so quickly. He agrees with his peers that the industry is over regulated as a whole. While his House Bill 1278 did not pass this session, he expects to introduce it next legislative session.
Addressing challenges
In the meantime, another piece of legislation that passed, Senate Bill 5151, waives licensing fees for providers until 2023. It also makes Washington the first state in the country to permanently license outdoor, nature-based child care.
While union leaders agree that regulations have been a challenge, they say they agreed to them in bargaining and are in the best interest of children.
The real need is support to meet the requirements, rather than a reduction of standards, said Mary Curry, a Tacoma in-home child care provider and union leader for in-home providers statewide. She also said benefits like access to health care and increased subsidy payments allow providers passionate about their work to stay in the industry.
During a webinar by the League of Education Voters explaining the impact of the bill, Spokane provider and president of the Washington Child Care Centers Association Luc Jasmin III said that the bill allowed him to give all of his staff a $1 raise, something he said was significant to maintaining a highly qualified staff.
Sen. Claire Wilson, D-Auburn, and Rep. Tana Senn, D-Mercer Island, the sponsors of the Fair Start for Kids Act, said some requirements should be reassessed and eased, and the bill tasks a committee with working on the issue. But they added standards are needed when it comes to the health, safety and education of children.
Bigger issues are at play than just new regulations, Senn said. The Early Start Act regulations are just six years old, while the decline in capacity dates back decades. The entire country has seen a drop in child care slots, making it a larger issue than the local policies of the state, she said.
In response to sending the capital gains tax to a vote, Senn said the people of Washington had already voted: for the lawmakers that represent them in chamber votes. She also said the minimum wage hike — which Schmick had mentioned as a part of the problem — was approved by voters.
She said the reason that child care regulations have been so frustrating is because the industry received such a small amount of funding — less than 1% of the state budget in past years. By contrast, she said, there's plenty of money in the strictly regulated airline industry, where she said few have qualms with high standards.
"We've been starving the industry," she said of child care. "The cost of inaction is way more expensive than the cost of Fair Start — for our economic recovery, for small businesses, for working parents and for child brain development."