Child care providers in Central Washington have long fielded calls from parents in search of an open space for their young children.
Wait lists pre-pandemic ranged from one to 100 families at a single program. Some providers received two to three calls a week from inquiring parents. Others had multiple calls a day. Names were added to the list faster than they could be taken off.
"The supply is too low. There's almost always people calling or trying to find places, especially for infant care," said Mike Griffin, the assistant director of Care A Lot Center in Walla Walla, which he said always has at least two to three families on a wait list, even during the pandemic.
In Yakima County, the years-old problem is the same, if not worse.
"We're always full. We're always full here," said Lauria Oliver, owner of A Child's Place child care centers in Yakima and Toppenish. In the 20-odd years she's been in the business, she said she's answered calls from parents throughout the Valley. She usually has a wait list of infants and school-aged kids. "Very rarely do we have an opening. If we have an opening, we get it filled right away, so there's definitely a lot of need."
For families, this long-standing inability to find local care has resulted in a variety of outcomes: Parents staggering work schedules across night and day to alternate caring for their kids; bringing kids to work; being forced to move to a single family income despite financial need; turning to informal care through neighbors or nannies found on online databases; traveling long distances for care; lost hours or work opportunities; slipping into or delving further into poverty. The list goes on.
Various providers said they serve families from outside their immediate community, sometimes meaning long drives for families coming from rural areas for the sole purpose of accessing secure care for their kids.
One Richland mom reported that over the course of her daughter's first five years of life, she reached out to 20 to 30 child care programs and enrolled in three different programs over the same period, due to changes in availability. She had a 45-minute commute, morning and night, to take her child to one program.
For kids, the insufficient supply of child care in Central Washington can mean a lack of stability, and stability is valuable to brain development. Insufficient supply also can result in parents making sacrifices. They might send kids to care that doesn't fit cultural, linguistic or educational needs of the family, or to unlicensed care, which has fewer checks and balances and could result in a lack of engaging interaction or kids being placed in front of a TV.
These are big sacrifices for families, since the vast majority of brain development happens in the first five years of life, before kids start the K-12 school system.
The growing deserts
While wait lists have long been commonplace, child care supply in Washington state also has been in decline for over a decade.
"You're talking about wait lists and access to child care, but I think part of the problem (is)... we have lost so many child care (centers) and family homes in recent years," said Ginger Still, a board member on the Washington Child Care Centers Association, as well as co-owner and director of two Kids World Child Care centers in Richland and West Richland.
In the early 2000s, the number of child care programs in Washington state began taking a dive, according to data from Child Care Aware of Washington, a nonprofit that partners with the state.
Some attribute this to low wages and a general lack of benefits for workers in the sector despite mounting costs of living. Over half of child care providers nationwide were part of families that relied on at least one public support program, such as food stamps, between 2014 and 2016, according to the Center for the Study of Child Care Employment at the University of California, Berkeley.
Others point to a historically high turnover rate among employees in child care programs or, more recently, to increasing qualification requirements in Washington state diminishing interest in joining the sector.
Capacity has since begun to rebound slowly in some areas of the state as centers with more openings replace dwindling in-home programs, referred to as family child care.
But taking a close look, that rise has been minimal in many places in Central Washington. Franklin, Grant, Kittitas and Walla Walla counties saw a collective increase of just 70 child care spots from 2015-20. Benton County had a larger gain, with a 588 spot growth. Columbia County declined in capacity by two positions, while Yakima County's capacity decreased by 700 during that same period.
Compare that to the number of child care-aged children, and a large proportion of these communities are in deserts of child care access.
Across Benton, Columbia, Franklin, Grant, Kittitas, Walla Walla and Yakima counties, there were an estimated 55,591 children under age 5 in 2019, according to Child Care Aware. But across these same counties, data from the state Department of Children, Youth and Families shows there were just 20,128 licensed child care slots that same year — some of which were available for children up to 13.
Even within those counties, there are long stretches without providers between small hubs of sufficient supply, according to data mapping by the Center for American Progress, a left-leaning policy institute.
A map of child care supply in the Tri-Cities by CAP based on 2018 data shows that aside from a 5.5-by-2-mile portion of Richland, the converging cities are made up entirely of child care deserts. By the center's definition, that means there are at least three children under five for every child care slot.
Even within the small territory with sufficient supply, providers reported having wait lists.
Rasheed Malik, a senior policy analyst for early childhood policy at CAP, said this could be caused by families in surrounding child care deserts vying for those positions.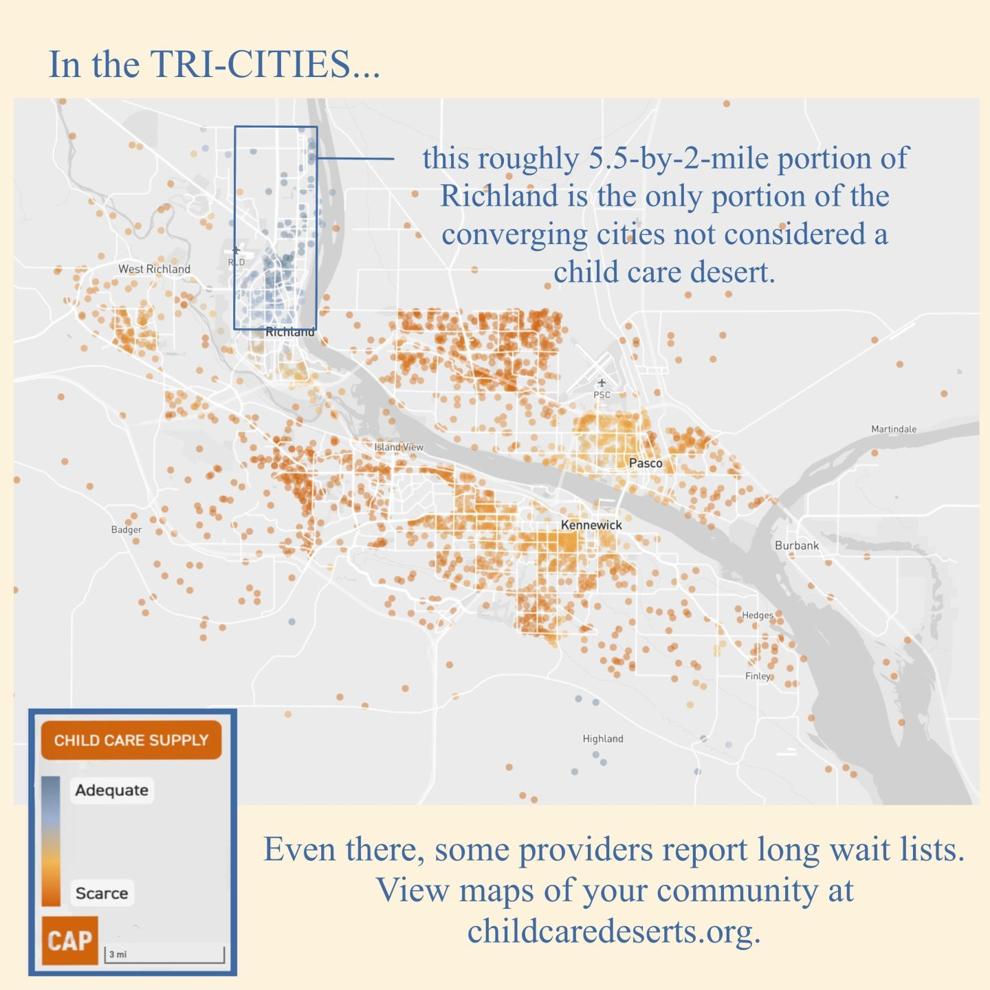 Disproportionate experience
In a 2017 study, CAP found that nationwide, Hispanic and Latino families "disproportionately reside in child care deserts, with nearly 60% of their population living in areas with an under-supply of licensed child care."
This appears to be true in Yakima County.
In the city of Yakima, for example, CAP mapping shows a dramatic drop in supply from the north side of Nob Hill Boulevard to the south. Across that same line, census data indicates that the proportion of Latino residents increases dramatically.
Following highways through the lower valley, the first sign of consistent, sufficient supply from there is in Granger, about 25 miles away. In Toppenish and Wapato, where the under-supply is acute, the Latino population is significantly larger — at 75% to 85%, compared to 27% in one census tract directly north of Nob Hill Boulevard and the child care desert in Yakima.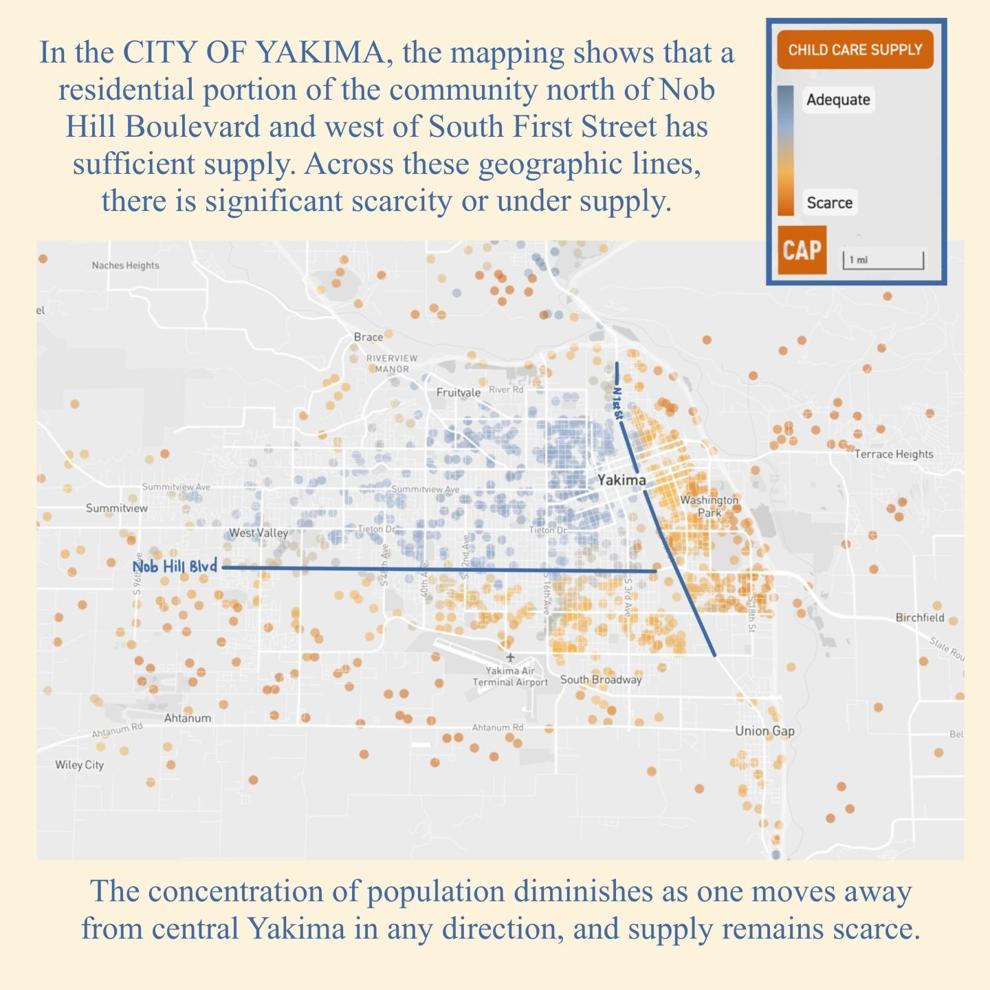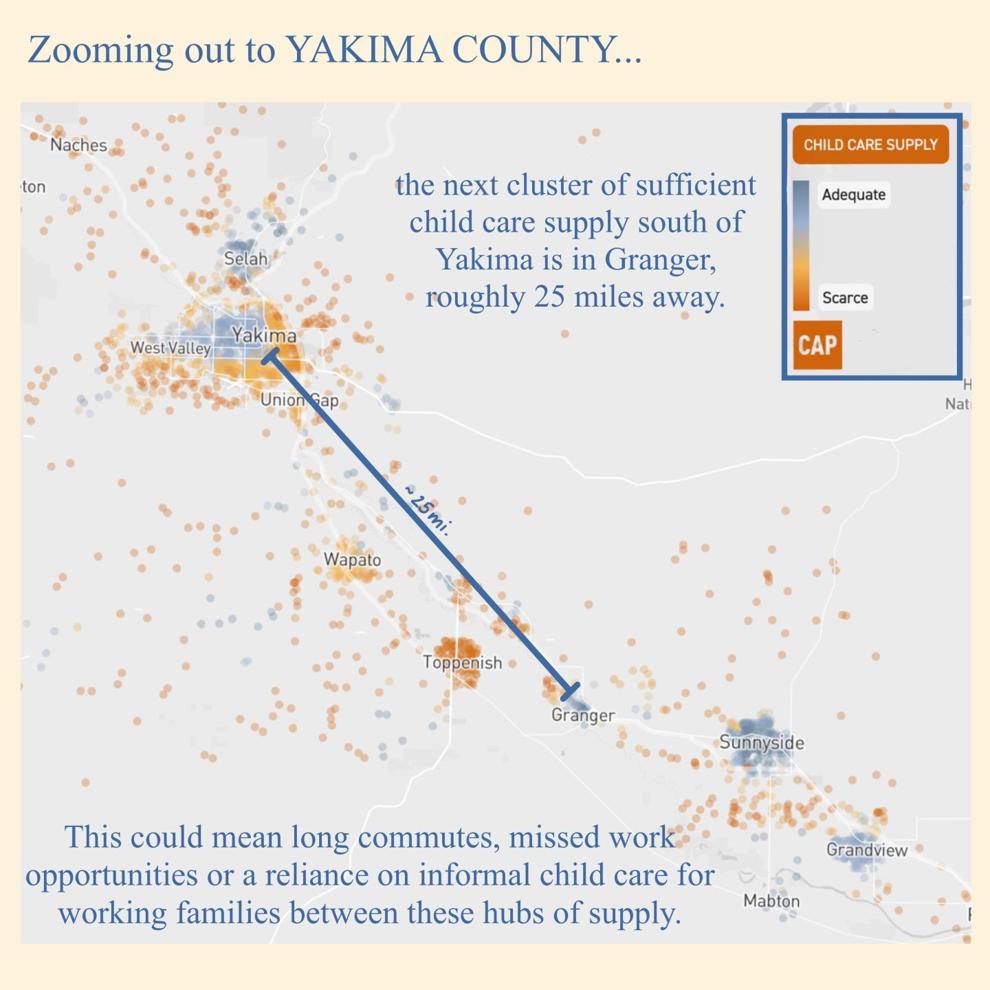 These same portions of Yakima County also have higher rates of poverty, according to the census data, creating additional burdens for families.
Malik said it's not entirely clear why Latino communities disproportionately live in child care deserts — it's something CAP hopes to research. But these supply gaps mean Latino families use informal care settings more often than communities of other demographics, he said.
He also said that while the institute isn't yet able to accurately capture access to child care on tribal lands, Native American communities generally struggle greatly with child poverty and access to licensed child care.
Affording care
Supply of licensed care is just one layer of the access problem. On top of that, parents have to be able to afford the care.
In Central Washington, many providers support families on state child care subsidies — meaning families that make 200% or less of the federal poverty level and are working or in school. Many providers are dedicated to these high-need families and nurturing their children, even as the reimbursement from the state doesn't cover the full cost of the care.
For families that make above the threshold for subsidies, many can still not afford the cost of care.
In Yakima County, where the median household income in 2019 was roughly $45,000, the cost of care for one infant amounted to 23% of the median household income, while care for one toddler made up 19% and care for a preschooler accounted for 18%.
Programs geared at reaching marginalized families are having a harder time finding families that qualify for the programs based on federal poverty levels as minimum wage in the state rises to account for an increasing cost of living, said Mamie Barboza, executive director of EPIC early learning programs in Yakima. That means more families are being impacted by a "cliff effect" in child care, where an hourly raise of less than a dollar can mean the difference of hundreds of dollars in child care costs.
Getting edged out
Providers say it's heartbreaking to turn parents away: They rely on stable child care to be able to provide for their families. Plus, high-quality care is intended to nurture their children's young brains, creating a love for learning and a foundation for school.
In recent years, the state has recognized the importance of high-quality child care to prepare students more equitably for K-12 education. State data show that students with foundational skills like listening to instructions, sharing, holding a pencil and understanding the concept of numbers prior to entering kindergarten are more likely to meet standards on third-grade math and reading exams. Those are in turn indicators of whether students are likely to graduate from high school.
But as it stands, just 51.5% of students enter kindergarten with the skills needed to be considered ready. By demographic, that varies. Over 57% of white students enter kindergarten ready, according to the state Office of the Superintendent of Public Instruction, while roughly 35% of Latino or Native American students do.
"We'd like to not have a big difference between the haves and have-nots of the children in the world, and one way to approach that is to even out the education experience that children have," Ross Hunter, secretary for the state Department of Children, Youth and Families, said in an August 2019 interview with Yakima Herald-Republic.
He pointed to the Early Start Act, a state law passed in 2015 to standardize child care providers' early learning skills, providing a better learning environment for young learners.
But unequal access to child care due to lack of supply or cost limitations hinders that effort. The pandemic only threatens to complicate this.
During the pandemic, some centers continue to report long wait lists. At the same time, many providers have vacancies while parents keep their kids home due to COVID-19 concerns or employment changes. This creates some temporary opportunities for new families to enter into a previously overloaded child care system, but it also means lower wages for providers whose income depends on attendance. That's created a new burden on providers, many of whom have gone into debt or closed their doors during the pandemic.
Across Washington, 11% of child care programs were closed as of mid-March, according to Child Care Aware. While many hope these closures are temporary, national research suggests many could be permanent, widening the gaps in child care access further.
Experts worry this could further disenfranchise working parents and impact their young children's long-term learning opportunities.
Survival over education
This is not to say that kids can't get a strong learning foundation at home or in informal care. Early learning experts consistently champion that the parent is a child's first teacher. Data from the Lake Stevens School District a handful of years ago suggested that low-income and non-white kindergarten students were showing up better prepared than their other peers due to parents' efforts to access community learning opportunities.
But many note that outside of these settings, not all parents have knowledge of or access to age-appropriate learning materials that might set their kids up for success in kindergarten, like a licensed child care might provide, especially in more rural areas with fewer community resources.
Walla Walla child care provider and advocate for improved access to care, Lupe Mendoza, who is a single mother with three child care-aged children, said many parents of young kids don't yet know how to navigate her local public school system, which offers free kindergarten readiness resources.
"It's extremely hard for them to get those resources," she said. For many families, there's another layer of complication: "One of the main things about poverty is if their basic needs are not being met, it's that much harder for them to access a resource."
For working parents in Central Washington, feeding and keeping their families housed becomes higher priority, she said. It's not to say parents can't provide rich learning environments like those offered in many child care programs, but there are extra barriers to it, she said.
Clara Vazquez of Granger, who has testified before the Legislature in favor of improvements in child care access, has been unable to find care for her son in recent years, both prior to him entering the school system and more recently with school-aged care. She echoed Mendoza and added that a reliance on informal care are complications to providing these learning opportunities.
In her family's current set-up, she and her husband need to work. So after finishing a night shift, Vazquez's brother spends the day helping care for her nearly 8-year-old son, whose school is doing part-time remote learning. While it's a safe environment for her son, Vazquez said she knows her son isn't reaching his full learning potential because her brother is often sleeping or exhausted from work, rather than engaging with him.
"A lot of parents have to go and work, so they don't have that extra support of making sure their kids are learning what they need to learn," she said. "Sometimes they have to make decisions that determine their (child's) education, and sometimes it's survival rather than education."