It's halfway through the school year, but districts throughout the state are welcoming students to their first day of school.
That's because a relatively new kindergarten program is taking off in the Yakima Valley and across Washington.
Last week, 15 children 4 and 5 years old shuffled into a classroom at Barge-Lincoln Elementary School in Yakima. For some, it was their first time in a learning environment.
"They're learning at different paces, all of them; so we're just going to … integrate fun into learning," said their new teacher, Laura Rodriguez. "Because that's definitely what's going to get them where they need to be: eager and excited to be here every day."
Transitional kindergartens bring children who haven't had access to early learning opportunities into the classroom ahead of their first full year of kindergarten. They might have been on a waiting list or unable to afford a preschool program.
The intent is to make sure the kids are equipped with skills and classroom behaviors that will help them keep up with their peers and succeed in kindergarten — learning to hold a pencil properly or play with other children, for example. Rather than spending 40 weeks in a regular kindergarten schedule, these students might get 60.
The results are impressive: Schools report that these students who would otherwise be behind their peers in development upon entering kindergarten become leaders in their classrooms and show steady academic growth.
Schools also see a reduction in teacher referrals for counseling, special education and discipline, as well as early intervention programs — meaning a reduction in school spending.
The genesis of the extended kindergarten program can be traced back seven years, when it was created out of a loophole in state law. But in light of its success, the Office of the Superintendent of Public Instruction endorsed it this school year. As a result, the program has spread rapidly.
More than 500 students statewide started class in a transitional kindergarten last week, according to Greg Baker, superintendent of the Bellingham School District, where the program began.
Four of the 15 districts in Yakima County now have transitional kindergarten, with the Mabton and Yakima school districts each launching one this year. The East Valley and West Valley districts are each in their third year of hosting the program. Another five are in planning stages or considering the prospect.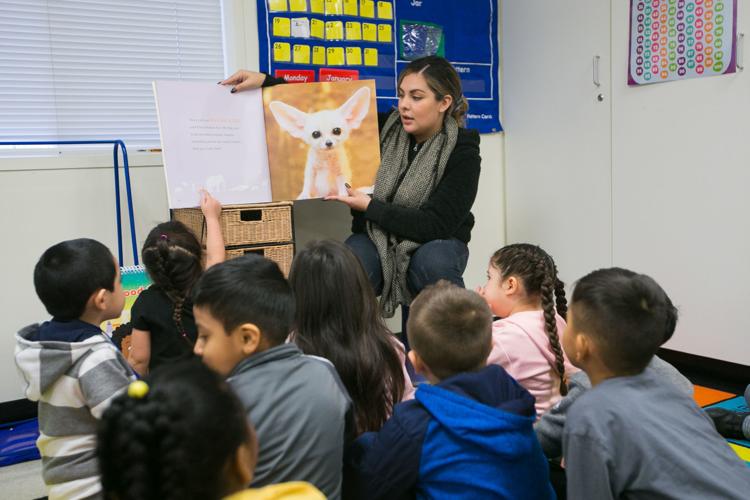 Kristi Dominguez, the program's creator and executive director of teaching and learning for the Bellingham School District, said she helped Yakima plan its new program and other districts have been reaching out to her for guidance. Twelve districts have made arrangements to visit Bellingham's program, called Promise K, in the spring.
"This is a historical moment," she said. "This has changed the lives of the students who have participated. To know that it's going statewide is just the most incredible gift."
Kindergarten outcomes
Reading and math proficiency in third grade have long been recognized as indicators of whether students will graduate from high school on time or potentially drop out. One in six students not on track in third-grade reading do not graduate on time, according to a 2011 report published by the Annie E. Casey Foundation.
Today, data collected by OSPI also shows a strong correlation between kindergarten readiness and third-grade proficiency in math and reading. Kindergarten readiness measures social-emotional, physical, language, cognitive, literacy and math development.
Early exposure to numbers and letters, books, crayons and playtime with other children, for example, could be the difference between a student who struggles in kindergarten and one who thrives.
Nearly 70% of students who displayed readiness in all six areas in the 2014-15 school year were found to be proficient in math and reading by third grade, according to OSPI. That's compared to roughly 10% of students who lacked development in all six areas when they entered kindergarten.
There is a wide disparity in development levels among students entering kindergarten in Washington, said Karma Hugo, OSPI's director of early learning. And statewide there's a higher rate of kindergarten repetition than any other grade, she said.
Just 51.5% of students statewide were considered kindergarten ready when entering school this year, according to OSPI data released in late January.
In Yakima County, all but one district had readiness scores far below that rate.
The West Valley School District was the exception, with 60.7% of its students considered prepared. That's the result of the 9-year-old Pre-K Initiative in the district to enhance early learning, including the district's transitional kindergarten launch three years ago, according to the district's assistant superintendent of teaching and learning, Peter Finch.
The Yakima School District, meanwhile, has hovered around 25% readiness for several years. A new strategic plan aims to increase that to 95% readiness by 2026.
Hugo said that while the kindergarten readiness scoring has helped schools and the state understand the importance of early learning and boost funding, it has also created a dilemma.
"It really puts the onus on the child to be in a particular place in his or her development, which of course the child has no control over," she said. "It's incumbent on our school systems to meet those kids where they are. ... Our data is telling us that's a really wide span."
Education experts agree that there's no single solution.
But Hugo said efforts like inclusive preschool, Head Start, the Early Childhood Education and Assistance Program, the expansion of kindergarten to full-day attendance, community early learning programs and now transitional kindergarten all play a part.
Finding the loophole
The idea for transitional kindergarten began when Dominguez, a Wapato High School graduate and transplant to Bellingham, heard of a program in Oklahoma that was created through a loophole in state funding for kindergarten. It essentially allowed 4-year-olds to participate in state-funded kindergarten, making two-year attendance possible.
The result? It narrowed equity gaps among students.
"By the time the state realized the system, it was too late — there was too much success," Dominguez said.
When she shared the story with her superintendent, Baker, he pulled up the Washington state law on kindergarten, she said.
By law, students must be 5 years old by Aug. 31 of the school year in order to be enrolled in kindergarten. But an exception allows districts to vet students based on ability or need and enroll them early.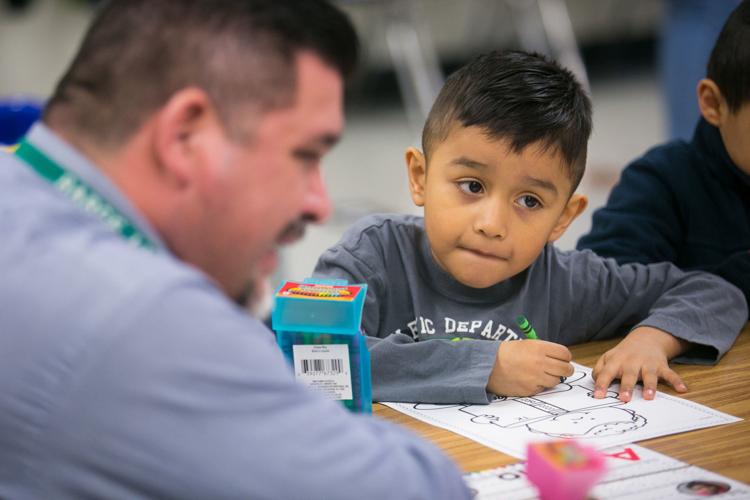 "The intent of the law was to capture those kids who are highly advanced, the top 3%. But it didn't say that," Dominguez said. "It said ability or need, and it didn't define either of those terms. That was the loophole."
The district took the exact wording of the law and put it into its enrollment policy. She said this allowed the district to admit advanced students, as intended by law, and also create a state-funded kindergarten program that met the needs of students who would otherwise be left behind.
"The state has been doing something like this for years. We call it 'retention,'" Dominguez said.
Students can repeat any grade and stay in the K-12 system up until age 21, "and nobody bats an eye," she said. "This is essentially taking that idea and putting it on the front end. It's about being proactive rather than reactive."
If a child didn't have proper pencil grip, they could be enrolled in the early kindergarten program, Promise K. If they had never played with another child, they could enter transitional kindergarten and learn.
"The education system is set up to elevate people who have had opportunity prior to kindergarten, and it's not great at catching or meeting the needs of children who have been furthest from opportunity prior to kindergarten," said Dominguez. "This program challenges that and provides a more even start for children."
The program is focused on partnering with the early learning community, complementing their services and reaching students on waiting lists, rather than pulling students away from existing programs. Dominguez said this helps public schools reach kids that were otherwise falling through the cracks.
While students attend a full-day of class for just a portion of the school year — roughly 20 weeks — they are considered equivalent to full-time students, bringing state funding for each transitional kindergarten student into the school.
Of the approximately 500 students served by Bellingham's program since its inception, just five have been placed in early intervention programs, Dominguez said. On average, students show a 110% increase in academic gains by the end of the short program, despite the program being focused on social-emotional growth. Byproduct skills include the ability to write their names, learn numbers, letters, fine motor skills and storytelling, she said.
Yakima and beyond
For years the program functioned without state endorsement, although OSPI was aware of what Bellingham was doing. Other districts followed suit in small numbers. The West Valley and East Valley school districts were among them.
Last spring, the OSPI recognized that interest in the program was growing statewide, Hugo said. After consulting with Bellingham about student outcomes, the OSPI agreed the program aligned with the state's goal of closing equity gaps and also reduced district spending. So the OSPI developed guidelines for what it dubbed transitional kindergartens ahead of the 2019-20 school year.
Both the Mabton and Yakima school districts started transitional kindergarten classrooms this year as a result.
Mabton's began in December with 24 students. In the future, it hopes to add two or three more transitional classrooms, Superintendent Joey Castilleja said.
Yakima's class is a pilot of 15 students. If student outcomes mirror those elsewhere in the state, the district hopes to replicate it districtwide, Superintendent Trevor Greene said.
The Selah, Zillah and Union Gap school districts aim to launch classrooms for the next school year, while Sunnyside and Mt. Adams are studying the feasibility of transitional kindergarten programs.
Hugo said the main barrier for most school districts is a lack of space, which Granger School District said had barred it from considering the program. Other districts might not have a need for transitional kindergarten, as community district programs already fulfill early learning demand, said Hugo.
The big takeaway, Hugo said, is that educators always need to meet students where they're at — starting in kindergarten.