While holding a heavy vase of flowers to give his new teacher, incoming second-grader Bryden Hunter's hands were freezing, but his mask kept his face warm.
Tuesday marked the first day of school for the West Valley School District, including about 500 students in a new building at Summitview Elementary.
For the past two years, students from Summitview and Apple Valley Elementary School attended classes at the district's freshman campus while construction was underway on new buildings for each school.
Several parents expressed approval of the new building as they dropped off their kids.
"It's gorgeous, absolutely gorgeous," said Melissa Brunz, president of the school's Parent Teacher Organization. She said she was glad her fifth-grade son could experience the new building.
Izaac Mincitar, 8, called the building "cool" and said he liked its big glass windows.
Tuesday was Mincitar's first day of third grade. Wearing a Spider-Man face mask, he said that he was looking forward to having a good first day and paying attention in class.
Inside, the building still smells new and has the school's eagle mascot etched in various spots.
Permanent signs with large black letters throughout the new building remind students of virtues like tenacity, integrity, empathy and humor.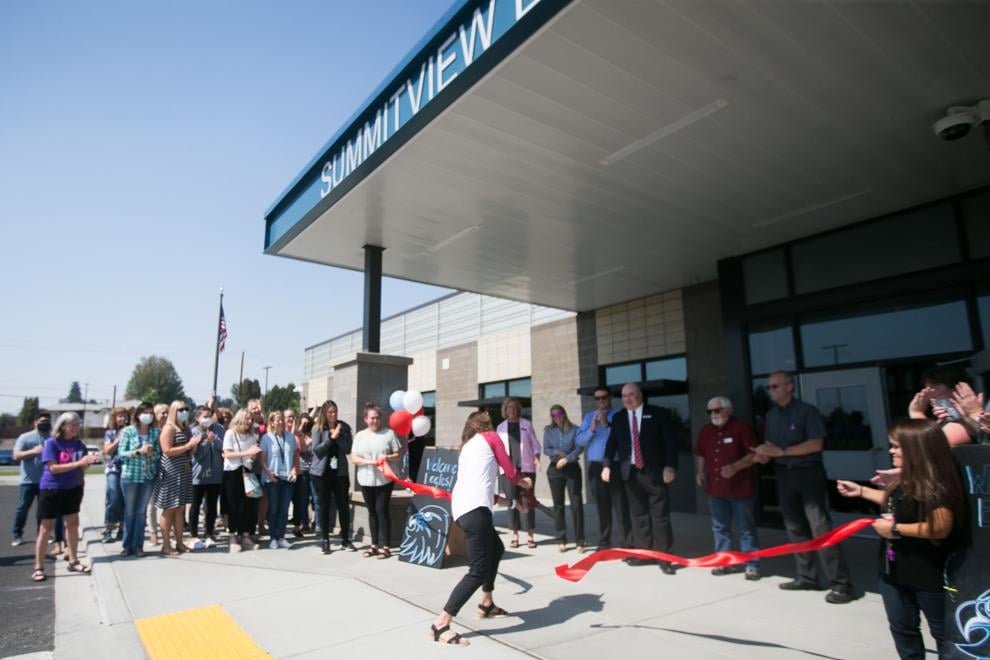 The district held a ribbon-cutting ceremony Tuesday afternoon to officially open the new building. At the ceremony, district superintendent Peter Finch thanked everyone involved with the project as well as the community for its support.
With the new building, the school will accommodate about 200 students more than in previous years, principal Eva Lust-Wright said. The school will also serve students K-5, as opposed to years past when it only included students up to fourth grade.
"I'm just super excited to grow the Summitview community more," Lust-Wright said.
New year, same pandemic
Most school-age children had their masks on outside the building. Like all districts in Washington, students, staff and visitors are required to wear masks inside school buildings.
Katie Heary is a first grade teacher at Summitview and has been with the school three years.
On Tuesday, she said she felt better about dealing with the COVID-19 situation this year, "now that we know the mask situation." Heary said she has never had an issue with students not following mask rules.
She said wearing masks does make it more challenging to teach phonics to her young students, since they cannot see the shapes mouths make.
Fifth grader Elijah Sanders, 10, said the masks were OK, but they made his voice sound weird. His mother, Latasia, said the pandemic made her a bit nervous, but she was still excited for the school year.
"Life has to move on — can't stay stuck in the house forever." the mother of three Summitview students said. "So, we'll get through it."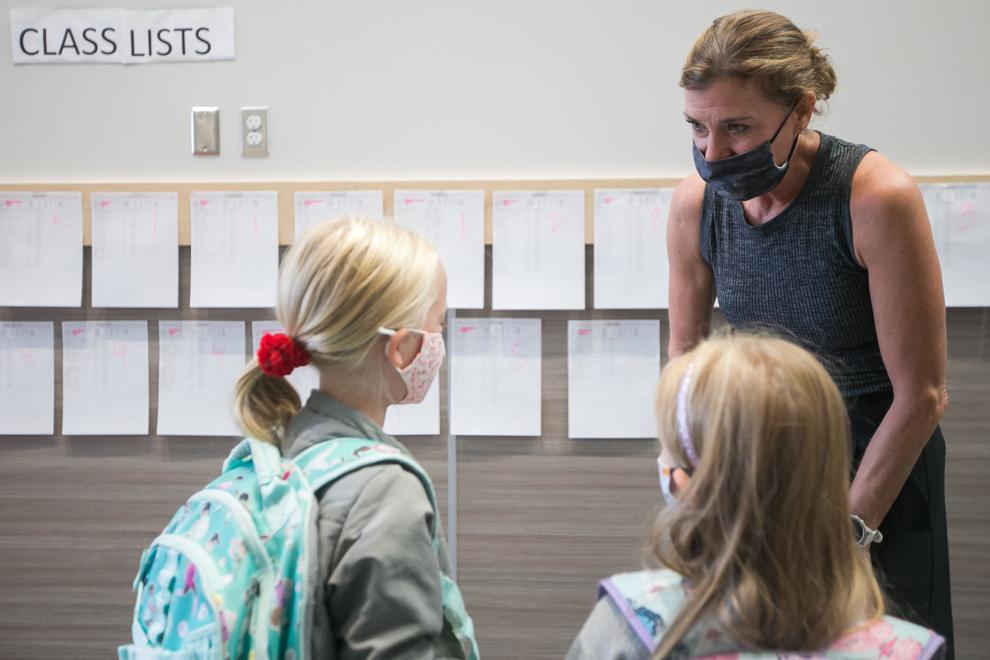 In addition to masking, principal Lust-Wright said that many of the same COVID-19 safety protocols have rolled over from last year, when students began to come back in October 2020. That includes social distancing as much as space allows and frequent sanitizing of surfaces.
She said parents also helped by keeping sick kids home.
"The parents were really, really compliant about when their kids were showing symptoms keeping them home," Lust-Wright said. "I think that's really important."
For Summitview mom Brenda Mendoza, the new campus itself could provide a measure of pandemic safety. She said last year, on the freshman campus, there were a lot of students sharing limited space.
"I think it's better for them because they are not as squished when walking down the hallway," Mendoza said.
She also said fewer students means fewer people who could possibly spread COVID-19.
The year ahead
Some teachers and staff also said they are excited to be in the new building.
First grade teacher Jill Stephens said Monday she was happy about having more space for students, as well as the technology upgrades in the new building. She said she was grateful for the bonds that helped pay for it all.
The new buildings at Summitview and Apple Valley were paid for with a bond initiative voters passed in a 2019 special election, as well as a funding match from the state.
The day before classes began, second grade teacher Maggie Thurlby hung up brightly colored fish for the ocean-themed display outside her classroom. Each fish had a different student's name on it, and at the top of the display, large letters read, "Mrs. Thurlby's 2nd graders are diving into learning."
This will be Thurlby's first year teaching second grade, but her fifth year at Summitview. She used to teach kindergarten and said she is pleased to see so many of her students again after schools switched to remote learning in 2020-21.
She said she believes the pandemic taught students flexibility and strength.
"Our kids have been so resilient, "Thurlby said. "They put up with a lot, too."