With school in full swing, big yellow school buses are a sight Yakima Valley drivers know well. But keeping those buses on the road remains a challenge for local districts that face an ongoing driver shortage.
A shortage of school bus drivers is a problem that has persisted for years, but became a high-profile issue during the pandemic, Sunnyside School District Transportation Director Scott Gentry said.
The issue extends far beyond the Yakima Valley. A recent survey conducted by school transportation groups found that about half of participating school districts considered their driver shortage "severe" or "desperate." About 80% of respondents in the western region of the country, which includes Washington, had to make changes to their services.
In the Yakima Valley, routes are being canceled or delayed, drivers are working longer hours, and transportation directors, coordinators or office staff are filling in when a substitute driver cannot be found.
Drivers needed
Before the start of the school year, Selah School District had to cut two regular bus routes for elementary students who live within a mile of their school campuses, Transportation Director Debbie Heide said.
"That didn't make very many people happy, but what do you do?" she said.
Heide said her district has had trouble finding new substitute drivers. This year, the district has two substitute drivers and shares one of them with the West Valley School District.
Eric Inions, the transportation director for the Naches Valley School District, said his district has had to occasionally delay routes this school year due to a lack of drivers. A driver will complete one route, then return to the elementary school to pick up any remaining students whose parents could not come get them.
He said that he has spoken to officials from other local districts and they are considering creating a pool of substitute drivers they could all draw from.
"We're hoping that we can have some sort of co-op because we're all in desperate need right now," he said.
All but two public school districts were actively looking for additional regular or substitute drivers as of Tuesday.
With the scarcity of substitute drivers, other transportation workers with a commercial driver's license often have to step in. That includes mechanics, office staff and directors themselves.
Gentry of Sunnyside said that he ends up driving a route most days on top of his work as director.
The real challenge that comes with the shortage is that each bus needs its own driver, Gentry said. And other drivers cannot pick up the slack if someone is missing. Someone new must step into the role.
"We can't say, 'hey, work a little harder.' No, we need a body behind the wheel, or the bus can't move," he said.
If a substitute cannot be found, the remaining drivers sometimes have to run extra routes or work longer hours, which Gentry said takes a toll after a while.
Recruitment strategies
Districts employ different strategies in the never-ending task of recruiting new drivers.
In Selah, Heide said the district uses social media to keep people aware they are hiring. She also said district employees talk to parents about the opportunity.
Inions said Naches Valley has worked with other local districts as they all try to get the word out about the need. He also created a card to hand out to prospective drivers with information that would take them to the district's application portal.
Some districts, including Naches Valley and Sunnyside, pay potential drivers during the long training process.
While the driver shortage might be a widespread problem, Gentry said it requires a localized solution. When a local fruit company laid off employees, the district was able to pick up some of them as bus drivers.
"Everybody who has a successful recruiting program has localized it to what's happening in their district, and how they can position themselves to grab that talented pool," Gentry said. "There's no one big answer."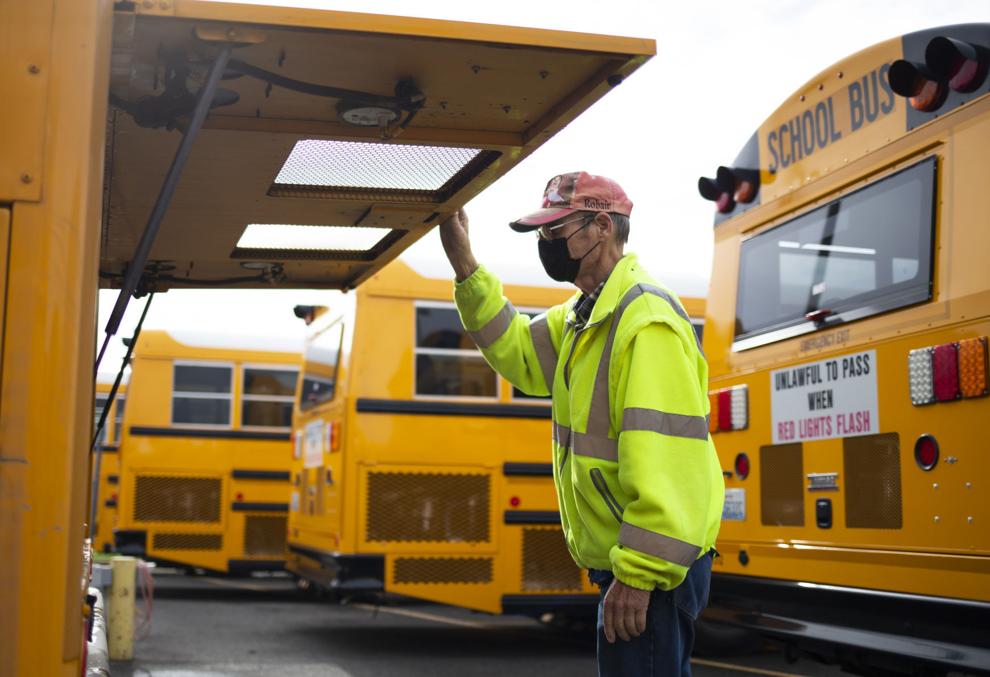 Working with kids
Despite the scarcity of drivers, Gentry said he remains highly selective with whom he brings on board.
His No. 1 priority? Drivers have to like kids.
He said he sees applicants who are more interested in driving an interesting vehicle or the paid job training than they are in helping kids.
"If you don't like them, go drive potatoes," he said. "Potatoes don't talk back. Potatoes you won't develop a relationship with."
Roy Anciso, Sunnyside's transportation coordinator, said that drivers regularly see students' living conditions, which gives them a good idea of some of the challenges students face. From there, they can alert school counselors if they see a problem.
He also said that drivers set the tone for the child's day, since they are the first school personnel a student sees each morning.
Gentry said that even something as simple as a fist bump from a driver can help a struggling child.
"The catch phrase we love to use is 'you're the first and last smile that kid might see each day,'" he said.