The Rev. Donald Davis Jr. says he's committed to Yakima kids, and his whereabouts Thursday morning supported his words.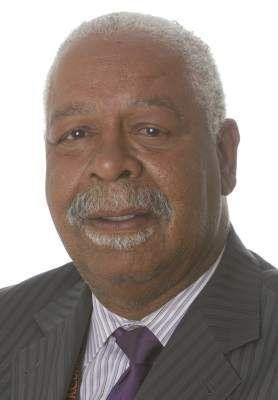 When called to comment on the Yakima school board appointing him as its newest board member late the previous night, he said he was working with students at Eisenhower High School.
Davis, 60, is scheduled to take his oath of office at a school board meeting early this morning and will be formally introduced to the public at Tuesday's monthly board business meeting. The board unanimously approved his appointment.
"I'm glad to be a part of the Yakima School District board and am looking forward to bringing education to a higher level," he said.
Davis will fill the remaining two years of the four-year term vacated after Walt Ranta stepped down last month, and may choose to run for a full term in the 2017 elections. He was one of eight vying for the vacancy.
The newest school board director is the senior pastor of Bethel African Methodist Episcopal Church in Yakima. Davis is fairly new to the city, having moved from Seattle to take over the church in late 2014. He has led churches in Seattle, Billings, Mont., and St. Louis.
At those stops, Davis made an effort to mentor youths in hopes of giving every student a fair chance to get the best education possible. He has done the same thing in Yakima, consistently volunteering at middle schools and high schools.
An increased effort in mentoring, he said, will help Yakima schools continue their push to narrow the achievement gap between different demographics, as it will provide resources such as tutoring and provide positive adult influences in several students' lives.
"We are closing the achievement gap every day, and have the necessary tools (for students) to be academically astute," said Davis, who briefly considered a run for Yakima City Council last year.
School board president Martha Rice said his track record of working for children and educational advocacy stood out. He will, however, have "a baptism by fire" in quickly learning about policy governance and the district's massive budget, she added.
"Any one of them would have been a great board member, but his engagement with kids and making sure that these kids feel supported and have someone to talk to will be a real nice (addition) to the board," Rice said.
Board member Raymond Navarro added that Davis' appointment was no slam dunk, as each of the candidates interviewed presented strong cases.
"It was a difficult decision to make," he said.
The appointment makes the school board one of the more diverse publicly elected entities locally, just weeks after Yakima welcomed a female-majority, Latino-influenced City Council. The school board now has one black board member, two Latino board members and two female members.
Yakima school board members are elected at-large and can reside in any neighborhood within the school district's boundaries.
"It's a very diverse, progressive board," Davis said.
Minority representation among local teachers and administrators is growing in the Latino-majority school district; the school board, too, is "beginning to reflect the community — it's a win-win situation," he added.