Standing outside in the smoky air, special education teacher Jill McColm greeted students walking into their first day at Naches Valley Elementary School on Tuesday. She was out early to assist children and parents who needed help finding classrooms.
"It's a great day to be a Ranger," she said, referring to the school's mascot.
Tuesday was a big day after a busy summer for McColm and other staff. The school of about 450 students pushed back its start date after a water main break caused significant damage to the building in mid-July. Some of the school's families and staff also were covered by evacuation orders tied to the Schneider Springs Fire, which started in early August.
The water leak happened on the second floor and flowed down to the first, spreading in all directions, Principal Eric Valentine said. He said the water was only about 1 to 2 inches high, but it was almost everywhere, with flooding in nearly every classroom. Water made it all the way to the main entrance of the school.
"It's been a learning experience," said Valentine, who has been school principal for two years. "I've never dealt with water damage or how catastrophic that can really be."
Cleanup and repairs began right away, he said. The water damaged drywall in the building, which is only about 5 years old. Carpets had to be dried and inspected for mold.
Obvious repairs to the walls reach about a foot high and run down the length of the hallways. A painted tree motif on the walls was damaged, with the leak leaving several trees without their trunks, as repairs took up the base of the walls.
"Having it be pretty is way less important than having kids in school," Valentine said.
Repairs are not complete. Valentine said contractors told him the pandemic made it difficult to get some of the supplies, but they pulled through.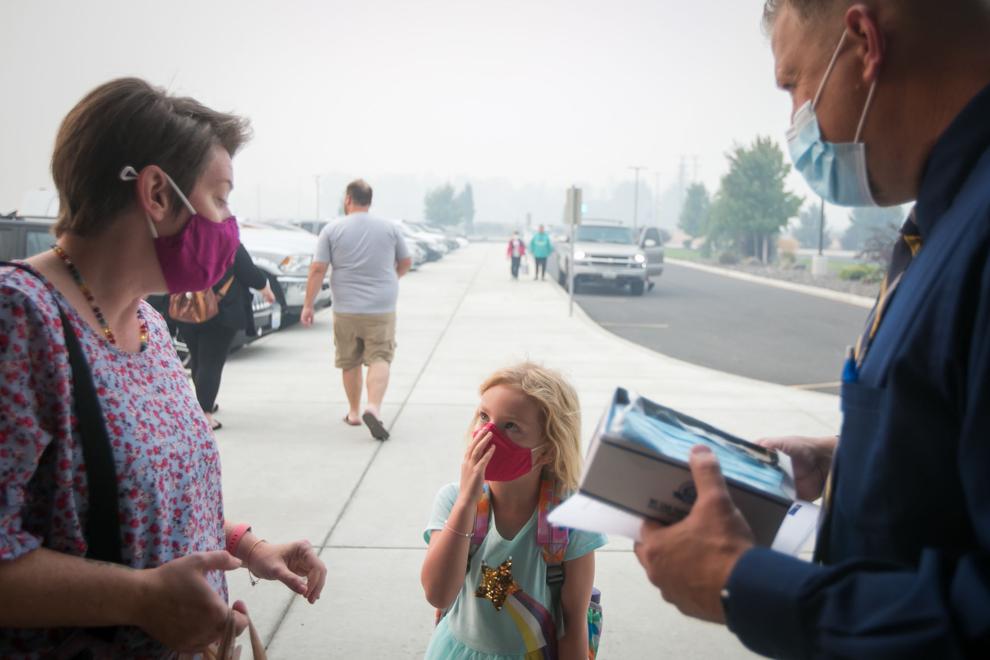 Smoke and fire
"Over here it's horrible," Naches parent Adam Karcz said of the dense morning smoke. "Them being outside, it's a little alarming. I hope they take into consideration that stuff. You don't want their lungs getting all messed up."
Valentine said he and his wife spent a week this summer evacuated from their home because of the fire.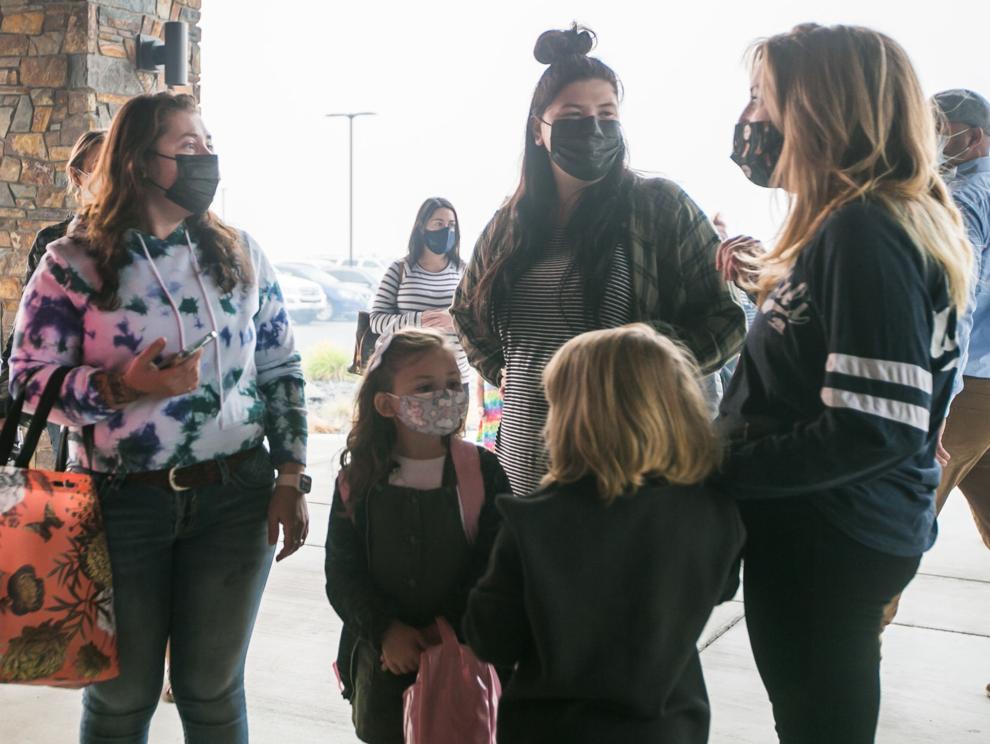 Coming back
Arts teacher Kathaleen McFarland said she thought the recent challenges put things in perspective.
"It really makes you appreciate the basics of teaching," she said.
After everything was removed from the classrooms, McFarland said teachers rushed to put their learning spaces back together. She said she saw teachers support each other in any way they could.
"It was all about, 'Hey, I got my room ready, can I help you? What do you need help with?' It was really inspiring," McFarland said.
Valentine said staff worked hard to make sure students could come back to school.
"It doesn't feel like we've had a summer," he said. "But everyone put in extra time and our staff is really amazing."
Like all school districts in Washington, Naches Valley has rules in place to lessen COVID spread this year.
Valentine said that the school is following the mask mandate, keeping kids distanced at 3 feet and keeping up with sanitization. He said they learned lessons about flexibility last year after the school returned to classrooms in October 2020.
"Not everybody's happy about it, but if we can be back in person, I think that's an amazing thing," said school board member Chad Christopherson, as he stood outside greeting every parent and student who walked through the front doors.
Parents and students were excited to be back on campus.
Naches parent Caitlin Towry said she was happy to be back as she accompanied her daughters on their first day. Katie, 9, started third grade and Charlie, 6, started first grade.
She said she and her daughters missed back to school traditions like school supply shopping last fall. School started with remote learning last year.
"This is our first day of school in school for a whole year, so it's really exciting," Towry said.