Arriving in Yakima one summer day in 1946, Harold Hoeglund asked for directions to Yakima Valley Junior College from the railway station.
He walked several blocks to the place where he would interview for the president's job, stopping near the corner of North Fourth Avenue and A Street.
"It was an old, three-story building; one of the first, now ancient, elementary schools of this community," Hoeglund recalled years later. "I stood in front of it. Verdant ivy as high as the eaves obscured the faded red brick on the front side. The front door was locked as this was the dinner hour.
"There was still much daylight on the avenue, typical of the long summer evenings in the Pacific Northwest."
The second dean and president of the college, Hoeglund served from 1946-59. Only two years after he took the job, the college was looking to leave its original home in the old Columbia School with construction underway on 10 acres of land gifted by the Parker and Larson families at the corner of 16th and Lenox (now Nob Hill Boulevard) avenues.
"While only three new buildings are going up now on the future campus of Yakima Valley junior college, school officials are mindful of the day, in the dim future, when the junior college will have many more buildings ... to take care of three or four times the students it has now," the Yakima Daily Republic reported on Nov. 18, 1948.
An accompanying illustration showed "a possible arrangement of buildings ... in the future when the school might have 1,200 or more students." The school's 2017-18 headcount was 7,624, according to YVC's website.
With the return of students this week for the fall quarter, the college is entering its 10th decade. Much has changed since the eight faculty members that first year began teaching those first students.
Here's a look at the history of the college through several buildings that collectively tell of its past, present and future.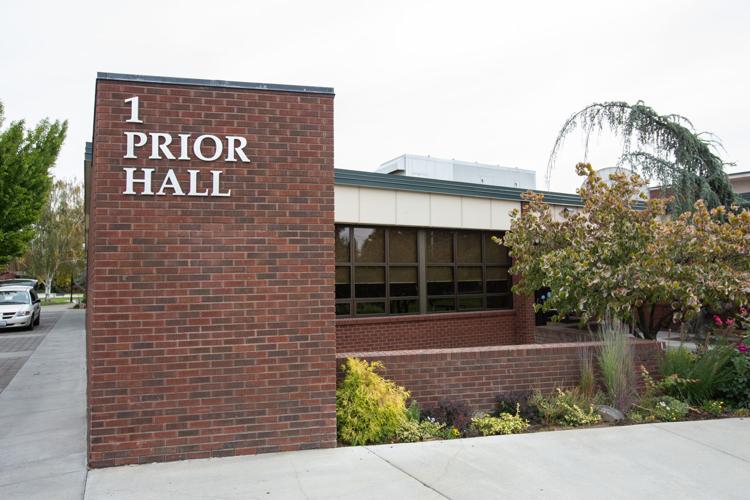 1. Original home and first building on modern campus
Elizabeth Prior, the college's first president, was familiar with the former Columbia School, which was built in 1890. When she accepted the job of president in the summer of 1928, it was nearly four decades old.
That wasn't her biggest worry, though.
"In accepting I am taking a good deal of responsibility I know, and it did take a little courage to wire my acceptance," Prior wrote to Superintendent A.C. Davis on June 19, 1928. She had taught English at Yakima High School and was appointed by Davis to lead the new college.
"I do appreciate the confidence which you and the board have placed in me. ... However, if after the announcement is made that you have chosen a woman, you find that the decision may not meet with approval and may work against a good enrollment, feel perfectly free to tell me and I shall understand. The school must not be hampered in the beginning."
Her fears were unfounded and Prior, with degrees from the University of Washington and Columbia University, would eventually become the college's second-longest-serving president, behind only the current president, Linda Kaminski.
Prior's devotion prompted officials to name the first building on today's campus in her honor. Built in 1949, Prior Hall featured classrooms, administrative offices, a small bookstore and hall for assemblies along with music practice rooms.
Another wing was added in 1966 and today the building houses administration, registration and business offices.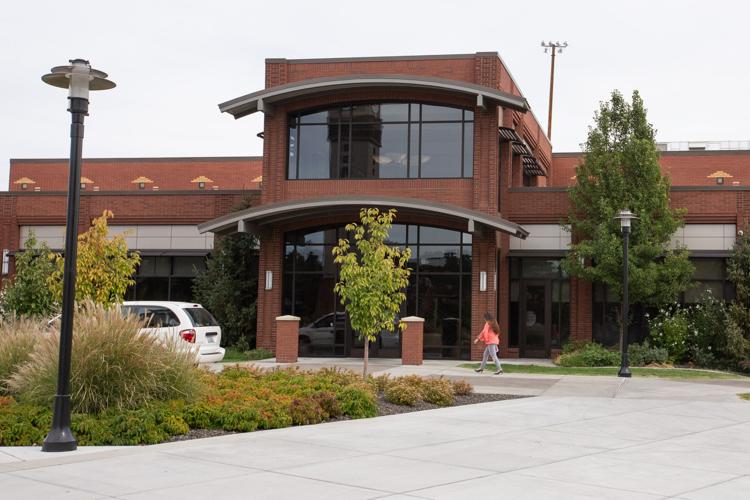 This structure, which serves students and members of the public (who may check out materials and use a computer here), also is named for an influential woman in the college's history.
Jean C. Raymond was president of the Yakima school board when YVC was founded and served on the college's first board of trustees. Like Prior, she was passionate about education. She had been principal of a high school in Nebraska before she and husband, Fred, moved to Yakima in 1911.
The first library was on the first floor and south end of Prior Hall before moving to Palmer Hall. The library was built in 1966 with a facade featuring a geometric pattern, which some have found mystifying, surrounding glass blocks that for years provided the only exterior light.
"Those are the 'lamps of learning,'" said Jerry Ward, longtime YVC athletic director and historian who contributed, along with several others, to the 2003 publication about the college's buildings for its 75th anniversary. It provided much of the information for this article.
The library was remodeled and expanded in 2008; that brought the big glass foyer and windows on its west side.
Among its thousands of books are about 10 copies of the college yearbook, first issued in 1929 and discontinued in 1961.
"I have a copy of the first one," Ward noted.
Raymond Library also features 71 computers, said Tammy Siebenberg, library and media services director. One is available to the public, and members of the public may check out five books at a time, she added.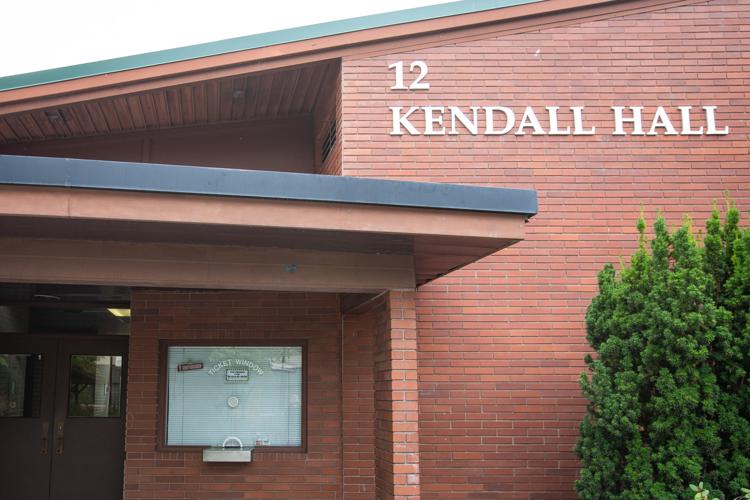 The college for several years had a planetarium, which was housed in the structure built in 1961 as Kendall Hall. It was named for yet another woman influential in its history — Bertha Kendall.
She served on the Yakima school board from 1940-63. Kendall also worked as a Yakima County juvenile officer, "specializing in the counseling of young women in trouble," the 2003 publication says.
The planetarium was on the east end of this structure, now a performing arts building with classrooms, a theater and accompanying offices.
"Today it's a meeting room, rarely used, with bad acoustics," noted Jay Frank, the college's director of community relations. The room is named for longtime biology instructor Dick Marvin.
Kendall is another building open to the public through shows and special events in its theater.
"In '68, this was terraced," Ward said of the seating in the theater, which today is arranged on a slightly sloped floor as opposed to deep steps.
He remembered longtime drama director George Meshke, who secured a banquet permit for a melodrama called "10 Nights in a Bar Room" so actors could serve beer and peanuts to the audience during the show.
Meshke taught at YVC for several decades. Today, Ray Pritchard and Stephen Slusher work with drama and music students in Kendall's recently renovated music classrooms and in the scene shop, which is full of interesting things.
"I like to save pieces of old sets we've done," said Pritchard, who is the technical director for the drama department and also teaches stagecraft and playwriting.
He pointed out a few examples in the scene shop — glow-in-the-dark clock hands and gears from "These Shining Lives," the sign on Lucy's "psychiatric help" booth in "You're a Good Man, Charlie Brown" and a portrait from "Young Frankenstein."
Pritchard offered a peek into the costume lab, which he and others are reorganizing. They're never sure what they might find.
"This summer we found a box of '40s sailor shirts," Pritchard said. "We're trying to get everything organized by period."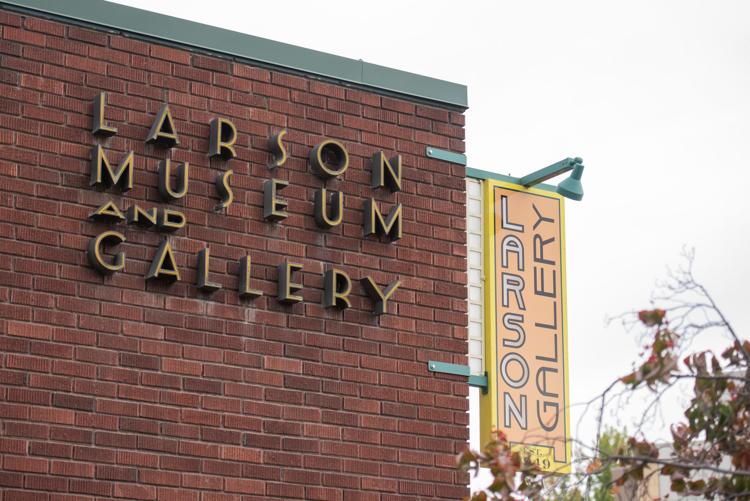 When the Parker and Larson families gave land for the college in 1937, the art lovers among them wanted to ensure that a gallery would be part of its plan.
"One of the stipulations on the college getting this property was that it would always have a room for art," said David Lynx, gallery executive director.
Named for Adelbert E. (A.E.) Larson and his wife, Rose, the gallery on the northeast corner was built in 1949. The rectangular, red-brick building features eye-catching glass blocks that add to its stylish space.
"This was built as a gallery and it's always been a gallery," Lynx said.
Sunlight has required the use of shades over the glass blocks on the south side, though, and the space is not nearly big enough for many public events — or the massive art collection itself.
"We have now almost 600 pieces," Lynx said of the art collection at YVC, which technically belongs to the Larson Gallery Guild.
A tour of campus is also an art tour, of sorts, with several pieces on display in several college buildings. A number of YVC offices not open to the public feature art from the collection.
As the gallery prepares to celebrate its 70th anniversary next year, staff and supporters are preparing to move to what's officially known as the west campus expansion.
Lynx is looking forward to the move.
"When we get over there, the gallery itself will be totally light-controlled," Lynx said. "We'll have spots for buses" so students can come, and there will be free public parking.
Planning is underway for a fundraising event Feb. 9, Lynx said. He's also hoping to write a gallery history someday.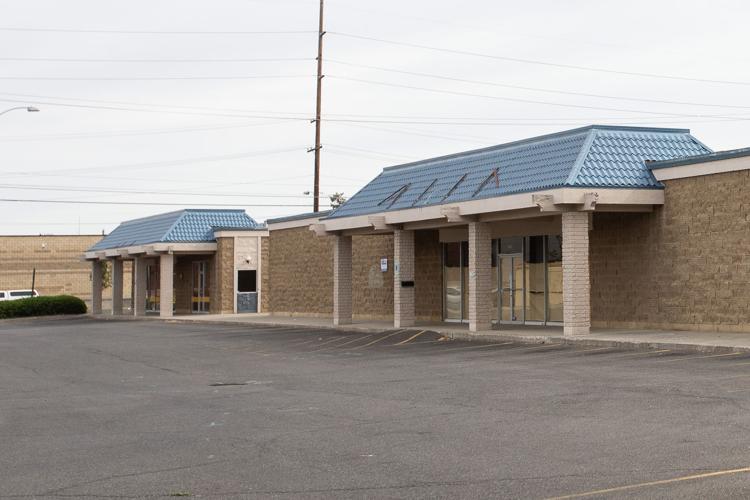 In 2017, the college announced plans to buy a small shopping plaza on the southwest corner of Nob Hill Boulevard and 16th Avenue. The 3.91-acre property had housed several businesses in the years before the state Board of Community and Technical Colleges approved YVC's request to purchase it for $3.77 million.
Officials have said the college plans to renovate the three retail buildings on the property for additional classroom space. Other plans are also coming into focus, including the Larson Gallery's display space.
"(What was) Koi Bistro will become a display place for public art," Frank noted. "There will also be a sculpture garden next to it, and a (YVC) wine program tasting room."
The current Larson Gallery building will continue to house gallery operations, workshops and offices.
The west campus will have offices for Allied Health and some meeting space.
"It will have nice fencing" and look more like a campus area, with a reader board announcing college events, Frank said.
The west campus expansion in the next few years will add another 49,000 square feet to accommodate YVC's growing student population, YVC President Kaminski noted.
"In the last 15 years, we have been very fortunate, with the support of our legislators, to add a quarter million square feet of new educational space on the Yakima campus though renovating and expanding existing buildings and replacing older buildings," she said in an emailed statement.
"The new space, which is more conducive to current teaching methods and program requirements, better meets the needs of our students and community."