So far, Evaristo Junior Salas has spent 24 years in prison for a murder he says he didn't commit.
Salas was accused of firing two fatal shots into the head of 24-year-old Jose Arreola on a foggy November night in 1995.
The shooting took place in Sunnyside, a city with a strong gang presence in the Lower Valley. Salas and Arreola had gang ties, but they weren't rivals.
The testimony of two people provided a foundation for prosecutors. Arreola's girlfriend identified Salas as the shooter. A police informant said he overheard Salas bragging at a park about killing Arreola.
A jury found Salas guilty of first-degree murder on Dec. 16, 1996 — two days after his 16th birthday.
Salas, a skinny kid who stood about 5 feet tall and weighed a little more than 100 pounds, was tried as an adult and sentenced to nearly 33 years in prison.
A motive for the killing was never fully established, and the gun involved was never found. To this day, Salas contends police, prosecutors and the jury got the wrong guy.
Laura Shaver believes him.
Shaver, a criminal defense attorney from Everett who has taken the case pro bono, said she's discovered information that would have proven Salas' innocence had it been presented at trial.
"Reviewing the materials in Junior's case forced me to question the integrity of the system as a whole, and in my opinion, the system failed Junior at every stage," she said.
Police reports show evidence had been destroyed by the eyewitness and other documents suggest she underwent hypnosis immediately before picking Salas out of a photo lineup.
Documents also show the informant had a longstanding relationship with the lead detective on the case and was often paid by police to provide information. He's since recanted his entire testimony against Salas.
Attorney George Trejo said the state didn't release any of that information when he defended Salas nearly 24 years ago.
"It's shockingly disturbing," Trejo said in a recent interview. "They're not supposed to withhold. Our system of justice is founded on complete and full disclosure."
Shaver has filed a motion in Yakima County Superior Court requesting Salas's conviction be tossed out and that he be given a new trial.
Yakima County Prosecutor Joe Brusic has asked the Washington State Patrol to investigate Shaver's discoveries. Brusic said he'd respond to the motion when the state patrol's investigation is complete, possibly in late summer or early fall.
"We're looking into it and we're trying to do everything we can to bring resolution to the issues that have been raised," he said.
Probing the merits of a motion seeking a new trial is rare for the state patrol, said Sgt. Darren White.
Brusic said his office wants to do the right thing.
"I can tell you that from my review, there is no indication that those things affected the trial at that time," he said. "I don't see it."
"Had they disclosed what has come to light, I have no doubt in my mind that the jury would have acquitted Evaristo," he said.
Trejo has submitted a four-page declaration in support of a new trial.
His declaration outlines information that wasn't disclosed to him, including receipts of payments the informant received, and questions the integrity of the lead investigator of the case, Sgt. Jim Rivard.
Rivard is accused of preparing a script for the informant — Bill Bruhn — to use during his testimony and buying him a suit to wear at trial.
Rivard, who since retired, declined to comment on the case.
Finding hope
Salas said he spent the first year of his sentence believing authorities would realize they had made a mistake.
"That they would figure it out and I would get out," he said in a recent interview from prison. "Once I started understanding what actually was happening to me, it was a mental struggle. It was a struggle to make it every day because I knew it was wrong. I knew what they had done to me was wrong."
He began visiting the law library in prison in hopes of finding a way to shine light on what he still claims to be a wrongful conviction.
In 2002, he received the documents in his case through a public disclosure request. What he found, he said, was alarming.
There were police reports of Arreola's girlfriend — Ofelia Gonzalez — removing evidence and being dishonest with police. Reports showed police recommended she be charged with rendering criminal assistance in a homicide.
But Gonzalez was never charged, and that information wasn't presented in Salas' trial.
"I just couldn't believe it," Salas said. "So many years had passed, the appeal process already went through and I was just like: 'What do I do with this?' "
Gonzalez couldn't be reached for comment.
Salas said he spent the next 15 years writing letters to lawyers and legal groups in hopes of finding someone willing to review his case.
"At that point, I was just reaching in the air," he said.
Finally someone responded — award-winning filmmaker Joe Berlinger, known for his documentaries on wrongful convictions.
Salas wrote him after seeing one of his documentaries but didn't hear back for five years.
"I figured just another letter that didn't come back," Salas said.
Then Berlinger contacted him, saying his office had just discovered his letter. "I got to talk to the producer," Salas said.
Six months later, Berlinger was in Sunnyside with cameras and a crew.
Berlinger assembled an investigative team to probe Salas' case. The findings — which questioned the integrity of the case against Salas — were highlighted in the documentary "Wrong Man," released on the STARZ television network in the summer of 2018.
The shooting
On Nov. 14, 1995, Arreola and Gonzalez had just pulled into the dimly lit parking lot of Gonzalez's apartment at 1413 Saul Road in Sunnyside when the shooting occurred.
They had returned from Walmart and Arreola was sitting in the passenger side of the pickup — it was about 6:20 p.m., according to police reports.
Gonzalez told police she had removed their infant son from the truck and was headed to her apartment when she saw two boys walk up to the rear of the truck. She said one boy was about 15 and the other 7.
Gonzalez said she nodded to Arreola to indicate their presence. She said the older boy walked up to the passenger door and then she heard shots.
Then the boys ran off, she told police.
The investigation
Initially, police thought Arreola's death may have been retribution for a homicide in which he was a suspect about a year earlier.
Gonzalez wasn't able to identify the shooter after viewing several different photo montages, police reports said.
Months went by without any solid leads as to who shot Arreola, Rivard said in a report.
Six months after Arreola's death, Salas emerged as a suspect.
How Salas became a suspect is outlined in Rivard's reports. Here's what they say:
In early March 1996, an informant told Rivard he overheard a boy bragging about killing Arreola in town but didn't know his name.
Then on May 10, Salas was brought to the police department by a Yakima County sheriff's deputy for questioning on a different matter. Afterward, Rivard photographed Salas with a Polaroid instant camera before he left the department.
That same day, the informant saw the photos of Salas on Rivard's desk and said he was the one who bragged about killing Arreola.
Gonzalez came to the station three days later — May 13, 1996 — and identified Salas from a photo lineup.
The following day, the informant signed a statement saying Salas was the boy who bragged about killing Arreola.
Salas was arrested at his home on May 22, 1996.
The truck
At the scene, police taped up the shot-through passenger window to preserve it as evidence and had the truck impounded at Denny Morrow Towing, where it was to remain untouched until police authorized its release.
Former police officer Jose Trevino was in charge of the crime scene and processing the evidence.
According to his reports, Gonzalez had convinced the towing company to release the truck to her three days after the shooting. She took the truck to Bills Towing, where it was cleaned and the window replaced.
Trevino never processed the truck.
Gonzalez told Trevino someone from the police department called her and said the truck was ready to be picked up.
Trevino didn't authorize the truck's release nor did any other officer at the department, his report said.
Denny Morrow, owner of the towing company, said Gonzalez told him police said it was OK to release the truck. Morrow said he didn't see that the truck had a police hold on it at the time, but later realized it did, Trevino's report said.
A week later, Gonzalez told Rivard a different story. She first said her sister received a call about the truck's release. Then she said someone from the towing company had either called her mother or sent her a letter saying the truck was ready to be picked up, according to reports from Trevino and Rivard.
Trevino called Gonzalez's parents, who were hesitant about answering any questions. They told him they had received a letter from the towing company, his report said.
Gonzalez told Trevino she wouldn't submit to a polygraph about the truck.
Trevino ended his report by describing Gonzalez as a difficult witness.
"Through this entire investigation, Ofelia, the victim's girlfriend, has been very uncooperative. She has shown up late on several occasions for photo montages and she has stated that she will not talk with us about the incident without an attorney or family present," Trevino said in ending his report.
Rivard said in his report that he would refer the information to a prosecutor for possible charges.
A Sunnyside Police incident report suggested Gonzalez be charged with rendering criminal assistance in a homicide.
Gonzalez was never charged and Trejo said he didn't receive that information in his discovery.
The informant
Bruhn told jurors he wasn't being paid by police for providing information in Salas' case, that he was just doing his part to make the city a better place, according to trial transcripts.
Trejo said he requested records of payments Bruhn may have received from police but didn't receive anything.
Prosecutors reiterated that Bruhn wasn't being paid in their closing arguments, describing him as a reliable, independent witness, according to trial transcripts.
Shaver learned otherwise. Through public disclosures, she obtained receipts of payments Bruhn had received for providing Sunnyside police with information well before Salas had become a suspect.
Bruhn told a different story about his involvement in the case after being contacted years later by investigators working on the "Wrong Man" documentary.
He told documentary investigators that his testimony against Salas was a lie, and that Rivard coached him on what to say.
"The kid is innocent, and I've lived with it every day for 20-plus years," Bruhn told investigators.
Rivard disputed the allegations in the documentary and said he did nothing to influence Bruhn's testimony.
"If Bill lied, then I guess Bill is going to have to answer to the court and everybody else for lying," Rivard told one of the documentary's investigators.
Bruhn agreed to a polygraph test in the documentary, and the results concluded he was honest about everything he told documentary investigators.
Bruhn submitted a four-page post-conviction declaration in Shaver's motion seeking a new trial.
In his declaration, Bruhn accused Rivard of forcing him to provide false testimony against Salas and in other cases.
Here's how Bruhn explained it in his declaration:
He first saw Salas at the police station, where Rivard pointed him out and said "I'm going to get him." Rivard then gave Bruhn $40, some marijuana and said to hang out with Salas to see if he would talk about the shooting.
Bruhn said he met up with Salas and a few of his friends in an area where Rivard said Salas liked to hang out. Bruhn said they drank and smoked with him but Salas said nothing about the shooting when asked.
Rivard was unhappy with the outcome. He handed Bruhn a false statement incriminating Salas and told him to put it in his own handwriting.
Bruhn said Rivard promised the matter wouldn't go to trial because another witness had identified Salas and that he would be forced to plead guilty.
When the case did go to trial, Rivard had Bruhn arrested as a material witness.
"I knew that Evaristo had not admitted to me that he was involved in the shooting and I knew he was very young. But officer Rivard was insistent," Bruhn said in his declaration.
Arreola's girlfriend
Gonzalez testified that she briefly got a good look at the face of the boy who shot Arreola that foggy night in the dimly lit parking lot.
When she saw Salas' photo at the police department, she cried and appeared confident he was the shooter, said Arreola's mother, Reyna Arreola, who accompanied her that day.
Reyna Arreola explained her visits with Gonzalez to the police department in a declaration that also is part of the motion seeking a new trial.
She said she accompanied Gonzalez three times to the department to look at photo montages.
The first time they went to the department, Reyna Arreola said, an officer told Gonzalez that hypnosis might help her remember the shooter.
On the day Gonzalez identified Salas, she first went into another room with an officer for a while before returning and identifying Salas, Reyna Arreola said in her declaration.
On the drive home, Reyna Arreola said Gonzalez told her she underwent hypnosis before viewing Salas' photo, her declaration said.
A handwritten note obtained by Shaver and believed to have been authored by Rivard said Gonzalez agreed to undergo hypnosis if it would help.
Shaver said witnesses who undergo hypnosis to remember facts about a case are not allowed to testify.
She said studies have shown hypnosis increases suggestibility and can be used to create false memories, and such testimonies are excluded in Washington state.
"The reason this issue is so important for Junior's case is because Ofelia was the eyewitness the state relied on in trial — and she confidently pointed at Junior declaring he was the boy who shot Jose," she said.
Evaristo Salas
Salas admits he was involved in gangs and that he knew of Arreola but didn't know him personally.
He said he was often questioned by police, including Rivard.
"It was almost like routine," Salas said.
Salas said he didn't know why Rivard took his photo the day he was questioned by the deputy on an unrelated matter.
"That was strange because I was literally headed out the door and Rivard stopped me and said 'I need to take a picture of you,' " he said.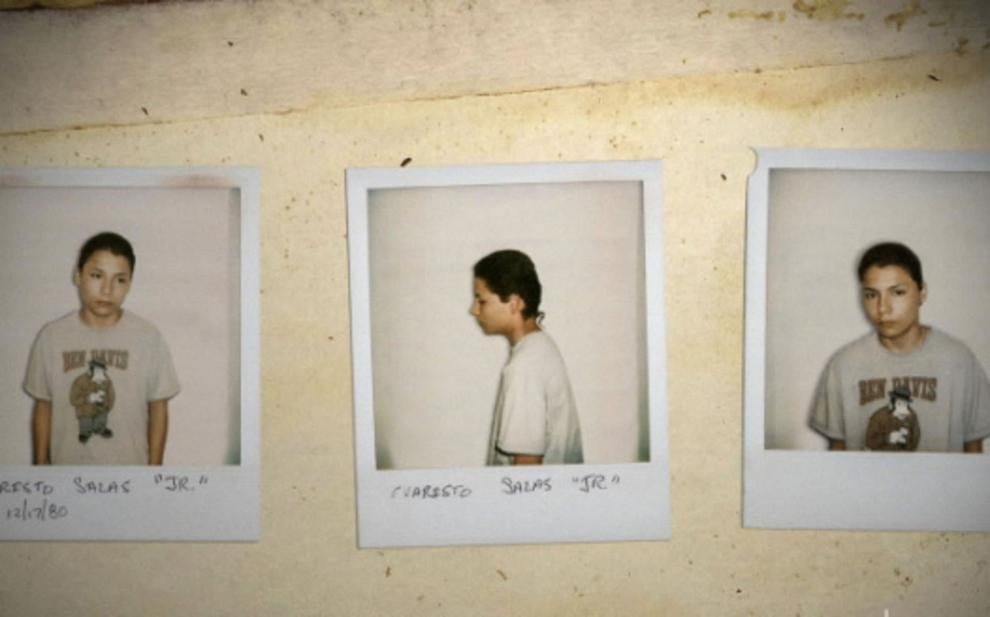 Then in May 1996, Salas said his friend was killed in a gang shooting. Salas said he began distancing himself from gangs at that point.
Days later, police showed up at his door wanting to question him, he said.
Salas said he was taken to the police department and told he was being charged with Arreola's death.
"At first I thought they were just playing around, messing with me," Salas said. "I said, I didn't even know this person. I started crying, telling them I didn't know what they were saying.
"I sat there for 20 minutes telling them I didn't do anything. I said I would take polygraph. They said they're charging me and that was it."
Being placed in prison at such a young age was hard, Salas said.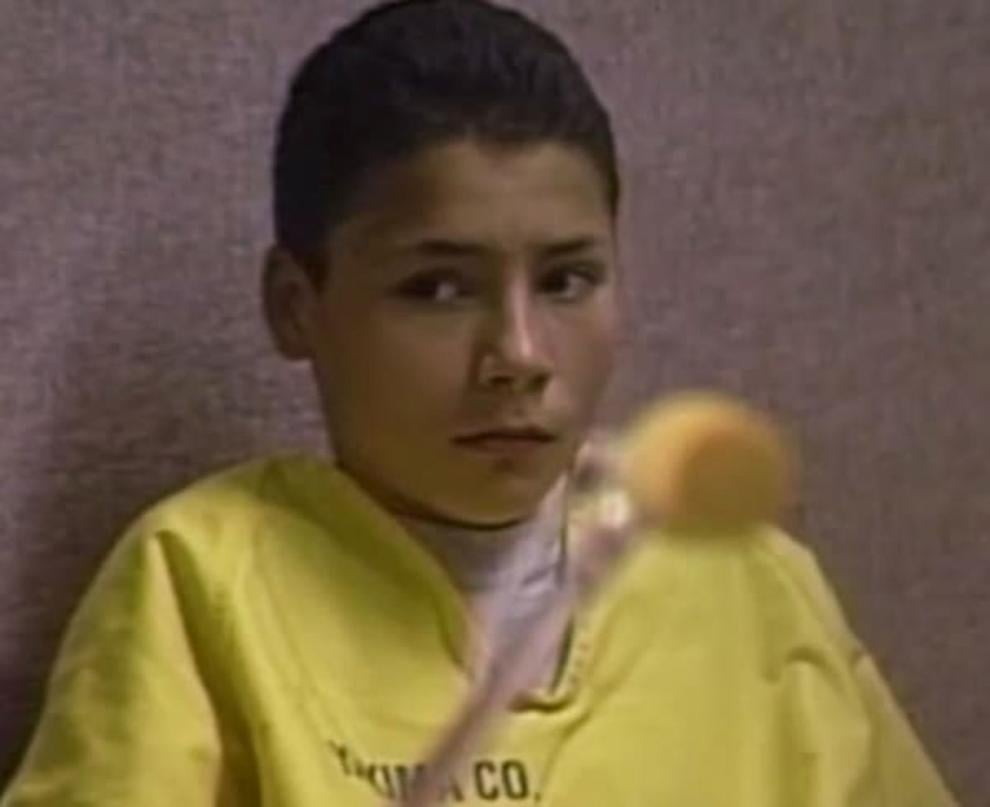 "Everybody is bigger than me, older than me," he said. "That experience was hard. I just had to survive. In that environment everyone is trying to take advantage of you, pretend to be your friend. If someone tried to give me something, I wouldn't accept it."
Salas said the support of his family — his dad, Ruben Alvarado, and older sister, Debbie Salas — has kept him going.
Salas said he latched on to his dad's words, telling him to study, keep his mind going and not give up.
"He would strengthen me, tell me to be strong and that we'd find a way," Salas said. "If I didn't have that, I don't know how I would have survived."
He said he often suffered panic attacks.
"I'd have dreams about being home and then wake up in Shelton," he said, referring to the Washington Corrections Center.
Over the years, he earned his GED, started a gang prevention program for youths inside prison walls and serves as a prison clerk.
"I realized that I couldn't wait to live until I got out, and started living now," he said.
Looking back on time lost isn't easy, he said.
June 22 marked his 24th year in prison.
"I was just a kid and when I look in the mirror, I'm going to be 40," he said.
He remembers holding his nephews when they were babies but didn't get to see them grow up.
"That's the whole tragedy of it, is I will never get those years back," he said.