As police in Yakima and Sunnyside seek clues to what happened to Jennifer Caridad, her family is holding out hope she's alive.
"We just want her back safe and sound," said Luis Vargas, her brother.
Caridad, 24, was last seen Aug. 8, a day before an SUV belonging to her family was found at Berglund Lake, where Yakima police said her boyfriend, Aurelio Escobar, shot and carjacked another man.
Yakima police said there were possible blood stains in the SUV's back seat. Near the lake, they found a tarp that appeared to have blood on it and clothing similar to what Caridad was last seen wearing.
Caridad worked at Inspire Development Center, a child care center in Sunnyside. Vargas described her as talkative and fun.
She was in a relationship with Escobar for eight months, Vargas said. While Caridad never told family members if there was a problem in the relationship, Vargas sensed trouble when he heard them yelling.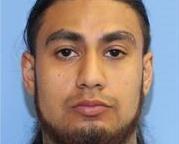 The family has heard nothing from police about the progress on the case, Vargas said.
"We're holding up, but we just want answers," Vargas said.
Sunnyside police Cmdr. Scott Bailey said his detectives and Yakima County sheriff's deputies have used drones and dogs to search possible locations but have found nothing.
"She's just a missing person at this point," Bailey said.
He said the search is complicated because it encompasses a large area and Escobar is a suspect in a two-state crime spree.
After stealing the car at Berglund Lake, Escobar tried to carjack people in Wapato and Toppenish before switching vehicles in Goldendale, according to Yakima and Toppenish police.
Escobar left that vehicle in Portland, where he carjacked another person, the first of several before he was wounded in a shootout with police and sheriff's deputies near Medford, Ore., according to Yakima police.
Escobar, a documented Norteño gang member, is being held in Medford, Yakima police Capt. Jay Seely said, and is facing charges there stemming from the shootout.
He is charged with first-degree robbery, first-degree assault, drive-by shooting and first-degree unlawful firearms possession in Yakima County in connection with the Berglund Lake incident.
Anyone with information on the case is asked to call Yakima police at 509-575-6200, Sunnyside police at 509-836-6200 or Yakima County Crime Stoppers at 800-248-9980. Tips can also be submitted online at http://www.crimestoppersyakco.org.