NACHES, Wash. — Allan Bros. grew by embracing new apple and cherry varieties that consumers wanted, such as Honeycrisp and Rainier, respectively.
Now well into its second century, the Naches-based fruit company is widening its economic base with another agricultural commodity also driven by varietals: wine grapes.
Like many longtime fruit companies, Allan Bros. was looking to diversify with something that complemented its core business and provided additional stability, said company CEO Miles Kohl.
Allan Bros. is not alone. Many traditional fruit tree operations are diversifying into other crops.
Some of that diversification has taken place quietly, but the Allan Bros. purchase last month of the small but renowned Gamache Vineyard outside Basin City has garnered attention.
The move follows the company's 2014 purchase of Sagemoor Vineyards, a 900-acre vineyard and orchard property near Pasco.
Some tree fruit growers planted vineyards as early as the 1980s, but that was seen as an experimental thing. Now that the wine industry has grown considerably, it's seen as a valid way to spread risk and make use of resources, such as equipment.
Some tree fruit companies have turned to blueberries, which have gained popularity in the last several years for their health benefits.
But Kohl said wine grapes were a better fit for Allan Bros. because they aren't so labor-intensive — they are less reliant on hand harvesting — and the harvest does not overlap as much with cherry season, a busy time for Allan Bros.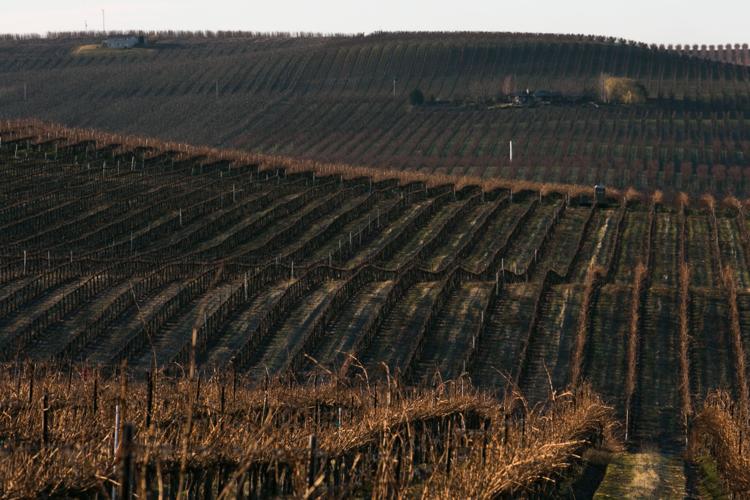 With wine grapes, Kohl also likes the close communication with the customer (the winemaker) and that a vineyard's brand is recognizable to the consumer.
"We're making efforts to have that same connection with apples and cherries," Kohl said. "It's much more difficult to do that because of the scale."
The Gamaches are keeping the Prosser-based winery that bears their name, but the family worked with Allan Bros. on the vineyard deal for much of last year.
At 180 acres, Gamache Vineyard is small compared with Sagemoor Vineyards, but its reputation as a producer of  high-quality wine grapes opens new opportunities for Allan Bros.' grape operation.
Gamache Vineyard has supplied grapes for 35 wineries in Washington, Oregon and Idaho. With the addition of Gamache Vineyard, Sagemoor Vineyards will now supply grapes to 100 wineries, from small boutique wineries to big producers, Kohl said.
He believes more opportunities will come through continued and robust growth of the state's wine industry.
Over two decades, the number of wine cases produced increased sevenfold, from 2 million in 1994 to 14.8 million in 2013. Revenues grew from $270 million to nearly $1.5 billion. And not surprisingly, the number of grapes harvested increased from 44,000 tons to 210,000 tons during the same period.
Those numbers are expected to keep increasing as the state's wine industry continues efforts to further penetrate U.S. and world markets.
"As these wineries experience growth and look at future expansion, they need us to grow along with them," Kohl said.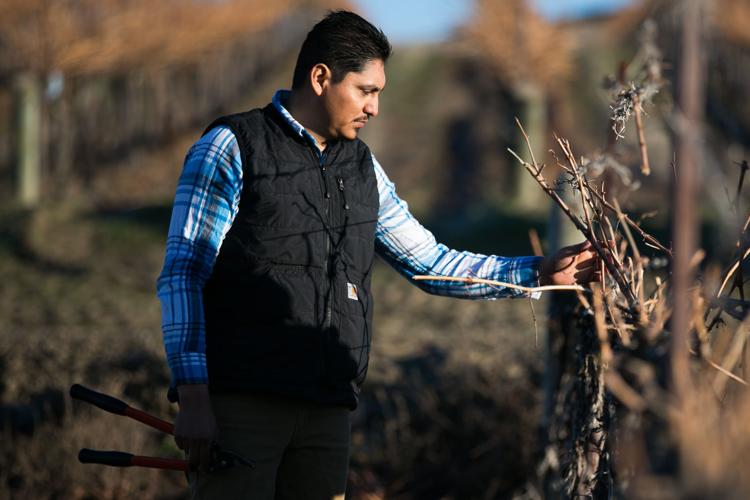 Gamache Vineyard has a slightly cooler climate than Sagemoor, which allows for different varieties, such as pinot gris. Even similar varieties will take on a different flavor, said Kent Waliser, the longtime general manager of Sagemoor Vineyards.
Having Gamache Vineyard will allow him and his colleagues to better meet winemakers' needs.
Gamache Vineyard will also provide a promotion for Miguel Contreras, who will serve as its on-site production manager. Contreras has been trained at Sagemoor's vineyards for the last several years.
Part of the process of acquiring Gamache Vineyard is learning how to best manage it, Waliser said.
While Allan Bros. is relatively new to the wine grape business, it has received a warm welcome from longtime wine grape growers, who note the company's solid reputation as tree fruit growers.
Sagemoor and Gamache "are two established historical names in our industry," said Todd Newhouse, owner of Upland Vineyards in Outlook.
"From what I know about Allan Bros., those (vineyards) will be in good hands," said Newhouse, who recently served as president of the Washington Association of Wine Grape Growers.
Roger Gamache, the former Gamache Vineyard co-owner, said Allan Bros.' efforts to maintain the quality of  grapes at Sagemoor Vineyards made it an appealing buyer.
Gamache said they wanted a buyer that would maintain the vineyard's quality for its customers, which include his winery, Gamache Vintners.
"(Allan Bros.) understood that they're not only buying this business, they're buying the legacy," he said.
Allan Bros. is hardly the first tree fruit company to enter the wine grape industry, nor will it be the last.
Many tree fruit growers have converted orchards to wine grapes while others have quietly purchased vineyards.
Waliser, the Sagemoor general manager, said he expects that interest to continue.  
"Grapes are a little more stable in terms of year-to-year variation in the market," he said. "It helps level out risk."
"I think anytime our industry is growing at a phenomenal rate ...
it's probably appealing to a lot of other bigger agricultural companies to get in on that growth," he said.
But Allan Bros. isn't looking to be a major wine grape grower, at least for now. The company's total wine grape acreage is a tiny part of the 50,000 acres of grapes statewide.
Wine grapes make up about 10 percent of Allan Bros. sales, Kohl said.
"I think we'll continue to look for opportunities within the wine grape industry, but I don't think it will be a major focus," he said.