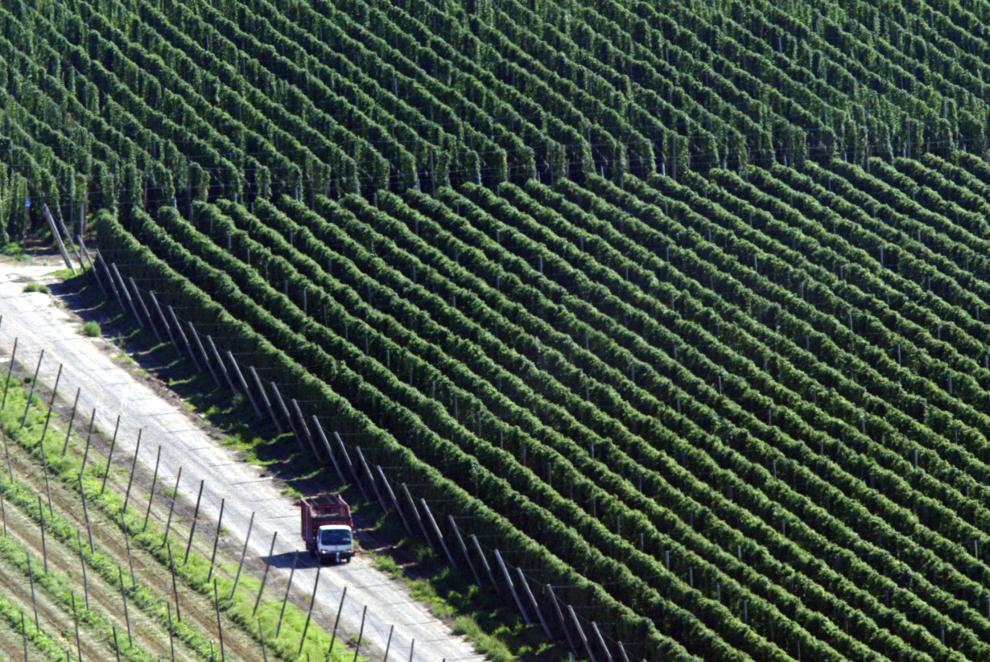 YAKIMA, Wash. -- Slowing growth in the craft brewing industry has contributed to a greater stockpile of hops nationwide, including the Yakima Valley.
As of Sept. 1, growers, suppliers and brewers had an estimated 98 million pounds of hops, an increase of 15 percent from the same period in 2016, according to figures released late last week from the U.S. Department of Agriculture's National Agricultural Statistics Service.
And the amount of hops stock kept by growers and suppliers increased — by 30 percent to 64 million pounds — while the amount of hops in stock by brewers decreased by 5 percent.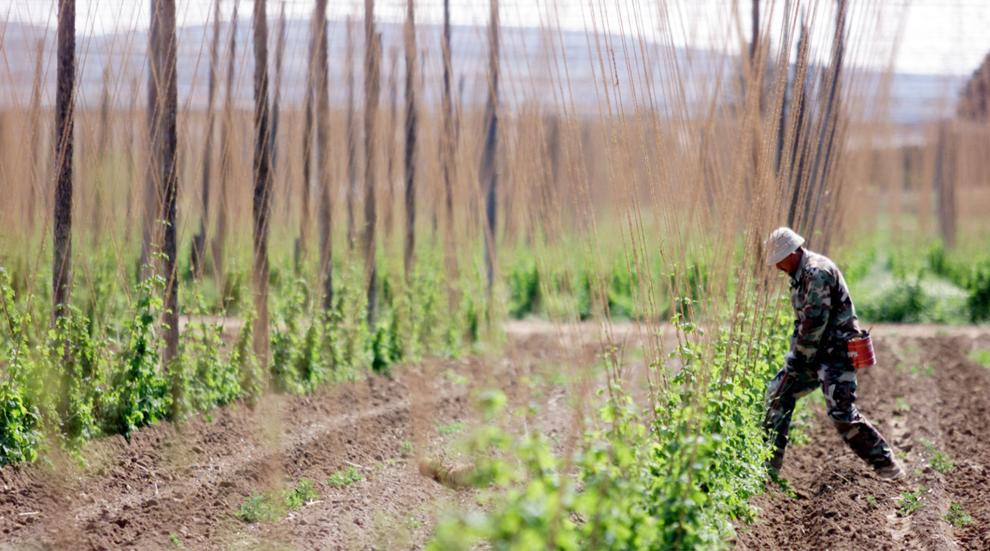 "A lot of (breweries) purchased hops based on 15 to 18 percent growth, which is what we experienced over the five years prior to last year," said Steve Carpenter, chief operating officer of YCH Hops, a hop supplier that is owned by local hop growers. "Last year, we had 5 to 6 percent (craft brewery) growth." Carpenter is referring to 2016 figures from the Brewers Association, a trade association for craft brewers, which the group defines as small (under 6 million barrels of beer or less) and independent brewers that sell beer made with traditional or innovative brewing ingredients.
Last month, local hop supplier47 Hops filed for bankruptcy, stating that a number of brewers have delayed payment and delivery of hops under contract, prompting financial challenges. Brewers work with hop growers and/or suppliers to secure hops through contracts made years in advance.
However, the hop stock numbers do not tell the whole story, Carpenter said. Certain varieties, such Citra, are still in high demand and supply is still playing catchup. Citra is a hop commonly used in beer varieties such as India Pale Ale or IPA.
"You'll find five different renditions of IPA at any size of craft brewer," he said.
Responding to continued demand for certain varieties while avoiding an over-supply situation will be an ongoing challenge for hop growers.
"Keeping that balance and knowing what the demand is and matching your demand to the supply is our biggest challenge," he said. "We don't always get it right. There's such a moving target."
Every hop grower's situation is different, but one possible scenario is to pull a low-demand variety in exchange for a high demand one, said Jaki Brophy of the Hop Growers of America, a Moxee-based hop growers trade organization.
YAKIMA, Wash. -- Hop growers throughout the Yakima Valley started harvesting in the last week and are expected to continue through the end of …
The trend toward adding additional acreage will likely need to end. Total hop acreage in the U.S., according to USDA estimates, is expected to be at around 54,000 acres, close to double the acreage from 2012.
"The industry will be looking to rebalance the portfolio, meaning that as preferences in varieties change, the acreage needs to reflect that, pulling out varieties decreasing in demand, rather than just planting acreage to add new acres," she said.
Growing international demand also may help deplete U.S. hop stocks," Brophy said.
Meanwhile, suppliers such as Carpenter are doing what they can — many brewers are now in the Yakima Valley to secure hops for the next few years — to prevent oversupply issues.
Carpenter said YCH Hops looks to Brewer Association figures to provide a benchmark.
If a brewery is attempting to order more hops than what recent growth figures dictates, then they'll recommend a smaller amount of hops for an initial order with the option of writing up a supplemental contract to respond to greater need.
"What we try to do is do our due diligence on the front end," he said. "That whole effort has helped us keep supply balanced with demand and reduced the need to do some major contract restructures."
Current hop stock figures do not include this season's harvest, which will be wrapping up in the next few weeks.
According to an August USDA estimate, U.S. hop growers are expected to harvest 97.6 million pounds of hops this year. About 72 million pounds of hops — 74 percent of all U.S. hops grown — are expected to come from the Yakima Valley.