Editors note: The Yakima Herald-Republic has agreed to use only the first name of some farm workers interviewed for this story in order to protect their identity.
Navigating injury claims with the state Department of Labor and Industries can be difficult for most people, but the process is even more daunting for foreign-born workers with language barriers and little financial resources to ensure their injuries are adequately addressed and to take care of their families while they are unable to work.
There are more than 400 complaints from farm laborers and warehouse workers statewide calling for L&I to simplify its claim process to ensure the most vulnerable class of workers, such as farm laborers, receive adequate medical attention for on-the-job injuries and fair compensation for work time lost due to an injury.
The Yakima Herald-Republic interviewed several workers struggling with injury claims filed through L&I. Below are their stories:
...
When Jose Luis Mendoza was struck by a forklift while working at a Selah fruit warehouse more than six years ago, he pleaded with doctors not to cut off his badly injured foot.
Even though flesh was ripped away, leaving bones in his foot exposed, Mendoza could still move his toes.
"I am in good shape, good heath — I want it operated on," the 56-year-old recalled telling doctors. "They started to tell me I'd get sick if they didn't take it."
Mendoza believes doctors could possibly have saved his foot.
"So I was mad — I got angry and told the doctor to do whatever he's going to do," Mendoza said. "I was in pain and I was tired."
Sitting in the living room of his Selah home on a recent morning, Mendoza recounted the difficulties he experienced in getting the injuries he suffered in the accident addressed by L&I.
Three months ago, the state agency that oversees benefits to workers who are injured or become ill on the job finally approved surgery on his shoulder, but he has yet to undergo the procedure. He said L&I wanted to ensure the shoulder was in fact injured as a result of the forklift accident. L&I routinely investigates the validity of injury claims to prevent fraud.
"L&I thought I was inventing the (shoulder) injury," he said.
Mendoza's story is among about 400 complaints farm labor advocates have gathered statewide from field and warehouse workers struggling with L&I's claim process or still suffering from injuries long after their claims had been closed. As a result, many are forced to use food banks and other public assistance to support their families.
Community activist Hector Franco in Yakima says claimants are not afforded adequate due process when contesting the closure of a claim — a violation of their civil rights. He and other farm labor advocates also accuse L&I of seeking minimal treatment recommendations from doctors in its network in an effort to curb costs. For example, since 2008, L&I's annual cost of claims has fallen by more than $172 million.
L&I officials dispute any effort to minimize medical treatment and say cost reductions are due to improved services that are getting people back to work faster.
Deputy Director Ernie LaPalm — who supervises a number of areas including field operations, fraud prevention and labor standards — said he sees legitimacy in some of the concerns Franco raises but doesn't agree with his entire perspective on L&I. The Yakima Herald-Republic requested an interview with L&I Director Joel Sacks but was told he was too busy.
In response to complaints, LaPalm points out that L&I has secured $1 million in additional money from the Legislature to hire more staff to improve interpretive services and help non-English speakers navigate the claims process.
LaPalm said L&I staff have attended several meetings organized by Franco in effort to learn more about the concerns.
"Mr. Franco has really highlighted some really hard issues for us, and they're issues we really want to hear about," LaPalm said.
Disadvantaging circumstances
One of the biggest areas of concern is injured workers who say their claim was closed while they were still suffering from injuries.
Typically when a work-related injury claim is closed, an injured worker has 30 days to appeal. But that can be difficult for those unable to work who have little money or other resources, says Ruben Vela, a paralegal with a Tri-Cities law firm specializing in workers compensation cases.
A medical exam can cost $1,600, not to mention the cost of an attorney often needed for a successful appeal — all which comes out of the injured worker's pocket, Vela said.
"That's just not fair," he said. "The system is broken. It's totally biased toward employers and any third-party interests."
A lack of money is what forced Filberto, 61, of Yakima into homelessness when his claim was closed not long after he was injured in September 2010.
He fell from a ladder in a Cowichee orchard and continues to experience pain in his head, ear and throughout his left side. A doctor told him he may have damaged his thoracic nerve. He said he's not sure why his case was closed.
Francisco, 49, of the Tri-Cities is appealing the closure of his claim, but said he's struggling to afford another medical examination. He was injured in August 2016 after stepping in a gopher hole while moving a ladder. In October, he had a tendon removed in his right leg that doctors were unable to reattach after it tore away from the bone. His case was closed in January.
Francisco said he still experiences pain and last month went to a hospital, where he was sent home with a leg brace and over-the-counter pain medication.
He's not giving up on his claim.
"I'm not going to leave them in peace because I cannot work anymore and I want them to help me," Francisco said.
Vela believes doctors providing medical evaluations in L&I's network minimize treatment without fully addressing workers' injuries.
Many of the cases Vela's worked on involved a doctor's recommendation of surgery for a patient being overruled by an independent medical evaluation from another doctor in L&I's network, he said.
"I'd say 90 percent of (independent medical evaluations) come back against the injured worker," he said.
Franco suspects the agency's process is designed to curb costs in a system funded by employees and employers.
"There's no independence with L&I, they control everything," he said.
Lori Evans, an L&I worker who is reviewing complaints filed by farm laborers, and L&I spokesman Tim Church wouldn't comment on specific claims, citing privacy laws governing medical information.
But Evans said the doctors L&I uses to treat injured workers and provide independent medical evaluations are not employed by the agency. Rather, the doctors are reimbursed for any treatment or exams they provide to an injured worker. L&I has a network of independent private physicians similar to that of health insurance provided by employers, she said.
A review of L&I data shows the agency has been successful at reducing costs.
Since 2008, the annual cost of claims statewide has decreased by more than $172 million. According to L&I data, the cost of claims, including medical and compensation benefits, was $628,076,057 in 2008 compared with a total cost of $455,887,896 in 2016 — a 27.4-percent decrease over nine years.
The annual number of claims approved by L&I over that time also decreased, from 119,030 in 2008 compared to 93,229 in 2016, the data showed.
And the cost of the average claim also decreased, from $5,277 in 2008 to $4,890 in 2016, according to the data.
Church contends the decreases were not part of any focused cost-cutting efforts but rather due to improvements in services. He said better worker safety programs are resulting in fewer claims being filed, and introducing vocational programs earlier in the process has drastically reduced long-term claims.
Growing concerns
A 2015 performance audit described L&I as fair and unbiased overall in processing claims. But the review also highlighted some issues affecting the agency's interaction with field and warehouse workers. Chief among those concerns were the agency's failure to provide legal, medical and other claims information in Spanish and a cumbersome dispute and appeals process. The audit conducted by WorkComp Strategies for the Legislature Audit and Review Committee covered a period spanning 2010 through 2013 and was the most recent available.
That critique pans out in Mendoza's case — most of his claim documents are in English. His claim manager recently promised to send him documents in Spanish, he said.
"She hasn't yet," Mendoza said.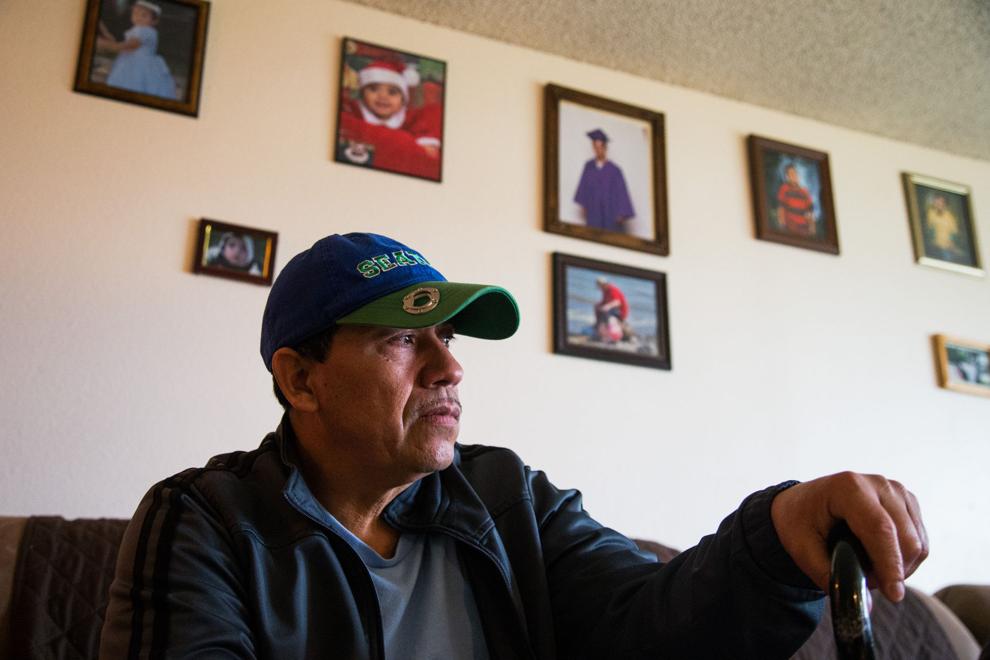 About 88 miles southeast of Yakima in the Tri-Cities, Eleazar, 48, uses a cane to get around his small apartment. He fell from an orchard ladder while working in the rain 12 years ago and damaged a few vertebrae in his lower back.
After two surgeries, he said pain in his back, hips and legs persists and often prevents him from sleeping.
"I can't do too much of anything at one time," he said.
At his apartment, Eleazar, who only speaks Spanish, sprawled claim documents across his coffee table — all in English. In 2008, he said an attorney advised him to accept a $13,117 settlement from his employer or be turned in to immigration authorities. He said the attorney promised his medical claim would remain open if he accepted. Instead, it was closed.
Yakima attorney Christopher Childers, who represented Eleazar, said he couldn't discuss Eleazar's case without his written permission. But Childers did say he would never threaten a client about their immigration status or pass on any such threat made by an employer.
Under state law, medical claims cannot be closed through a settlement. L&I may close a claim at the time of a settlement but the claim can be reopened, Childers said.
David Morales, commissioner on the state Commission on Hispanic Affairs, said he frequently talks to farm workers about their struggles in getting injury claims processed.
"The system was never designed for them and it makes it very difficult — it's a large bureaucracy," said Morales, also a civil rights attorney in Yakima. "A lot of them are filing a claim for the first time. It's a completely foreign world."
Often doctors make the first call on a claim after examining an injured worker but sometimes fail to include the worker's language, Evans said.
In August, L&I upgraded its computer system with a program that requires the language spoken by the injured worker to be entered right away so the claim manager will know.
Part of the additional $1 million from the Legislature will pay for two Spanish speaking advocates — one stationed in Mount Vernon and another in Kennewick — to help Spanish-only speakers navigate the claims process. The money also will pay for civil rights training for L&I staff and research by the University of Washington's Latino Research Center to learn how services to farm laborers could be improved.
But it's unclear how the agency's actions will substantively impact Mendoza and other claimants.
Franco said there's much more to the problem than a language barrier. Injured workers aren't given adequate opportunity to dispute decisions to close claims and also aren't allowed to dispute a closure until after it's decided, he said. At that point, the injured worker stops receiving compensation pay for time missed from work but still has to come up with money for another medical evaluation and an attorney to contest the matter.
Franco wants L&I to reform its claim process. Closed claims of workers still suffering from injuries should be re-opened, and injured workers should be offered a hearing allowing them to challenge a decision before a claim is closed, he said.
In September, Franco fired off a 13-page letter to state Attorney General Bob Ferguson outlining concerns about translation services and due process in the L&I claims process. Franco also asked Ferguson to issue an opinion on whether or not the agency could make changes to its appeals process without Legislative approval.
"I've got three rejection letters from Bob Ferguson saying he would not issue an opinion on this," Franco said.
The Attorney General's Office has recently formed an internal work group focusing on farm worker issues in general but would not discuss the issue because the office represents L&I, said spokeswoman Brionna Aho.
But LaPalm said his agency cannot simply alter the appeals process.
"We cannot change due process," he said. "That's pretty well ingrained in state law in terms of what workers' rights are."
In support of the agency's efforts with non-English speaking claimants, Church, the L&I spokesman, said customer service surveys show a higher satisfaction rate and fewer claims denied among that group.
For example, in 2015 English speakers filed 86,178 claims, of which 9.4 percent of outcomes were protested. Over the same time period, 12,578 claims were filed by non-English speakers with 9.2 percent protested, Church said.
In that same year, 12.4 percent of claims filed by English-speaking workers were denied compared to about 9 percent of those filed by non-English speakers, he said.
"I believe that we are working very hard to help all of our injured workers return to work," he said. "Our agency's mission is to keep Washington workers safe."
Emotional, financial despair
Franco said the problems with L&I reach well beyond the injured worker. They financially stress a claimant's family and sometimes lead to marital and mental health problems.
"The children are affected because their future is put in jeopardy," he said.
Mendoza, who became a U.S. citizen the year he was injured, spends most days getting three of his four children off to school, doing dishes and whatever chores he can to help his wife, Sedelia, who continues working at the fruit warehouse where her husband was injured.
His oldest son, Aaron, 19, who graduated from Selah High School last year, has put off college in order to work and help support the family. He's unloading trucks and stocking shelves at Target in Yakima.
He plans to look into online college courses that will allow him to keep his job.
In the Tri-Cities, Eleazar's eyes teared up as he told how his wife spends days cleaning hospitals and nights waiting tables to support him and their three children.
"She's the one that's been taking care of us, but she's getting tired," he said.
Holidays are hard, he said, glancing at an artificial Christmas tree in his living room.
"Christmas is coming — my Christmas tree is always without presents and I feel really bad," he said. "My children always ask me, 'why did you have the accident?' "
• Phil Ferolito can be reached at 509-577-7749 or pferolito@yakimaherald.com. Follow him on Twitter at philipferolito@twitter.com