It was evening on Valentine's Day, and it was cold — cold, snowy and icy. A handful of men stood under a gazebo in the parking lot of a transitional housing project on North Naches Avenue near downtown Yakima.
They didn't live there. They're homeless.
Mike Kay drove his SUV into the parking lot, hopped out and asked the men if they were OK, in need of blankets, sleeping bags or food. The rear of Kay's SUV was filled supplies.
Kay is the director of Camp Hope, a homeless encampment behind the former Kmart on East Nob Hill Boulevard near Interstate 82.
Since the snow began falling, he's been leading a small crew of homeless people from the encampment that reaches out to those still living on the streets, sleeping in doorways, vehicles or along the banks of the Yakima and Naches rivers.
He hopes to persuade them to take refuge at the encampment, where they can get a hot cup of coffee, shower and sleep in heated military tents.
Since the outreach effort started at the beginning of last week, the number of people at the encampment swelled from 64 to more than 100 as of Friday.
A recent homeless survey counted 228 unsheltered homeless people in Yakima County, but Kay said he knows there are many more than that. Officials with the U.S. Department of Housing and Urban Development say such counts only capture about a third of the actual homeless population.
On this night, Shari Lockman and Randi Barrett — both homeless and living at the encampment — tagged along with Kay.
Four others living at the encampment also combed the streets for the homeless in a separate vehicle. Kay kept in touch with them by radio.
Under the gazebo, Lockman and Barrett gave the men hand warmers. They were reluctant to come into the shelter, but said they were hungry.
One man, bundled in layers of sweaters and a heavy hooded jacket, sat in a shopping cart under the gazebo. He said he was doing fine.
Another, Jamie McManus, accepted a blanket. He was there with his bulldog, Murphy.
They are among the area's chronic homeless, the most difficult segment of the homeless population to help. Many have had bad experiences with service providers and won't ask for help. Others have lived on the streets for so long, they're use to being outside and experience anxiety in a group of people.
Kay, Lockman and Barrett hopped back in the SUV and drove to McDonald's on North First Street, where Kay bought a bunch of hamburgers.
They returned to the gazebo and gave the burgers to McManus and the others. They were grateful. McManus broke his burger in half to share it with Murphy.
Parting ways, Kay told them they're welcome at the shelter any time and that McManus could bring his dog.
Driving away, Kay said Adolph was the name of the man in the shopping cart. Adolph has trouble walking, and practically lives in the shopping cart; one of his friends pushes him from place to place, Kay said.
"Keep your eyes out for people sleeping in doorways or look to see if you see any feet sticking out of snow banks," Kay told Lockman and Barrett as he drove along North First Street. They rolled down the windows despite the biting cold for a better look.
Earlier in the week, Kay said he found one woman wrapped in a tarp under snow. He brought her to the camp, where she remained Friday. Her toes suffered minor frostbite.
Last week temperatures in Yakima dropped to below 7, marking the city's coldest night of the year.
"Just get them out of the cold," Kay said. "When it's 3 degrees, that's nothing to play with."
Living in vehicles
On North Second Avenue, Kay pulled into a lot where an RV and a car were parked. The broken windows of the RV were replaced with blue tarps.
Kay went to the RV's door, and Dorman Hanson came out. He said he'd been living in the RV with about four others since the snowstorm that hammered the area a week earlier. Hanson said he and his dog were living in a tree downtown until it was leveled by the blizzard.
"So I decided me and my dog would just stay out here," he said of the ramshackle RV.
Kay gave Hanson a sleeping bag and handed a blanket to another man who walked up while they were talking.
A car parked nearby belonged to the man. He said he was waiting for his Social Security check so he could replace its fuel pump.
"I'm glad there is something like this to reach out to others," the man said. He pulled the blanket around his shoulders and walked to his car.
Kay said a lot of people are living in vehicles. He said he's learned to look for subtle signs like foggy windows on parked cars, an indicator that people could be living inside.
Kay pulled up to a car parked at Bi-Mart on North 40th Avenue. A couple were living inside and wouldn't come out. Kay and Lockman gave them hand warmers and food.
Back on the east side of town, Kay pulled up to a man standing on a corner behind Target near a hotel. The man lives in his van with his wife, Kay said.
"We have been looking for this guy for a while now," Kay said, explaining that others at Camp Hope were worried about the couple.
Kay, Lockman and Barrett hopped out to talk to the man.
They returned to the SUV, and Kay drove to a nearby Taco Bell and purchased two burrito meals with cinnamon twists and soft drinks. A smile crossed on the man's face when Kay returned to hand him the food. He carried it to a van parked near the motel.
"They may not come in right away, but if you make that contact and offer a little help you begin to build a relationship with them," Kay said as he drove off. "After a while, maybe they will accept help, maybe they will come to the camp."
Later, the man and his wife came to the encampment, Kay said.
Camp Hope
Since the outreach campaign started, the homeless population at the encampment has swelled to more than 100, well beyond its capacity of 60 people.
One tent used as a commons area and a dining hall was rearranged to sleep up to a dozen more people. A young woman and her 17-month old daughter were placed in one of the heated offices — a small portable building. Another portable building with a television and couches now serves as a place to sleep.
"We allow people to sleep on the couches and if that fills up, then we start putting mattresses on the floor," Kay said.
Kay is waiting for the arrival of two more tents that, together, will sleep an additional 40 people.
"They have to be trucked in and the weather is probably slowing delivery," Kay said.
Despite the overflow, Kay said he's not turning anyone away.
The severe weather has driven some people to the encampment who never would've visited before, Kay said.
A longtime chronic homeless man known as Lobo agreed to come to the camp after he was found freezing and sick last week. Kay said he was taken to a hospital, where he remained Friday.
Five men gathered in the tent that serves as a commons area, waiting for coffee to brew. A stocky man in blue sweatshirt stood over the pot until it finished. He poured himself a cup, then his face softened as he joked about a woman with a large mug who would come in and take half the pot in one fell swoop.
"There's plenty, unless she comes in," he said with a laugh. The others chuckled.
Tina Perkovich dropped into the tent, clearly happy about something. "I got into housing," she said with excitement. After being at Camp Hope for nearly two years, she was finally accepted by a housing program.
Sitting nearby was Pablo Marquez. Kay offered him a ride in the morning if he had work.
Marquez has been doing odd jobs.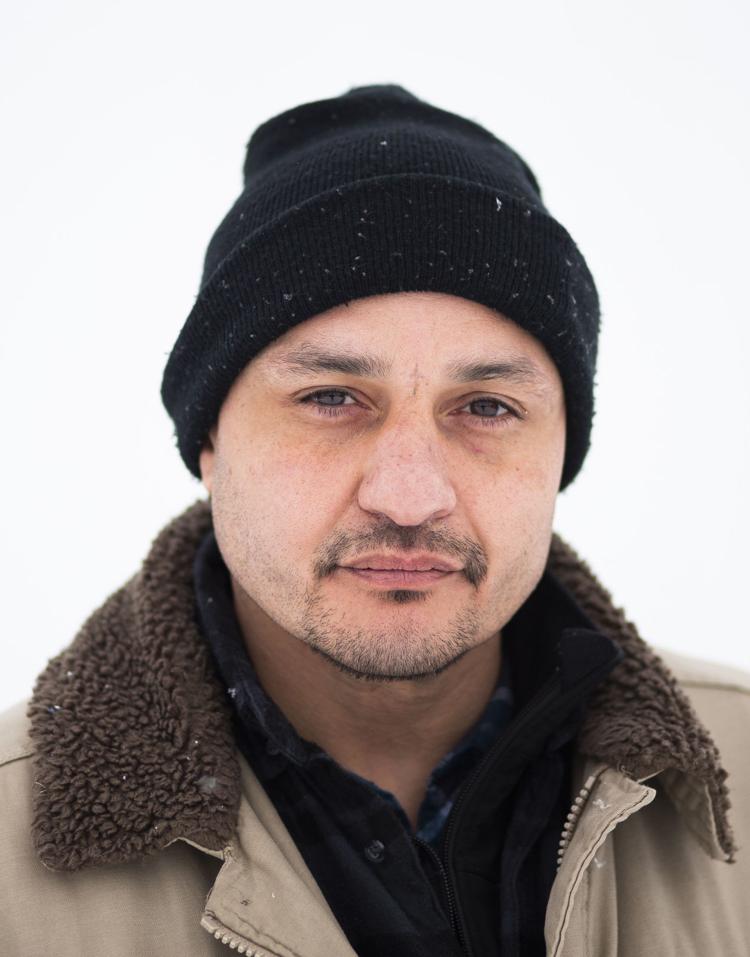 "I'm mostly shoveling snow for older people," he said. "I don't charge them a lot. Just a few bucks."
He said he's been homeless off and on since getting out of prison in 2017, and that the cold drove into the encampment.
"I'm just trying to work through my life now," he said. "Camp Hope has been really helpful. I can look in the mirror, say 'Hey, I did something good today.'"