Brrr!
Thermostats have been adjusted, sweaters are in regular wardrobe rotation, temperatures have dipped and they won't stop as we inch closer to December and winter.
I love a hot, steamy bowl of soup. It warms the soul the way a ray of sun warms the face. Especially when it's made from scratch, in a home kitchen. The time and effort are secret ingredients to every bowl of homemade soup.
But I don't know my way around a kitchen. Hand me a menu any time of a day and I'm good.
Here at Explore, we asked the newsroom staff for their favorite soup recipes. And I tell you what, I'm drooling and inspired to give them a go on my own.
We hope you find some motivation to try the following recipes and to share with your loved ones.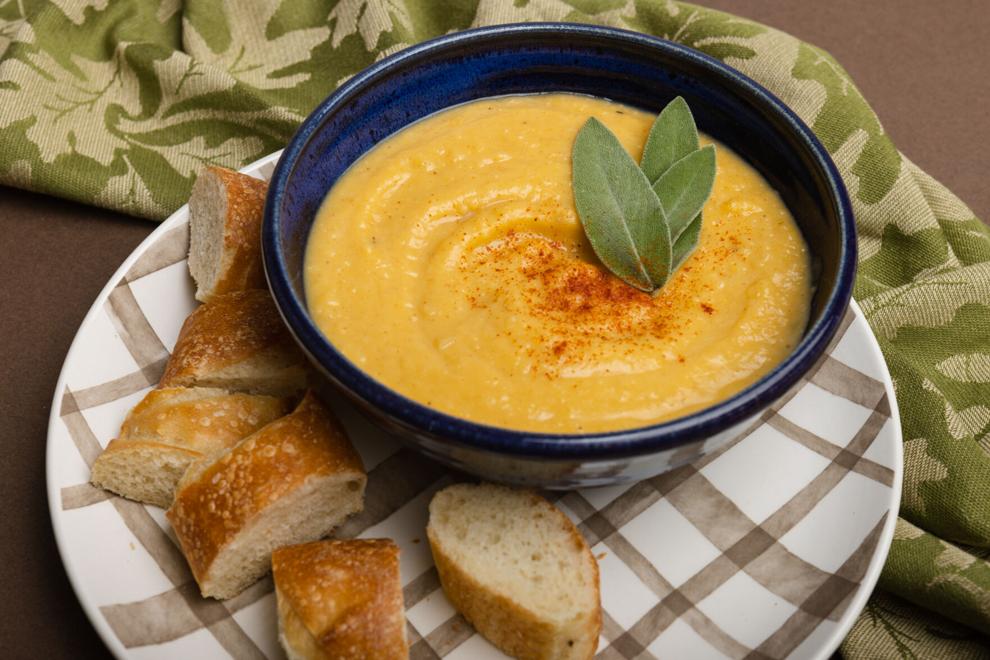 BUTTERNUT SQUASH SOUP
Made by local government and politics reporter Kate Smith
The temperatures finally dropped, the sun is setting in late afternoon, and soup season is here.
To be clear, soup season started for me in September. I wasn't ready for the seasons to change, but I was ready for afternoons spent with a book and something alluring simmering on the stove.
Now, autumn is here with whispers of winter, and we all need something warm on our tables.
This creamy, garlicky butternut squash soup is made with the last of the produce from the Yakima farmers market. (It's been a few weeks, but winter squash is grown to last.) With coconut milk, cinnamon and cayenne, this sweet and spicy soup is nourishing and just what I needed.
The recipe, however, is just a suggestion (or skeleton, for those of us still celebrating the spooky season). Swap out the butternut squash for pumpkin, acorn squash or sweet potatoes; incorporate your own mix of warming spices; or add in another roasted vegetable.
Ingredients:
1 butternut squash
1 medium sized yellow or white onion
1 head of garlic
32 oz. coconut milk
Olive oil
Cinnamon, cayenne, salt and pepper
Directions:
Preheat oven to 375 degrees.
Cut the butternut squash in half lengthwise and put both halves on an oiled or lined baking sheet. Sprinkle generously with salt, pepper, cinnamon and cayenne, and douse in olive oil. Roast in the oven until the squash has softened all the way through, 45 minutes to an hour.
Peel the onion and cut it into quarters. Put onion pieces in a separate baking dish with the whole head of garlic. Add salt, pepper, cinnamon and cayenne to the onion and pour olive oil over the top of onion and garlic. Roast until onions have softened, 20-40 minutes.
Warm a generous amount of coconut milk over low heat.
Add roasted squash to a blender, along with onions and garlic. Add milk until ingredients are covered and blend. You can also use an immersion blender here.
Add more milk until the soup is the consistency you want, and add additional seasonings to taste.
Serve the soup with bread and cheese, or pour over roasted chicken or other protein.
Sage, bay leaves or thyme would make nice garnishes, as would croutons or an extra swirl of coconut milk.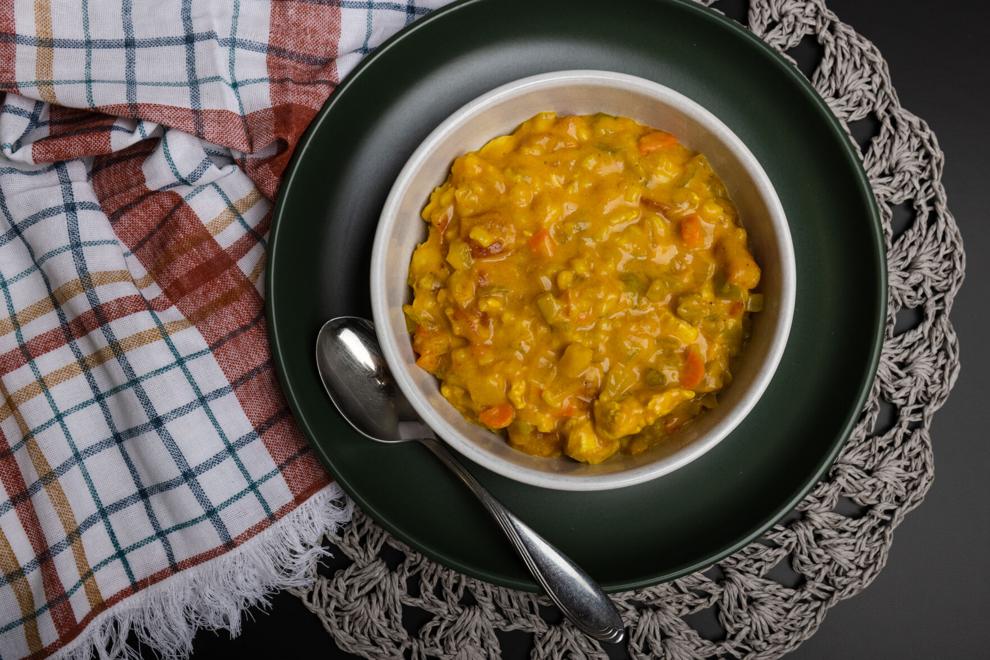 MULLIGATAWNY SOUP
Made by Assistant Sports Editor Michael Ambrose
Ingredients:
2 tablespoons butter
1 onion, diced
4 teaspoons curry powder
1 Granny Smith apple, diced
4 carrots, peeled and diced
4 ribs celery, diced
1 green pepper, diced
⅓
cup flour
4 cups chicken broth
1 can diced tomatoes
⅓
cup long-grain white rice
2 teaspoons fresh lemon juice
1 ½ teaspoons sugar
4 whole cloves
½ cup whipping cream, half and half or milk
1 pound chicken breast tenders, cut into half-inch pieces
Directions:
Melt butter over medium heat. Add onion and curry and sauté until onion is tender, about 5 minutes. Mix in apples, carrot, celery and bell pepper and sauté for 5 minutes. Mix in flour and stir for 1 minute. Gradually mix in broth, then tomatoes with their juice, rice, lemon juice, sugar and cloves. Bring to a boil, stirring frequently. Reduce heat and simmer 15 minutes. Add cream (or milk) and chicken and simmer 10 more minutes. Remove cloves before serving.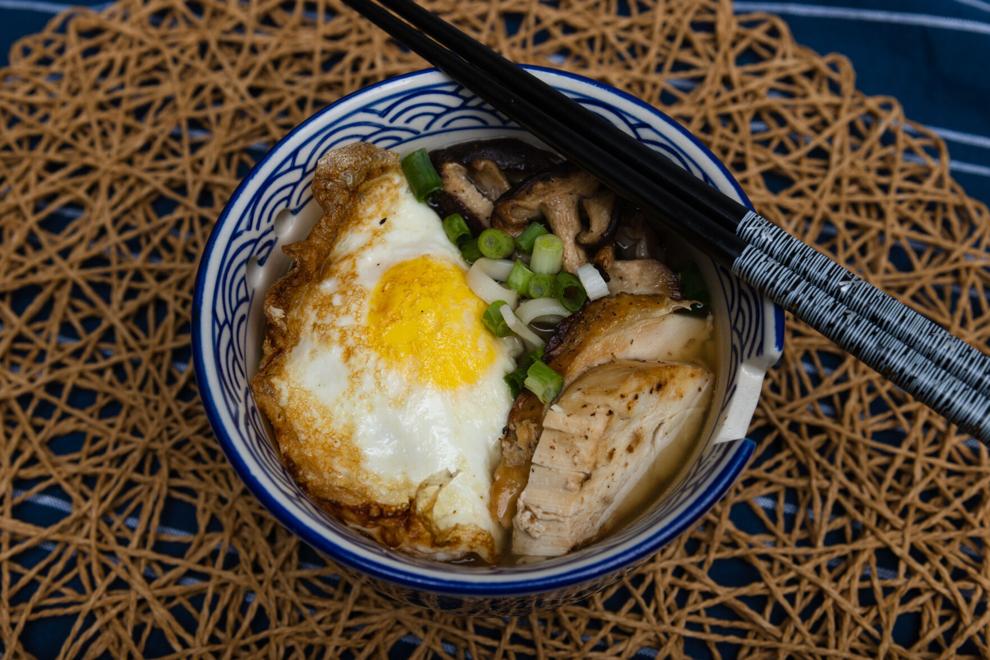 JAPANESE-AMERICAN UDON
Made by Report for America reporter Jasper Kenzo Sundeen
Noodle soups can be a wee bit daunting. The versions you can get at restaurants in Yakima or Seattle are absolutely sublime combinations of toppings and flavors.
In truth, though, udon and ramen are forgiving dishes and deceptively easy to cook. If you can nail the base noodles and find your combination of soy sauce and miso, you can mix and match with different toppings, garnishes and whatever salty meat or vegetable is left in the fridge.
Make no mistake, this isn't your restaurant-style udon recipe. Cooks make money for a reason. This is a warm, filling, bastardized, fifth-generation Japanese American udon that will get you through a chilly winter day.
Ingredients (serves 2):
6 cups of water or chicken broth
Around 6 oz. of udon noodles
2 tbsp miso paste
NOTE: Miso can look a bit mysterious, but it lasts metaphorically forever and can be used in some fantastic salmon or pork marinades.
2 chicken breasts or 2 boneless pork chops
2 eggs
1 can of bamboo shoots
3 heads of baby bok choy or 1/3 of a head of adult bok choy
4 oz. mushrooms (shiitake, enoki or baby bella)
1 tbsp. sesame or other vegetable oil
1 tbsp. shoyu, also known as soy sauce, with more to taste
½ tbsp. ginger (grated or powdered)
Optional toppings:
Green onions
Furikake
Seaweed
Directions:
Bring a pot of broth — chicken or pork — to a boil. If you do not have broth, it's fine! You can make a simple miso broth.
Whisk in 2 tablespoon of miso paste while the water is warming until the mixture is entirely liquid and no chunks of miso remain. Add 1 tbsp. of shoyu. NOTE: Miso and shoyu are forgiving, so feel free to add or subtract depending on your tastes and desires
Chop bok choy leaves and stems into bite-size pieces, about a half-inch long (or whatever size you like)
When the water has come to a boil, add the noodles and bok choy. Cook according to the package instructions — usually 5-10 minutes — and remove from heat.
Cut the chicken or pork horizontally into thin, wide pieces roughly 1/8-1/4 inch thick
NOTE: it's totally OK to substitute leftover meat or cook it differently (boiled, roasted, grilled, etc.)
On another pan, heat the sesame or vegetable oil on medium heat. Sesame oil heats quickly, so it's good to have your meat and mushrooms already chopped and ready to go.
Sauté the meat, mushrooms and bamboo shoots, season with ginger, about a half tablespoon of shoyu and any other spices you enjoy.
When the meat and mushrooms are cooked, let them cool for a few minutes and then move them into a bowl. Crack your eggs onto the pan.
Cook eggs to your liking. To fry, cook one side for 3-5 minutes and flip over when whites start to solidify. To leave yolk runny, flip sooner. For a more solid yolk, cook longer
Pour noodles, bok choy and broth into a bowl. Top with meat, mushrooms, bamboo and your egg. Garnish with green onion, furikake or seaweed.
Enjoy it, my friends.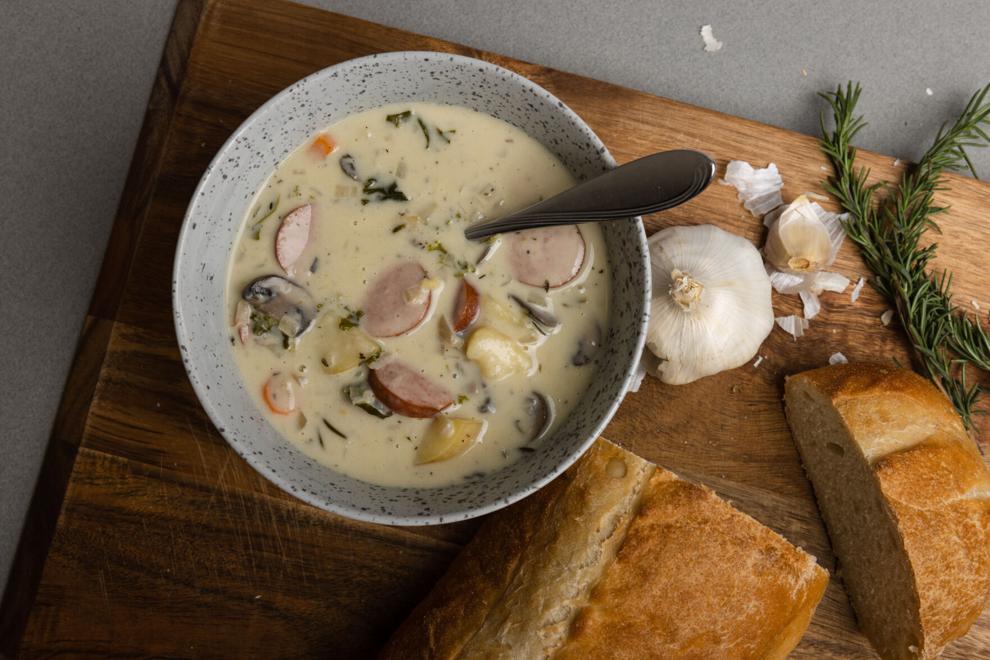 SMOKED SAUSAGE AND POTATO SOUP WITH KALE AND MUSHROOMS
Made by Photo Editor Emree Weaver
Ingredients:
1 yellow onion, diced
8 oz. baby bella mushrooms, sliced
3 carrots, peeled and sliced
3 cloves of garlic, minced
1 — 14oz. package of Polish Kielbasa sausage
1 — 32 oz. carton of chicken broth
1½ cups of heavy cream
3 cups of cubed gold potatoes
4 cups of kale, large stems removed and roughly torn
1 teaspoon of dried thyme
2 sprigs of fresh rosemary
salt and pepper, to taste
4 tablespoons of flour (for roux)
4 tablespoons of butter (for roux
Directions:
Add olive oil and butter to medium pot and melt over medium heat. Sauté onions, mushrooms and carrots for about 8 minutes, or until onions are translucent and fragrant, stirring occasionally. Add garlic, cook for a couple minutes, stirring. Add potatoes and sausage to mixture. Stir in dried thyme, salt and pepper to taste.
Make the roux in a small saucepan. Melt butter and whisk in flour. Reduce heat and set aside.
Add chicken broth, heavy cream and rosemary springs to soup mixture and bring to a boil. Reduce heat, add roux and kale. Simmer for about 15-20 minutes, or until potatoes are cooked through.
Remove the rosemary sprigs, ladle into bowls and serve with crackers or bread of choice.