Toppenish will welcome a new Native American music festival featuring rock, reggae and blues on July 30, 2022.
Tribalpalooza, presented by Tribal Vibe Productions, will be hosted by Canadian actor Adam Beach. It will bring together musical acts from all over Indian Country to the Toppenish Rodeo Grounds, 600 S. Division St.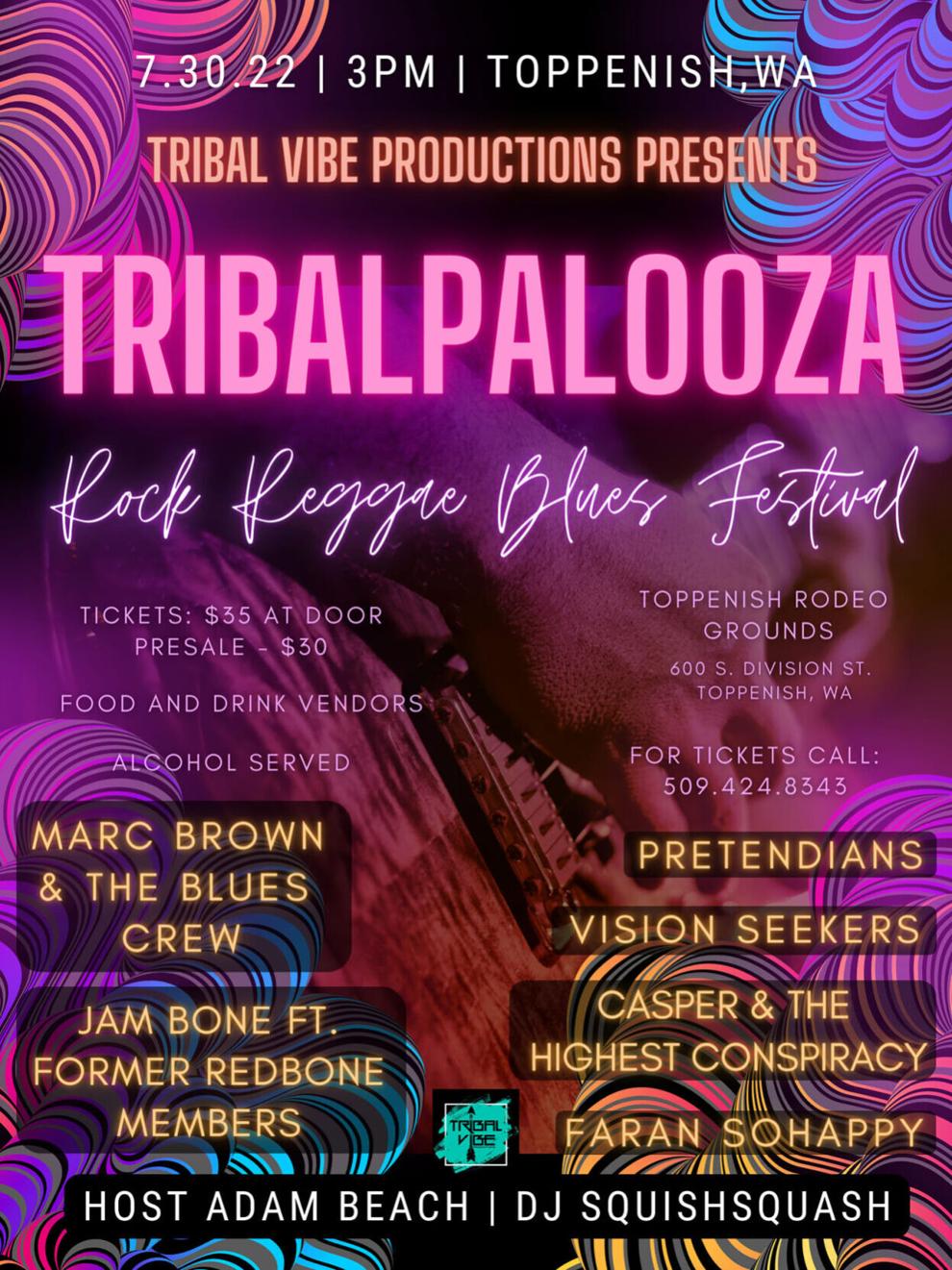 Beach is known for his roles in "Smoke Signals," "Flags of Our Fathers," "Joe Dirt" and "Suicide Squad."
Presale tickets are $30 and can be purchased by calling 509-424-8343. Tickets cost $35 at the gate. Tribalpalooza is currently for fans 21 and over, but organizer, Leon Thompson of Tribal Vibe Productions said it is still to be determined if it will become an all-ages event.
Food and drink vendors will be on site and alcohol will be available for purchase.
"On the national level, there's a big Native flow going on. I used to have a hip-hop show called Tribal Jam, but I wanted something outdoors and something where people can come and hear some music and have a good time," Thompson said.
Yakama member DJ SquishSquash will be playing DJ sets at the beginning of the show and between performances.
"There are Indigenous bands from all over North America coming to play right in our homelands," she said.
Washington performers Faran Sohappy and Vision Seekers are also on the bill. The performance list is as follows:
Marc Brown and the Blues Crew
Marc Brown was raised in Huslia, Alaska, and with the Blues Crew, has been playing danceable blues music for over 20 years. Marc Brown and the Blues Crew have opened for bands ZZ Top and Jethro Tull. Their album "Indian Rock 'n' Roll" won the 2011 Native American Music Award for best blues album.
Jam Bone
Jam Bone features former members of the Native American rock band Redbone, considered the most successful Native rock band. Redbone was formed in Los Angeles by brothers Pat and Lolly Vegas. At their peak, every band member was of Native American and Mexican American decent. In 1974, Redbone reached the top five on the U.S. Billboard hot 100 charts with "Come and Get Your Love." The song surged again in popularity after appearing on the 2014 film "Guardians of the Galaxy" and in an episode of the 2021 show "Reservation Dogs."
Pretendians
There is nothing pretend about Pretendians, a Native American rock band based out of Minneapolis, Minnesota. Three out of four members represent the Oceti Salowin of the Dakhota/Lakhota Nation. Pretendians bring a modern Indigenous viewpoint to social and political topics.
Casper and the Highest Conspiracy
Lead vocalist and found member Casper Lomayevas is Hopi/Diné. The Highest Conspiracy originated in Phoenix. The band plays music influenced by reggae, jazz, blues, ska, hip-hop and pop.