Put your trust in your own hands (and grip strength) and climb up 30 feet with a rope. Or take your chances on a 14-foot climb without a rope.
Yakima Valley residents can easily travel small distances to rock climb outdoors, but for the newly interested or unexperienced, knowing how to safely climb and where to go can be a challenge.
One business is trying to change that by showcasing how supportive the climbing community is, through indoor climbing and friendly competitions.
The High Steppe Climbing Center, 1015 E. Lincoln Ave., Suite 101, has 7,500 square feet of climbing surfaces and offers roped-climbing and bouldering for beginners and advanced climbers.
Interested? High Steppe is hosting Boulder Bash on Saturday, May 14.
Boulder Bash is a bouldering contest, "climbing without a rope, staying near the ground and relying on our foot-thick pads to cushion a fall. This kind of climbing requires only a quick orientation and climbing shoes," according to the High Steppe Climbing Center's website.
Last June, High Steppe Climbing Center's bouldering competition attracted 70 participants, and they're expecting more than that Saturday. There will be 45 all-new problems, with a variety of difficulty levels and styles.
"People are attempting to climb at their best ability. It's very collaborative, very supportive," said Nathan Joyner, manager of High Steppe Climbing Center. "The first climbing competition that I did, one of the other climbers I was competing against gave me some advice. And I thought, 'Wait a second! You're not supposed to be helping me out.' Everyone's supportive, everyone's working together."
There will be four categories for climbers: youth (10 and younger), adult beginner (V0-V2), intermediate (V3-V5) and advanced (V6+). The V- is an industry-standard grading scale of difficulty levels for climbers. The top three in each category will win prizes.
"A bouldering route is sort of like sprinting versus long-distance running. It's a condensed kind of a physical and mental puzzle," Joyner said. "The routes are not just going to be left hand, right hand, left hand, like climbing a ladder. Often, it's kind of an intricate puzzle.
"The difficulty of a bouldering route comes from three things: the holes that are used, the steepness of the wall, and it also comes from the pattern that they've arranged the holes into."
High Steppe Climbing Center opened in September 2020. Any interested person can walk in and do bouldering. Roped climbing requires training and/or certification.
First-time climbers can expect to sign a waiver and watch an orientation video, then will be set up with equipment and fitted for shoes.
"We'll take the new climber into the facility and we will talk about what the different colors of handholds mean, what the tags indicate, how they can find a route that's easier, how they can find one that's more challenging. Then we'll walk them through how to use the equipment," said Joyner.
Shoes, ropes, harnesses and belay devices are available for rental. Belaying is a climbing process that uses a rope system to protect a climber during a fall; the belay line is a rope attached to a climber's harness. Street shoes are not allowed on the climbing walls.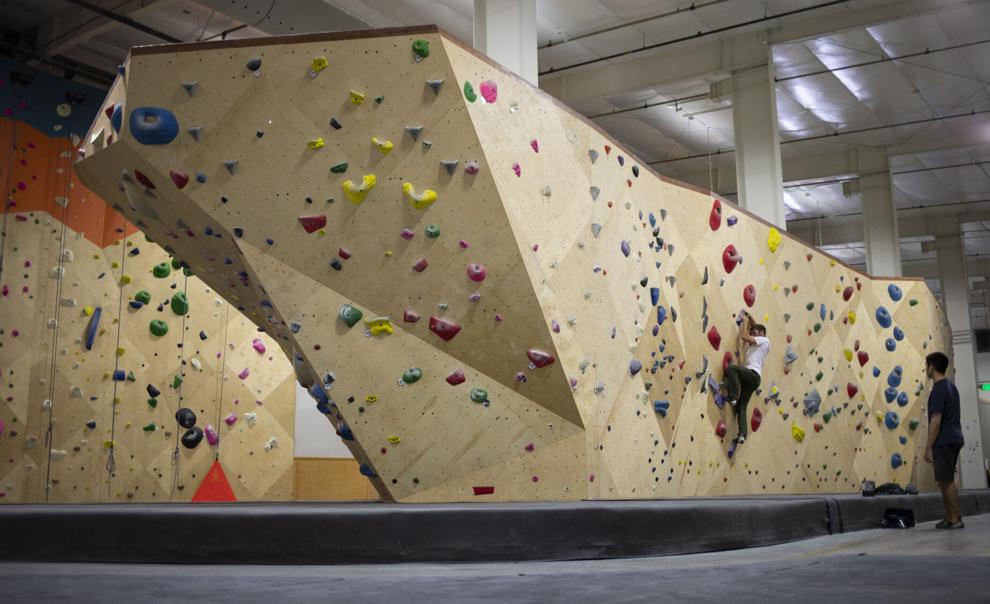 "We pride ourselves on being very welcoming and inviting and creating a positive first-time experience for new visitors," Joyner said.
The vertical climbing wall is 30 feet tall. It consists of 36 rope-climbing spots, and each rope has two routes, available for auto-belay and roped climbing.
"Auto-belay allows participants to climb to the top with the safety of a rope, but without the need for a partner," according to the High Steppe Climb Center's website.
The boulder takes up the middle of the climbing center. It's only 14 feet high but has protruding faces and cuts to practice traversing. They also form an overhang, underhang or crack.
"A climbing gym is a very artificial environment and it's kind of amazing," Joyner said. "We get to create whatever we want. It's almost like choreographing a dance because when I put new holes on the wall and we reopen that area, people are moving up the wall in the pattern that I've preset for them."
Climbing routes are created up the wall with a series of steps and holds in different shapes and sizes. These are used to stand and step on as well as grip with your hands.
Routes are color coordinated. As you are harnessed in and stare up the wall, the route you choose is all one color, like green, red or blue. Each color represents a different level of difficulty. Or you can just climb up however you can make it.
"It's a very interesting thing to watch someone climb something that I've created," Joyner said. "They're moving up the wall and it's a dance I've choreographed and now they're performing it. If I do my job well, it's a fun experience."
Some route-setters will attempt to re-create something from the outdoors. They talk about flow; if it's smooth, climbers can make their way up the wall in a natural fashion.
But whether new or experienced, climbers should expect to fall.
"Falling is going to happen, right? On the ropes on the walls, it can feel more intimidating because it's so tall," Joyner said. "But the fact is, that's what the rope is there for. Falling on the rope walls is like a miniature bungee jump. The rope is meant to be stretchy."
The floor is designed to minimize the risks.
"Climbing by itself is lots of fun," Joyner said. "It's very engaging. It's a very good sort of physical activity. But a lot of people who climb talk about initially just falling in love with the community.
"It's a very collaborative, super supportive community, indoors and out. You can turn up at a crag somewhere that you've never been before and people are happy to give you information, or oftentimes climbers will show up without a partner. It's easy to connect with people and start climbing together."