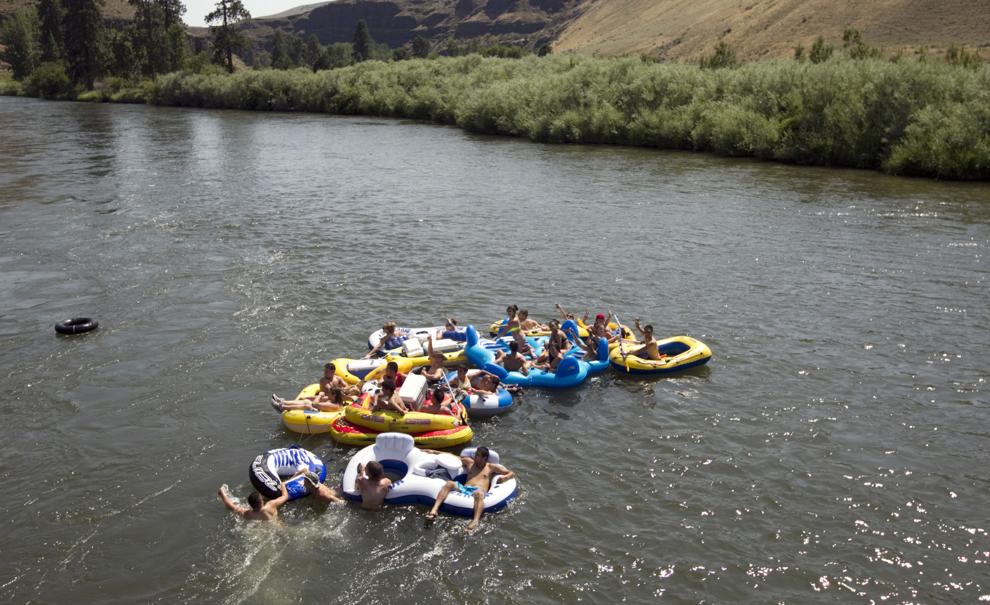 There is just no way to enjoy the heat of a Yakima summer that doesn't involve water.
Some people may be lucky enough to have backyard pools (or friendly neighbors with backyard pools) but for the rest of us, the rivers are our best bet.
A float down the Yakima River Canyon offers a relaxing, refreshing and scenic respite from summer weather, and many locals have their float strategy down to a science.
"I think it's definitely something that everyone needs to do here in Yakima," said David Blethen, a Yakima Herald-Republic employee who floated the river nearly 60 times last summer.
Here's your basic guide for becoming a river floating pro.
First off, pick good people. You're going to have to sit with these folks for several hours, unless you want to climb up the bank and walk miles on sunbaked highway, so find a crew with whom you'll enjoy the ride. Steer clear of friends who might drink themselves into being a safety risk on the water.
Also, make sure everyone in your group knows how to swim. Currents and eddys swirling around cliffs along the river can drag unsuspecting floaters into a dangerous situation. Insecure swimmers, whether adults or children, should wear life jackets in case something happens to their raft.
As for supplies, you'll need:
Inner tubes or rafts. Good, sturdy inner tubes can be had for just $15 at Fred Meyer. Big 5 and Wal-Mart sell them, too. Rafts will be more expensive, but better if you want to stay dry for most of the trip or fit more people.
"I recommend a boat that has more than one air chamber," Blethen said, so if one chamber gets a puncture, the raft is still usable. If a standard inner tube gets a puncture, he said, "you're in the water; you're swimming the rest of the float."
A patch kit comes in handy for repairs once you're back on dry land, but it's tricky to do while in the river.
Paddles. Not an absolute necessity, but they make it easier to steer away from obstacles and get back to shore at the end of the trip. You can also make do with Frisbees.
Something to stash keys in, if you don't have an actual dry bag. Plastic baggies won't keep the water out, and keys are likely to fall out of pockets and be lost forever. A good option is an empty Nalgene water bottle, or a Mason jar with a tight screw-lid.
Cooler/ice chest. You can buy an inflatable ice chest, or an extra inner tube to hold a standard cooler, and load 'er up with ice and beverages.
Plenty of drinking water. Don't just bring beer. Three-plus hours in unrelenting sun will leave you feeling dehydrated pretty quickly, which spoils the fun.  
Sunglasses and sunscreen. Again: hours of unrelenting sun. Take care of your eyes and skin.
Bungee cords, ropes, nylon webbing or sturdy carabiners to connect your floating community. But make sure any knots can be undone easily in case you get stuck, or bring a knife along to cut the rope in an emergency.
People need to be cautious with ropes hanging in the water between rafts, Blethen said. "When you've got your (rafts) all tied up, your foot could get caught."
With the right cords, your group can be just three people or upwards of 20 people and still have a smooth ride.
Music. Stores such as Ross and TJ Maxx often sell cheap, waterproof speakers that play music from your phone via Bluetooth. Just be sure to stash the phone somewhere that won't get wet — like the wide-mouth Mason jar with your keys.
Food. Stuff that's easy to keep sealed up and dry is best, so you don't end up with a waterlogged lunch, but really anything you can pack in a cooler works fine.
Mesh trash bag. Don't be a jerk. Keep the Canyon pristine and enjoyable for all users by packing out your beer cans and other garbage, rather than trying to scuttle them to the bottom of the river.
Now, for the floating
You need at least two cars (depending on how many people are in the group), so that one can park at the take-out site downriver and one can carry everyone up to the put-in site with the rafts. Then, once you're done and out of the river at the take-out site, that car can take a driver back upriver to pick up the other vehicle.
The campgrounds along the Yakima require a $5 parking permit for each vehicle, so remember to bring cash. On busy days during the summer, park rangers are often on site to let you know whether the lots have any spaces left, and where to turn in the payment.
Figure out how long you want the float trip to last. Most groups take out at Roza, so you decide the length of the trip by how far upriver from Roza you put in.
From Umtanum to Roza is fairly standard and takes about three hours. Putting in at Lmuma Creek would take about half that time. If you're coming from Ellensburg or want to stay more in the Upper Canyon, Bighorn is a popular put-in spot.
For a longer trip, Big Horn to Roza takes four to five hours, Blethen said.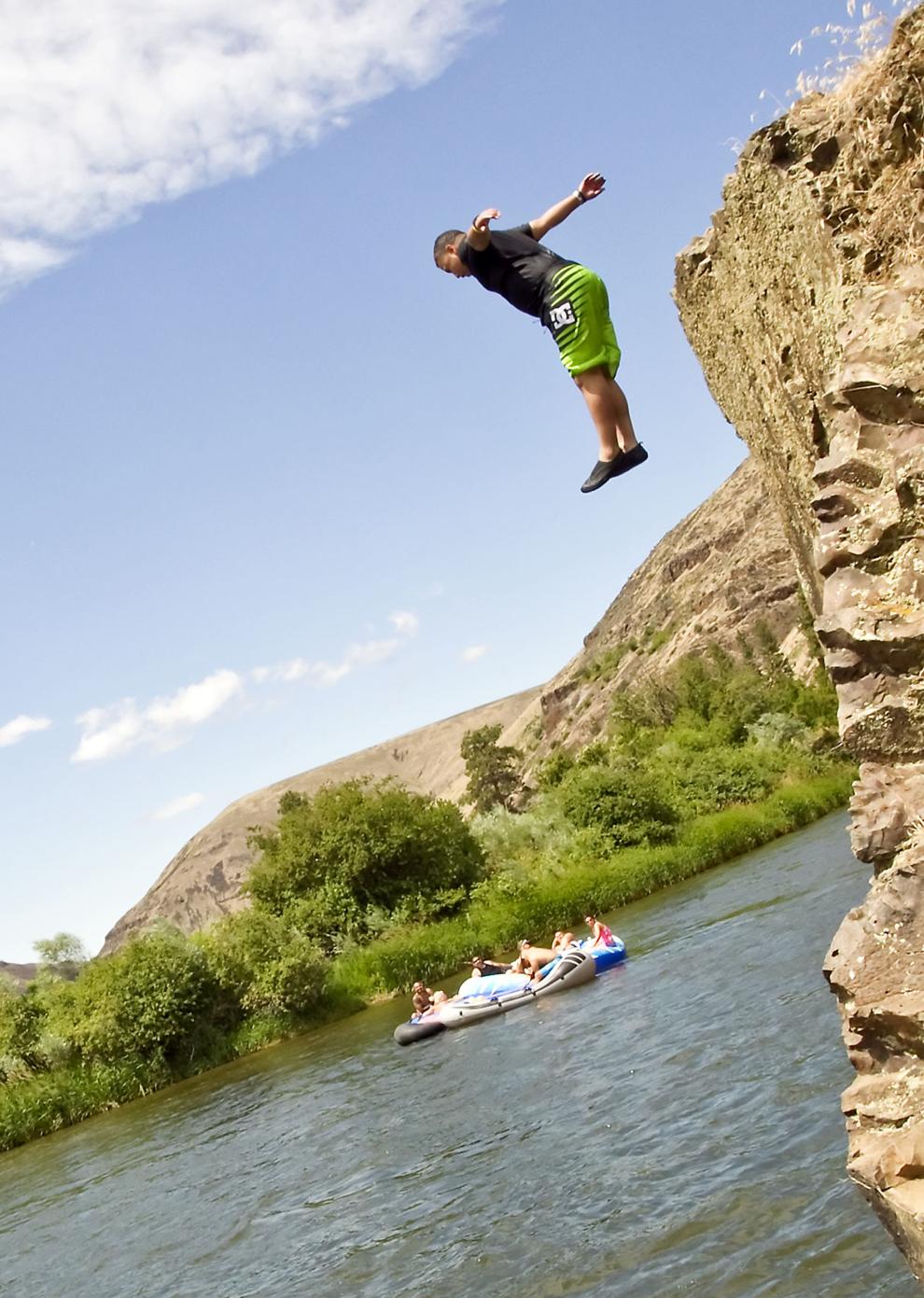 Be sure to factor in the dropping water level over the course of the summer; in late summer, when the river's lower, it moves more slowly and floats will take longer. The shallower water can also mean more rocks or logs sticking out of the water, so keep an eye out. With the drought this year, the river might drop faster or earlier in the summer than usual.
Stay in the middle of the river to avoid overhanging branches and unexpected currents along the banks. This is where paddles come in handy. But you can also hop off your tube and drag your raft back on course just by swimming.
Have fun! Floating is a cheap, close-to-town option for enjoying the outdoors during the summer, and it's a great way to spend time with friends.
"It's almost kind of like you're sitting around a campfire, and everyone's just talking to each other and shooting water at each other," Blethen said. "I think more people need to take advantage of it."