So you're tying the knot and your date is getting closer. You've got your Pinterest board packed with pictures and now it's time to winnow it down to what you love, what fits in your budget, and what's fresh and exciting. Here are some of the hottest trends for weddings in 2019:
Copper Accents
Metallics have been trending for a while with gold and silver leading the pack, but copper is the up-and-coming accent color for 2019. Leanne Myers, floral design manager and event coordinator at Yakima's Cascade Garden says, "We're seeing it everywhere. It's really popular to wrap napkins in copper wire. In centerpieces, we're seeing copper-colored flowers and floral elements, and of course chargers are a nice big pop of color." Those are the large, decorative plates on which other dinnerware is placed. "Blush was big last year," she adds, "and it'll be big again this year, and copper goes really nicely with it."
Each fall, Leanne and Cascade Garden owner Eileen Weresch travel to Las Vegas for a big wedding convention called the Wedding MBA (Merchants Business Academy). It features the best of the best in the wedding industry, including florists, decorators, caterers, and vendors showing the latest trends in cakes, linens, tableware, and décor. Eileen says, "We come home feeling inspired to the extreme. Just brimming with ideas!"
Here are some other trends Leanne and Eileen spotted for this season:
Succulents and Greenery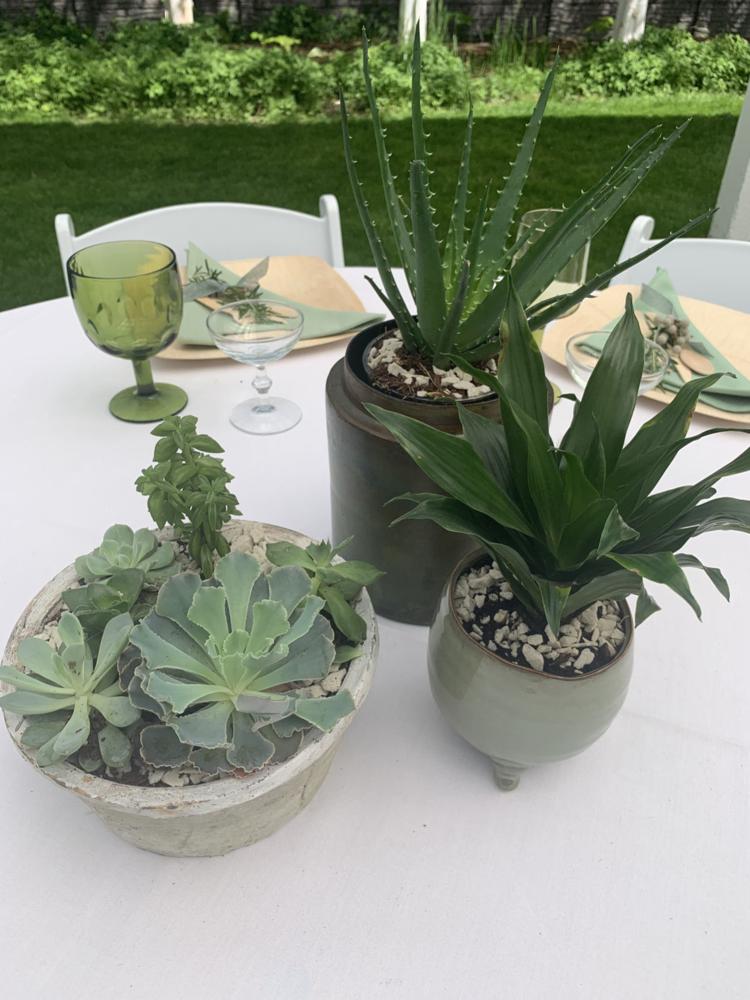 People are using color schemes with all different shades of one central color, like green, and succulents are ideal, because they come in so many shades of green. "Foliage of any kind — plants and succulents are really big right now," Leanne says. And there's another advantage to featuring plants in addition to cut flowers: "People like to have something that they can have at the wedding, then take home. If they have a living centerpiece they can send it home with a guest who helped out, which helps eliminate waste."
But before you go hog wild and commit to a big floral element, you might ask your wedding coordinator to mock up something. Eileen says one of her brides saw a big wreath on Pinterest, so they made a copy for her before the wedding. "She showed a picture and wanted it exactly like that, so Leanne made it exactly like that and put it on the table and she went 'Meh!' She loved it in the picture, she didn't love it in person."
Green Details
Green weddings are big, not only as a color scheme but as in environmentally friendly options. Cascade Garden offers biodegradable bamboo plates and silverware among its wedding package choices. They're not only good for the planet — they look good, too.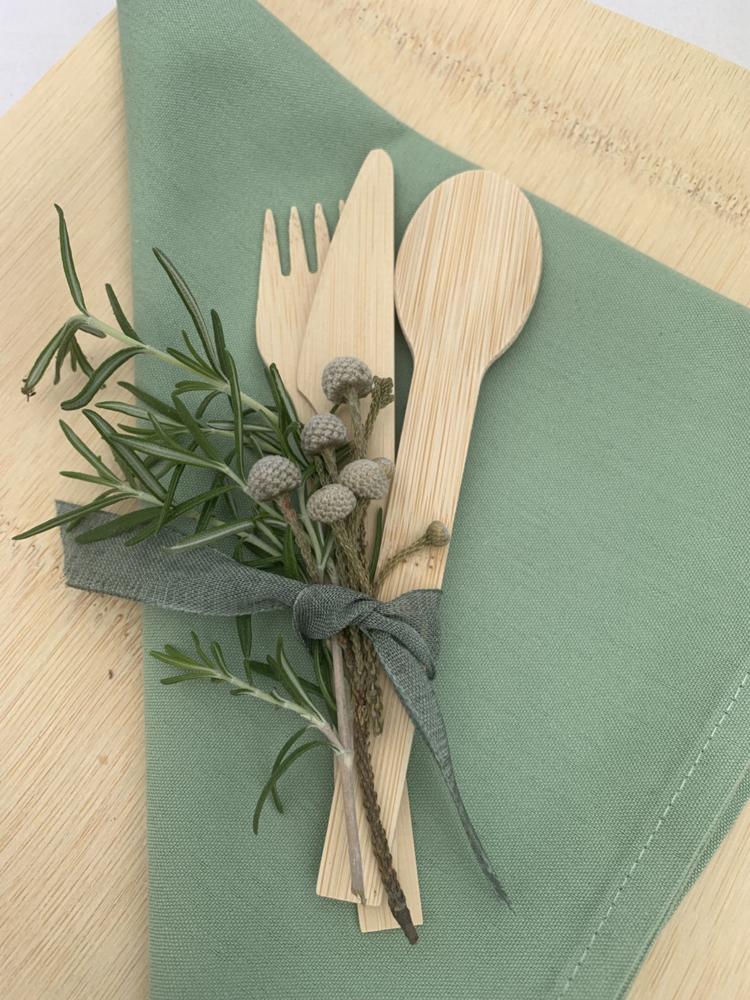 Mismatched Tableware
The "mismatched thing" is another hot trend, says Eileen. They offer mismatched goblets in the same color family, and mismatched antique china plates, dessert plates or coffee cups. One recent Cascade Garden bride brought a collection of mismatched Depression glass plates for her cake service.
Eileen has shepherded nearly 600 weddings since she bought the business in 2008. "It's so powerful," she says, "to be able to support people in their celebration and their connectedness … I get chills every time the bride goes up the aisle." Leanne laughs. "I cry at every single wedding. I don't know the people, I don't know the dad, I don't know anybody. But I cry."
Reach Cascade Garden at cascade-garden.com or 509-966-3744.
We also talked to some other local merchants about the trends they're seeing on the horizon.
Statement Wedding Cakes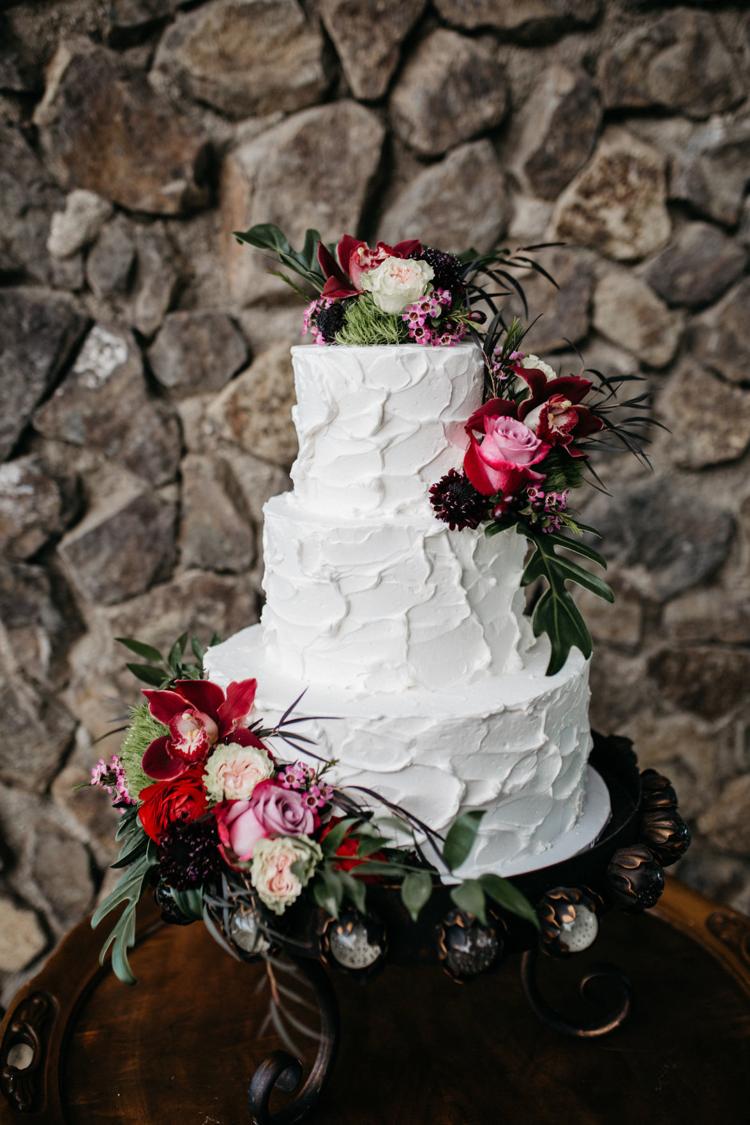 Newlyweds have been featuring tiers of frosted cupcakes at their receptions for years. Now the statement wedding cake is coming back, and Christie Rogers of Christie's Cakes in Yakima says it can't get here soon enough. "Cupcakes are definitely more partylike and less elegant," she says. "I'm hoping the pendulum swings back the other way. Cakes are more beautiful and more stately. They don't have to be elaborate. Simply elegant, maybe with some added flowers." She says she's seen many mothers of brides over the past few years who are disappointed when their daughters choose cupcakes, because that means they won't get that classic photo op of the newlyweds cutting the cake.
Dessert bars have also been popular these last few years, but Christie says they can be less cost-effective than cakes, because guests tend to try multiple options, whereas with a cake, they usually take just one piece.
Reach Christie's Cakes at christiescakes.net or 509-961-5430.
Glam Bar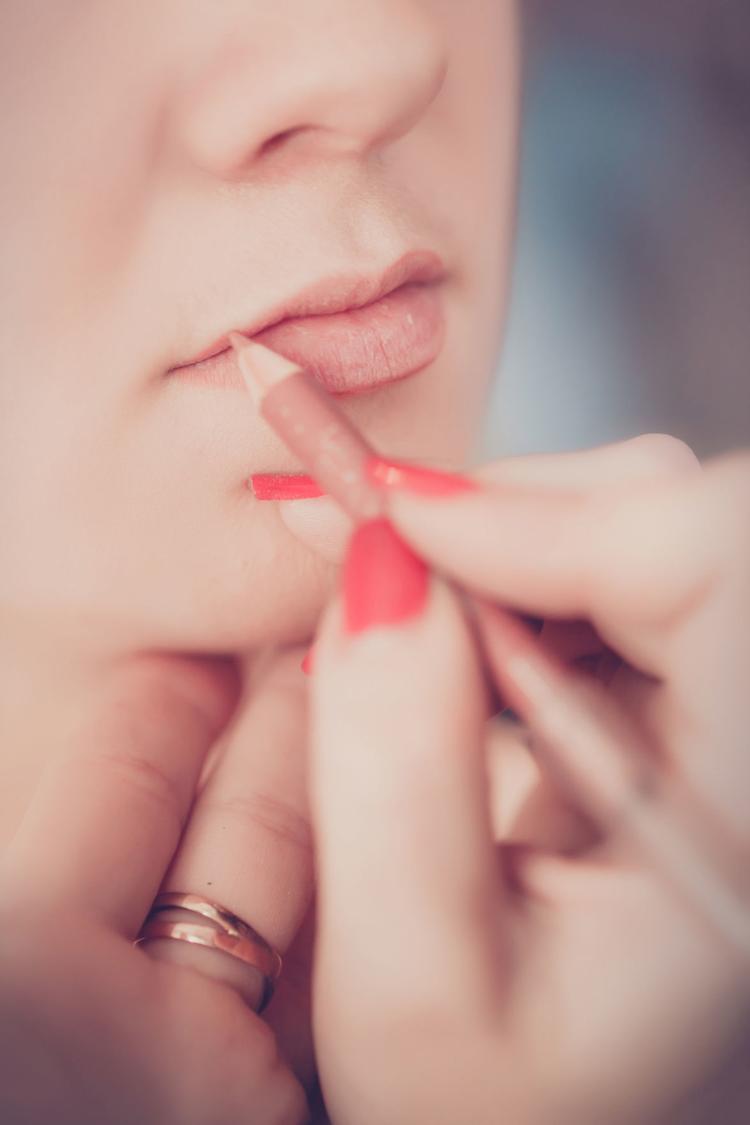 Forget the cocktails — this bar has lipstick and mascara! Glam bars are an added perk for the bride and wedding guests. Hire a hair and makeup professional to stand by with all the supplies a gal might need. Bobby pins and hairspray to revive sagging hairdos, blotting paper to pat shiny foreheads, eyeliner and disposable mascara wands to make tired eyes shine again. All night long, everybody feels beautiful, pampered, and ready for the next candid photo. Makeup artist Emilio Miller of Yakima's Belu Salon says "It's a positive for the salon and the wedding party. They're able to look the same as they did when they left the salon — all night long." Buffy Smith, also a Belu makeup artist, says the natural look continues to trend for brides. "Naturally glowing, radiant, hydrated skin never goes out of style." She says subtle, peachier makeup tones are trending, with a little bit of glimmer.
Reach Belu Salon at belusalon.com or 509-965-1731.
Smoke Bomb Exits
This red-hot trend is one of our favorites, hot on the East Coast now and heading across the country in our direction. Remember those colored smoke bombs from the Fourth of July? These emit the same colored smoke, only they have handles, so your guests can set them off and hold them up to add a rainbow of colors to your photos as you head off into the sunset. "Your wedding day is one of the most important days of your life" says Shipped Yesterday co-owner Erin Bragg of Gainesville, Georgia, who sells the smoke bombs. "Adding a brilliant splash of color to your photos not only makes your event more fun, but the outcome often results in your friends and family reposting and sharing your memories for years to come." One caveat with smoke bombs: Use them during daylight hours for the best photos.
If you would like to add colored smoke to your wedding, visit shippedyesterday.com and use coupon code "YAKIMA20" for a 20 percent discount.
Balloon Walls
Balloon walls are the new flower walls, though we haven't seen a lot of them here in Yakima yet. And we're not talking about that classic balloon arch from the high school dance. What's trending is an entire wall or the corner of a room covered with balloons of various sizes, all in the same color family and usually with a matte finish. They make a unique addition to wedding décor and a great backdrop for wedding photos or a selfie station.